Do you run a company focused on productivity, creativity, education, or mental well-being? Are you on a mission to help people make the most of their mind? Ness Labs is a platform for knowledge workers to achieve more without sacrificing their mental health, with…
29,000 newsletter subscribers
2,000 paid community members
60,000 monthly visits
12,000 Twitter followers
The Featured Tools program is a sponsored opportunity to promote to the Ness Labs audience mission-driven products that are aligned with our vision. Each feature includes an in-depth interview on the website which is promoted in the newsletter and on Twitter.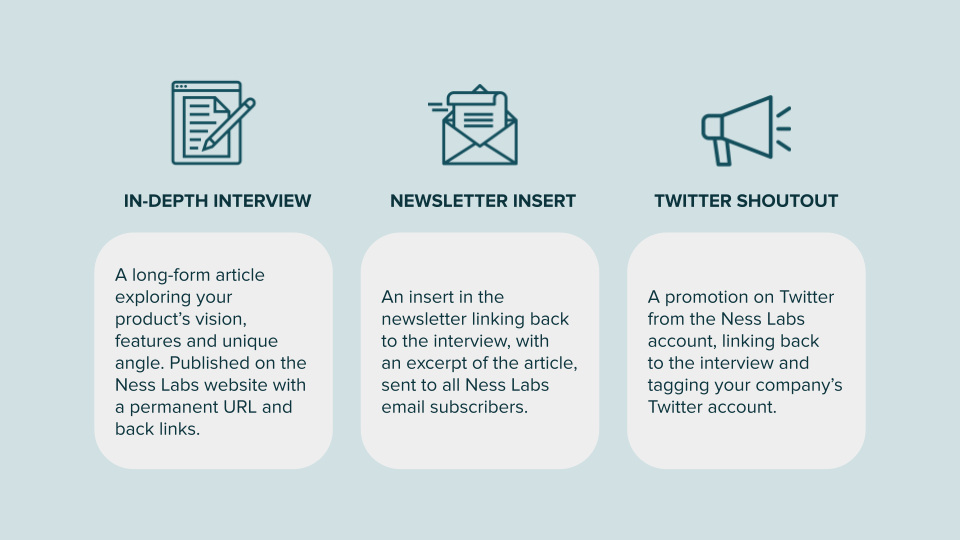 Our community members are smart, curious, and growth-oriented. We highly respect their intelligence and only feature products we deeply believe will offer genuine benefits. Because of that approach, companies that partner with Ness Labs see high engagement from our readers.
Plus, you will be in great company! Past partners include Notion, Obsidian, Amplenote, Supernotes, Scapple, Alpe, Readwise, and more.
Our areas of interest are:
Productivity
Note-taking
Mindfulness and meditation
Mental health
Team collaboration
Time management
Writing
Visual thinking
Journaling
Habit tracking
Brainstorming
Learning and education
If you are interested in promoting your product to the Ness Labs community, get in touch and we will come back to you with pricing and timelines.