In a world where speed has become a measure for performance, the Ness Labs community is a place for thoughtful conversations—to think about thinking, and learn about learning. The community is for curious minds, self-learners, and lifelong explorers who want to understand the intricacies of the human mind. It's a space to ask questions, start important discussions, and expand your mind.
Becoming a member is also a way to support the work that goes into researching and writing hundreds of free articles, publishing a weekly newsletter, and maintaining such a large database of content. Your contribution helps make Ness Labs a sustainable platform.
Join the community for curious minds.
Everyone should have access to a community where they can learn, grow, and ask questions within a safe space

. That's why we have two plans, which both give you the same access to content and events.
If you know a fellow curious mind who would love to join, you can give a membership as a gift.
Want to give the community a try first? We also offer a monthly plan.
All memberships include the following benefits and perks:
Exclusive access to the Ness Labs online community. Join global conversations about mindful productivity, creativity, neuroscience, and how we can achieve more without sacrificing our mental health.
Virtual events. Thought-provoking conversations with like-minded people around specific themes, workshops, Q&As and presentations. Recurrent topics include better thinking, writing, metacognition, knowledge management, mental health, and more.
Video recordings. Most events are recorded. When you join, you get instant access to a vast library of recorded workshops and interviews.
Anti book club. Not a big fan of rigid, prescriptive book clubs? Become part of the Ness Labs anti book club instead. Each month, everyone reads whatever they want, and we share our best lessons in a session. Warning: your antilibrary is bound to expand!
Special offers. Enjoy exclusive savings on the best apps, books, and tools in the mindful productivity space. For instance, you can currently try two of the best paid meditation and writing apps for free.
Members-only newsletter. A subscription to our monthly Ness Letter with online and offline events, special perks, early access to new products, and more.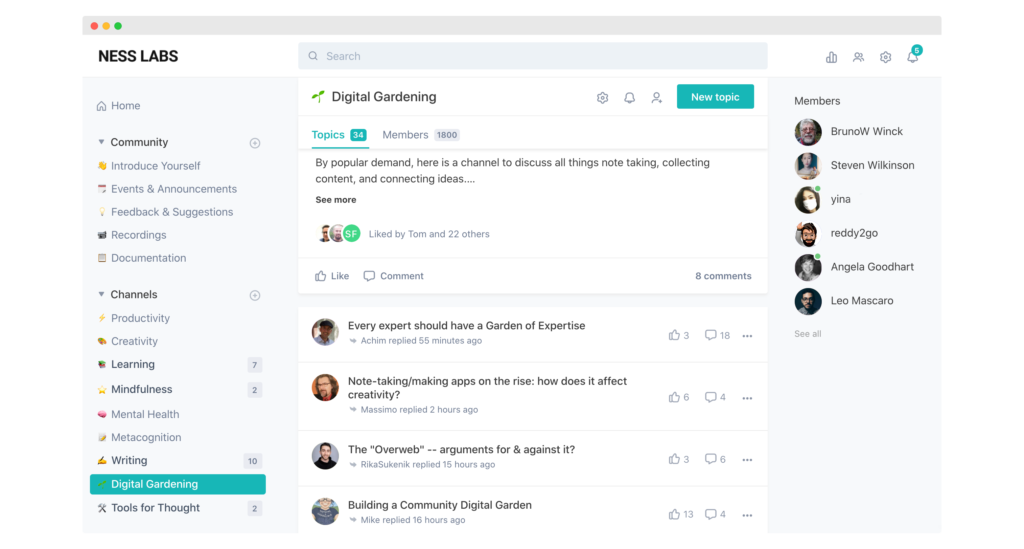 Who is the Ness Labs community for?
Most members are knowledge workers, entrepreneurs, content creators, indie makers, designers, and writers. The Ness Labs community is for people who want to be more productive and more creative without sacrificing their mental health.
What's the difference between the "seedling" and the "blossom" plan?
None. You get the exact same access to the community, events, exclusive deals, and bonus content. We created two plans to ensure every curious mind can join a platform where they can grow and learn together, regardless of their current income. Our hope is to bring together the most curious, generous, and kindest minds on the Internet.
How do I give a membership as a gift?
If you know someone who would enjoy having conversations about learning, growth mindset, metacognition, and tools for thought, just click on the button below to give them a membership as a gift.
Gift membership
How do I cancel my membership?
You can cancel your membership at any time. Just go to your account and click on "toggle auto-renew" to cancel your membership.
Please note your membership is non-refundable. Want to give it a try first? You can join with a monthly membership. We hope to see you soon in the Ness Labs community!