FEATURED TOOL
Welcome to this edition of our Tools for Thought series, where we interview founders on a mission to help us think better and work smarter. Rohan Gupta is the co-founder of QuillBot, a suite of AI-powered writing tools that include a paraphraser, a grammar checker, a summarizer, a translator, and more — all in one place.
In this interview, we talked about the challenge of integrating every step of the writing process, how AI can unlock our creative potential, how technology can support English language learners, and more. Enjoy the read!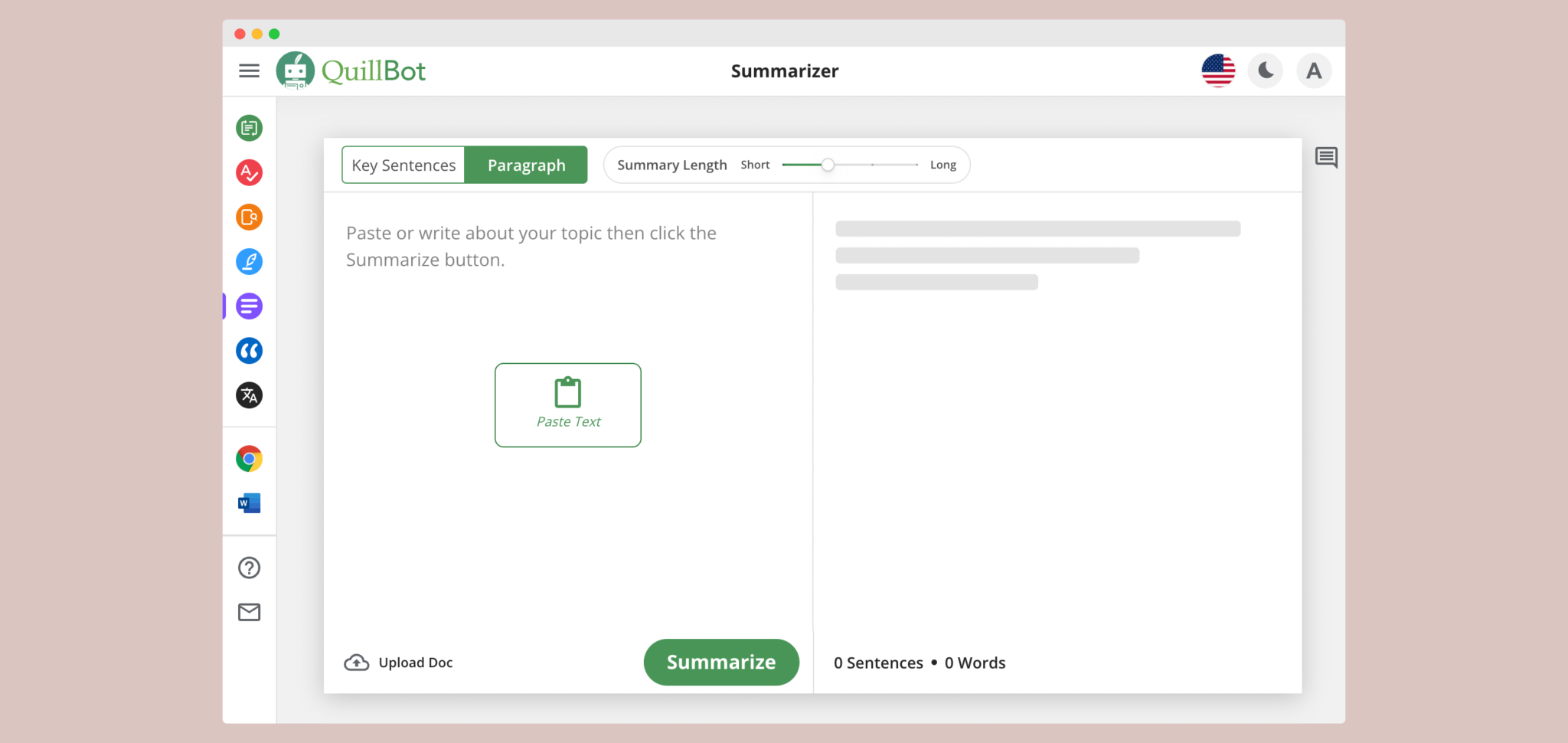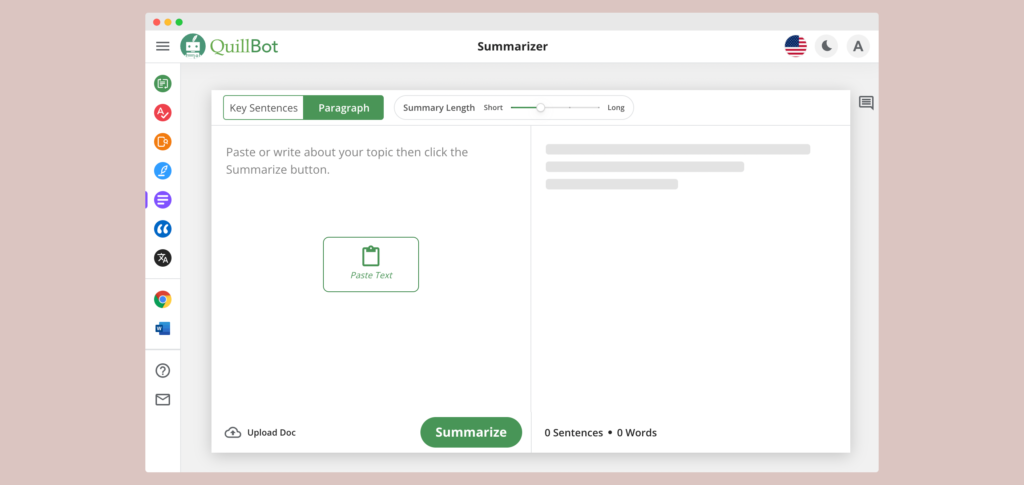 Hi Rohan, thanks for agreeing to this interview! You started building tech-enabled tools from a young age. What was driving you?
As a child, I was fascinated by the endless possibilities that technology could offer and was eager to explore them. This interest in technology may have led me to experiment with coding and building software tools from a young age. It was amazing being able to exercise my creativity to build tools and products that people would genuinely use and love.
And you were still a student when you launched QuillBot. Can you tell us about the early days?
Yes, Jason and I were both students pursuing different startups at the time, and we met at a startup accelerator. The first version of QuillBot was quite janky. It was a single page web app, effectively a demo. It went live on Reddit and got great reception, even though the first version of our AI was not that good.
People loved the concept and it was quite novel at the time. It was helpful to writers who used English as a second language in particular. QuillBot started going viral, and we had to figure out a way to cover the costs. So we built out a premium subscription and bootstrapped the business to over one million monthly active users before raising venture funding.
QuillBot is now an advanced AI writing companion that provides everything from a paraphraser to a summarizer and a grammar checker. How does it work exactly?
QuillBot is unique in that it caters to every writer's needs, whether those are simple or more complex. It's there for writers through every step of the writing process, which includes brainstorming, research, outlining, drafting, editing, and creating citations. Instead of focusing on a singular problem, QuillBot aims to alleviate every pain point a writer might face while writing.
However, if a writer needs specific help in just one area of the writing process, they can choose to use just a specific tool for their needs. For example, if a writer doesn't have the best grammar, they can choose to write the paper on their own and run the final draft through our Grammar Checker.
People complain about the proliferation of writing tools and how disjointed the writing process has become. How does QuillBot address this challenge?
A good writing tool will simplify and ease the writing process, not make it more difficult or disjointed. Not all writing tools can achieve this. QuillBot prioritizes a streamlined experience, which is why you'll never see an ad on the site. Every tool works with just the click of a button, which takes away any convoluted steps that might confuse our writers or eat up their time.
QuillBot also offers an extension for both Google Chrome and Microsoft Word, ensuring that our users will be able to write well wherever they write. The extension allows for quick edits and suggestions without going on the website, making it easy for users to perfect their writing across the web.
An exciting feature is the QuillBot Co-Writer – can you tell us more?
At its core, the Co-Writer is a writing space that employs the features of the Paraphraser, Summarizer, and Citation Generator to correct and perfect the user's work as they write. The "Suggest Text" button helps users who are experiencing writer's block by recommending the next sentence based on existing text.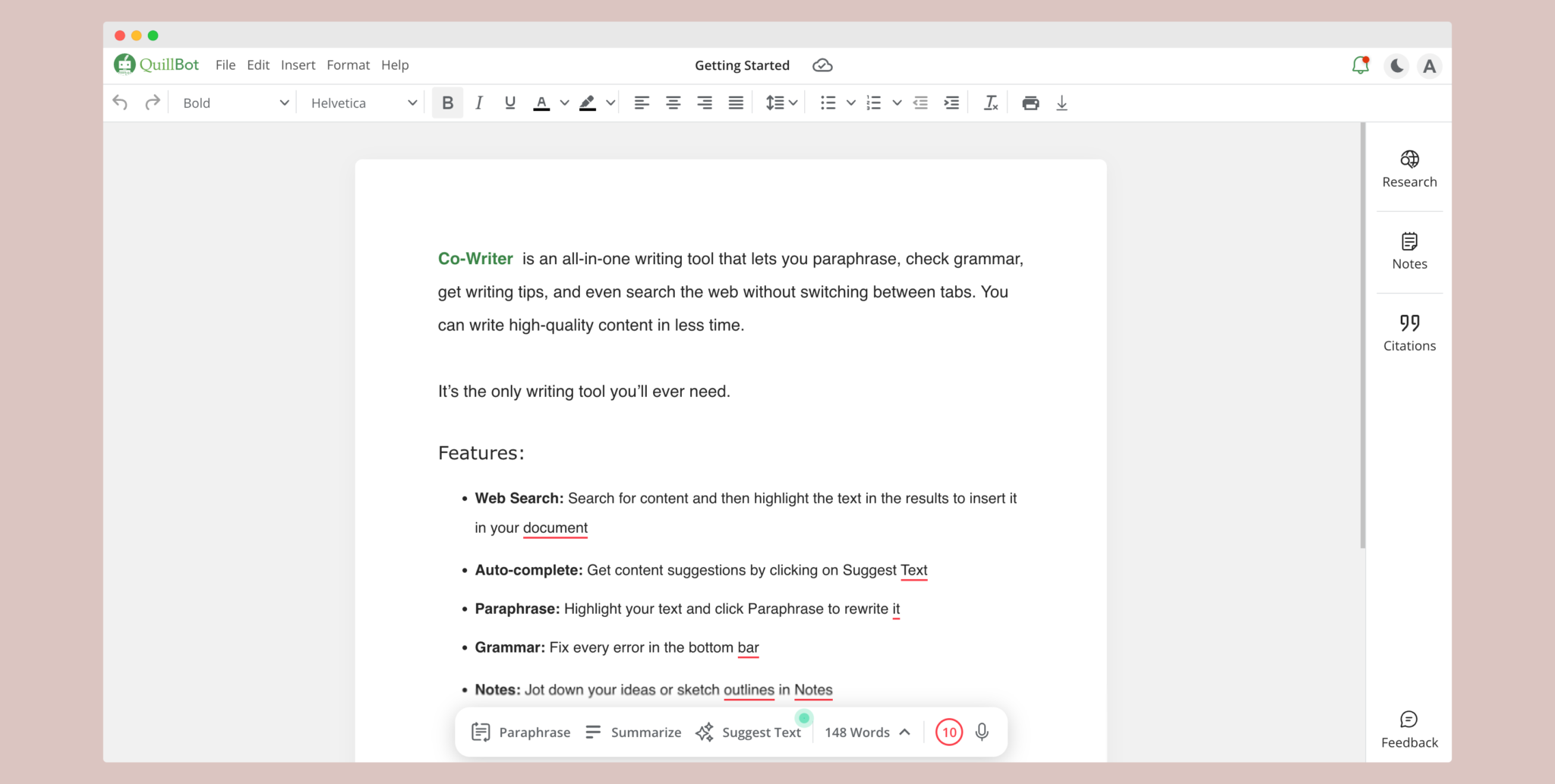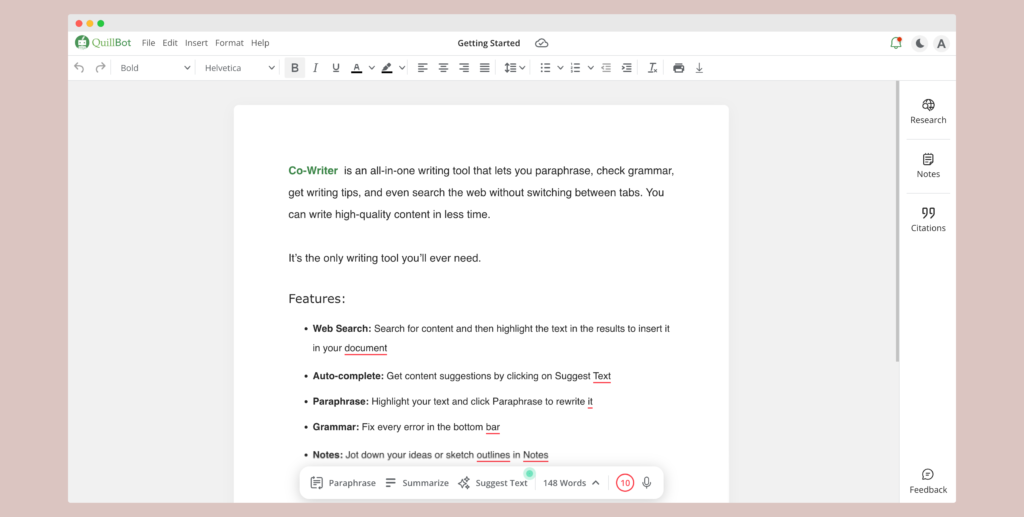 The Co-Writer also includes online research capabilities, a space for note taking, and an outline generator, allowing the user to complete a paper from start to finish without ever leaving the tab they're on.
What kind of people use QuillBot?
Our two largest demographics at QuillBot are students and English language learners (ELLs), and those groups have a tendency to overlap.
Students are usually focused on the content of their essays, so they find the Citation Generator, Summarizer, and Grammar Checker particularly useful for automating tasks that would otherwise take them a lot of time, such as creating citations. Students are very busy people, so saving time on writing projects goes a long way for their overall success in school.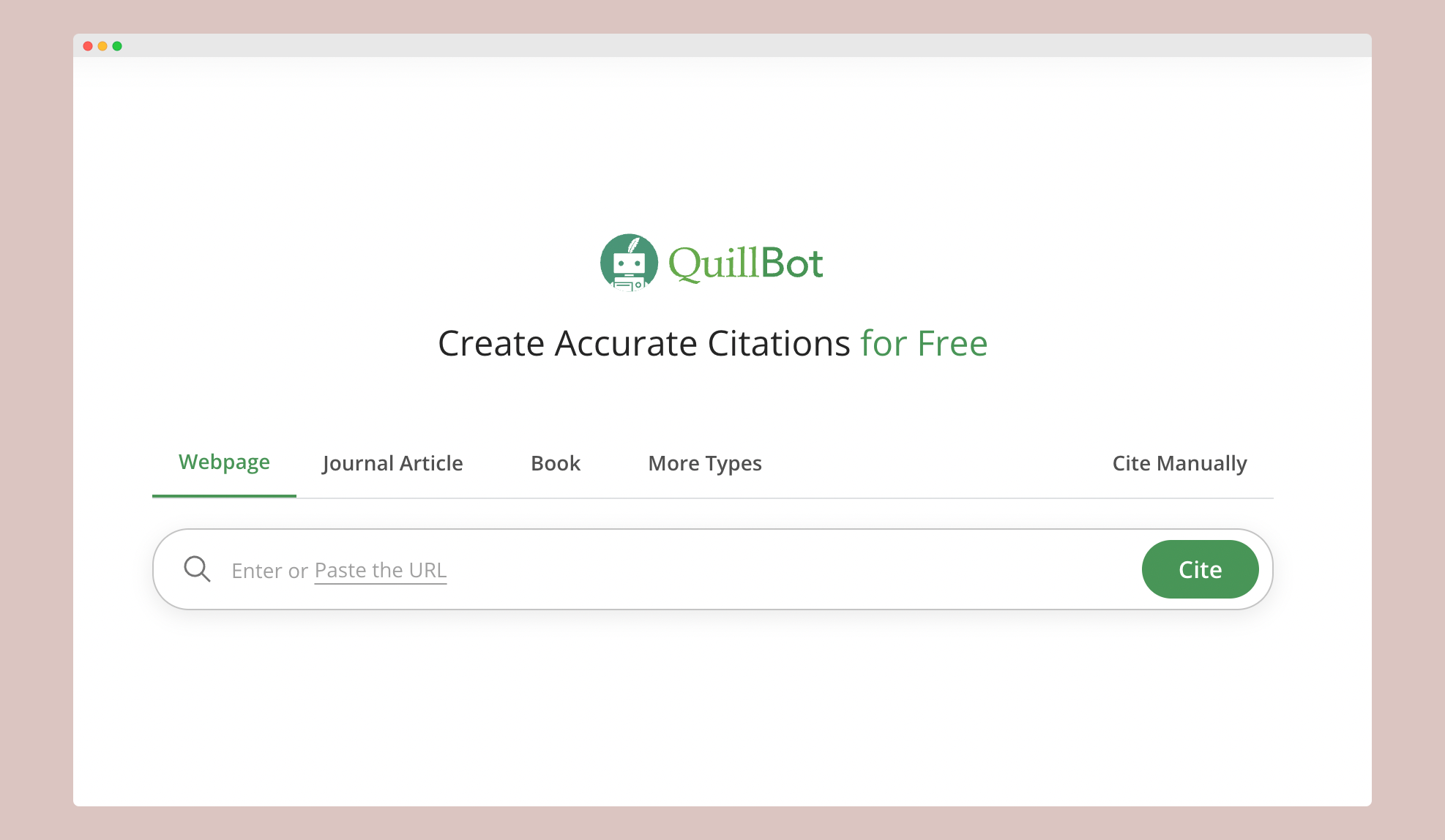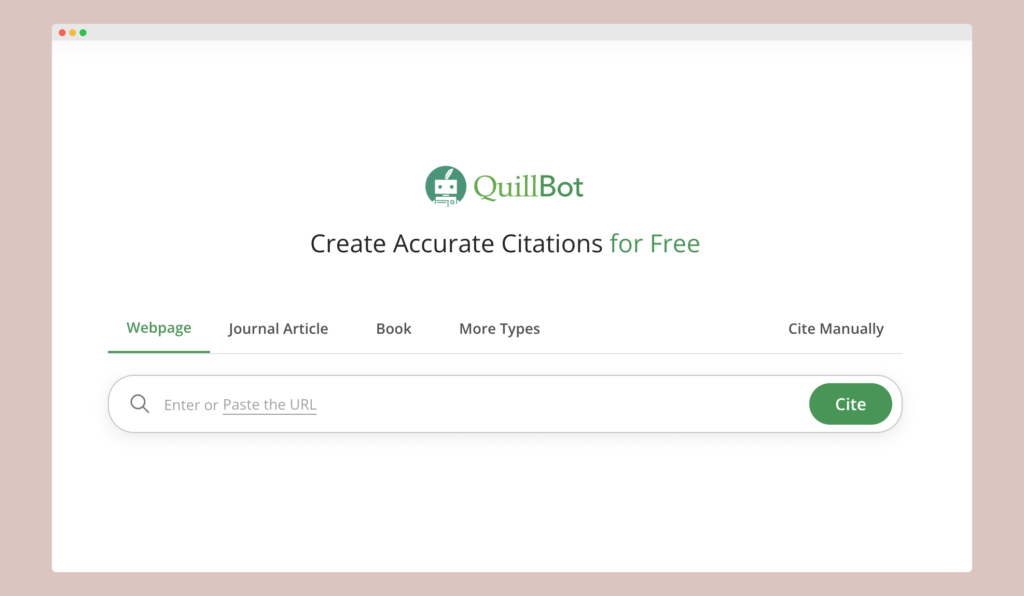 ELLs find that tools such as the Paraphraser and the Grammar Checker are particularly useful when sending communication. For those who are still learning English, these tools help smooth out and correct their language so they are able to speak, or write, effectively. Now they are better equipped to integrate into their new community and improve their lives moving forward.
However, QuillBot's clientele is not limited to those two demographic groups. QuillBot users range from content creators to businesspeople to researchers, and beyond.
Users find the Summarizer to be helpful when conducting research, because it condenses any article or piece of text into its most important points, effectively cutting out all of the filler material.
The Paraphraser is great for online content creators, because it helps them write original content that will rank well on search engines. The seven writing Modes help narrow each piece of content down for its respective audience, ensuring that tone is consistent throughout the text.
What about you, how do you use QuillBot?
I do all of my writing with QuillBot. In particular, Compare Modes is a great feature found within our Paraphraser that allows a user to compare text that has gone through our different Modes, which change the tone and style of the text depending on which Mode is in use.
I like to use this feature to ensure that I'm coming across the right way in everything that I write, whether that be a company-wide message, private correspondence, or an interview such as this one. I find seeing all of the different outputs laid out next to each other helps me to weigh my options and pick the perfect Mode for any occasion.
This feature works hand-in-hand with Freeze words, which lets the user keep a word or phrase the same when paraphrasing. This is particularly handy when I'm writing something that includes a branded keyword or proper noun that cannot be changed or rephrased in any way. For example, QuillBot's tagline is "Make writing painless." That has to be frozen to ensure brand consistency and an understanding of our core mission and values.
How do you recommend someone get started?
The best way to get to know QuillBot is to play around with all the tools. Grab a sample text and run it through the Paraphraser, using the different Modes to create different paraphrases. Run it through the Summarizer and go through all of the available settings and options.
Our Co-Writer has tutorials available for all of the tools within the broader Co-Writer space, which includes the Paraphraser, Summarizer, Grammar Checker, and Citation Generator. It's a great place to learn, play around, and create something new — or tweak something that already exists!
Within that space, you can draft a new project, edit a work-in-progress, and work through every step of the writing process. It's a great option for those new to QuillBot, because it showcases a number of our tools in an easy-to-use setting.
In the future, what role do you think AI writing companions will play in the creative process?
We're already seeing AI improve people's writing skills. With tools like the Grammar Checker and Summarizer, writers are able to produce content more efficiently than ever before, with little to no mistakes.
Other AI writing companions, like the Co-Writer, help users brainstorm and research. It's easier than ever to create and expand upon an idea in order to bring it to fruition. The entire creative process is already being impacted positively by AI, and I don't see that slowing down any time soon.
And finally… What's next for QuillBot?
We are on a mission to better streamline writing and fundamentally redefine the writing process. We plan to do this by incorporating new generative AI tech, improving UX/UI, and building out multilingualism as part of the writing journey. There is a huge opportunity to redefine writing and we intend to capture it!
Thank you so much for your time, Rohan! Where can people learn more about QuillBot?
Everyone can go to QuillBot.com to learn more about our brand and product.
You can also follow our journey on Twitter.