FEATURED TOOL
Welcome to this edition of our Tools for Thought series, where we talk to founders on a mission to help us think better and work smarter. Jim Kleban is the Head of AI at Supernormal, an AI-powered app that helps you create amazing meeting notes without lifting a finger, saving ten minutes every meeting.
In this interview, we discussed the underpowered value of taking notes, the importance of building memory over the knowledge contained in meeting discussions, the critical relationship between note-taking and decision-making, how AI will shape the future of work, and much more. Enjoy the read!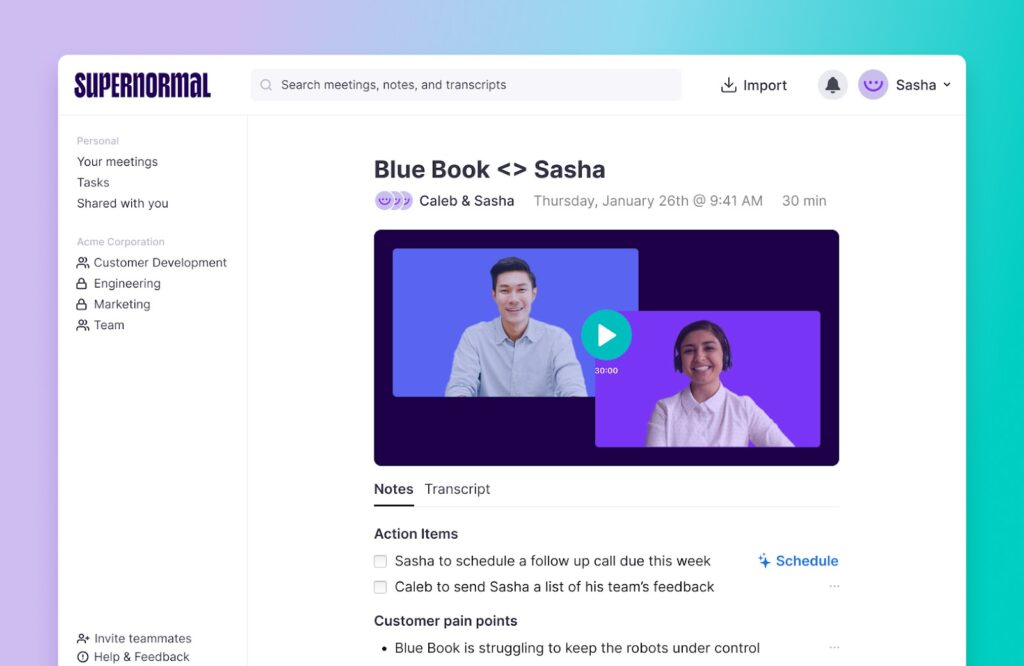 Hi Jim, thanks for agreeing to this interview! Most people know the value of taking meeting notes, and yet in most cases, notes are sent around and never used again. Why is that?
Thanks for having me! I'm excited to share what we're building at Supernormal and how I think these tools are going to change how we work. Supernormal provides detailed meeting notes automatically that you can tailor to the type of meeting you're having. This frees people from the mental effort of having to write out notes so we can be fully present in our meetings.
Meetings are a critical part of how work gets done, but how the world approaches meetings hasn't really evolved so much. Meetings are still conducted similarly to the pre-remote work era, and we may even have gotten sloppier. In many cases meetings don't have an agenda, nobody takes notes, and action items are forgotten. The lack of rigor is making meetings less productive and workers are feeling it. A recent survey from Zippia found that organizations spend ~15% of their time on meetings, with surveys showing that 71% of those meetings are considered unproductive.
When people do take notes for meetings, it is true that they are often sent and then effectively lost. I think this is due to a lack of structure for building an organizational memory for what has been discussed over time.
How does Supernormal address those challenges?
The tools we're building at Supernormal are aimed at making meetings a much more valuable use of time. We consider how we can help people before, during, and after their meetings. Ahead of time, we make it easy to add the Supernormal notetaker to meetings by syncing it with your calendar. It's simple to turn the notetaker on or off for a meeting both beforehand or when a meeting is happening.
During the meeting, Supernormal will automatically transcribe the conversation and create meeting notes. The product works today for Google Meet, Zoom, and Microsoft Teams so it is flexible to cover meetings when you use a different remote meeting platform. The set of meeting notes people receive includes a short summary that we call "the gist", a longer summary with all the details, and a list of action items. And for specific types of meetings like customer discovery calls, interviews, and business pitches, we provide custom notes that are tailored to what people most want to learn for that type of meeting.
When the meeting ends, the transcript and notes can be automatically shared with meeting participants. They can also be viewed, edited, and shared from inside the Supernormal web app. Here is where Supernormal helps teams build memory over the knowledge contained in their meeting discussions. On Supernormal, we organize past meetings for easy reference and make it easy to find meetings by searching over transcripts and notes. We even help people make progress on the action items they've been assigned in their meetings.
Can you give us an example of how that would work, let's say with a customer discovery call?
Sure! Let's say you're a product manager and you're trying to validate your product idea. To conduct a customer discovery call using Supernormal, you would first identify potential customers who fit your target market. You then send the usual meeting invite to have them participate in a call and include the Supernormal notetaker. On the call, you would ask the customers a series of questions that helps you better understand whether your product idea addresses their needs.
With Supernormal in the meeting, you can stay fully focused on what the customer is telling you and not be distracted by the need to write notes. For this type of call, Supernormal will generate custom note sections based on who is speaking that summarize the customer's needs and pain points. Afterward, anyone you share the meeting with can access the transcript and notes. You can highlight customer insights from this call to compare with other customer discovery calls, and you can easily share out the notes via email or message. People who weren't present on the call can quickly learn by reading the notes and diving into the relevant parts of the transcript.
Overall, the Supernormal app helps you conduct customer discovery calls more efficiently and effectively by automatically providing real-time analysis and insights from the conversation, making notes easy to share, and centralizing notes in a single place.
That sounds great. I guess a common problem with meeting notes is that we often just forget to take them.
Yes, and this is the first problem Supernormal is designed to solve. We automatically take detailed meeting notes for you so it's no longer an annoying task or tradeoff.
I also want to mention that what sets Supernormal apart is that we have invested heavily in improving the Supernormal AI. The notes are designed to be accurate, concise, and not miss any of the important discussion points. And to improve on this we have built user feedback and quality controls. The AI learns to provide better notes for people the more they use our tool. Unlike other transcription tools, Supernormal accurately summarizes the meeting so you don't have to comb through a transcript. The transcript and notes work for meetings in languages other than English, too.
And in some ways, because the AI is a neutral observer, the notes generated may indicate or remind the participants of important points or tones that happened during the meeting that may have been missing in the notes otherwise.
So, it's practically impossible to forget about taking notes during meetings. What about sharing those meeting notes?
Sharing notes really is a key behavior. Notes can be much more than a record of what has been discussed, for instance, they are often a way teams formalize key decisions. Supernormal gives meeting participants the ability to take the output notes from the AI as a starting point and then refine them as they see fit, by editing them or applying custom templates to get notes for specific kinds of meetings. And I've mentioned we make it easy to automatically share with participants, copy the notes and send in an email, or just share a link to the meeting.
All of your meetings are securely stored and discoverable on Supernormal, so you never have to spend time searching docs or flipping through calendar invites to find them. Supernormal also integrates with Slack, Hubspot, and Pipedrive so you can save and share meeting notes in the tools you already use.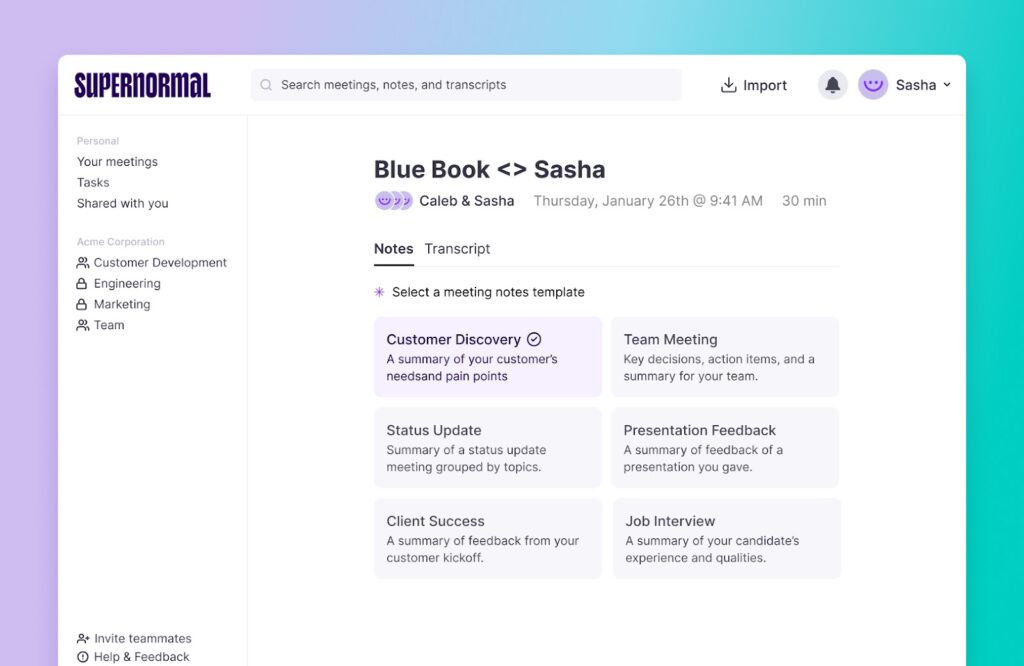 What kind of people use Supernormal to capture and share meeting notes?
The world has shifted to remote or hybrid work since the pandemic, and even though we started building Supernormal before COVID-19 the changes in how we work have opened up the possibilities for tools like ours. People also are excited about what is possible with AI and the ChatGPT explosion, and they want to find tools like Supernormal where the AI helps but does not replace the human in our work. This was also personally very important to me as I considered the type of AI product I want to be contributing to the world in my own work.
So the people who use Supernormal are often remote work oriented. They feel they are gaining a superpower at work from the tool. Their teams often have important external meetings that not everyone attends so the notes and transcripts are critically valuable.
As an example, there's a product manager from a startup in the Pacific Northwest. Her team is working on a years-long project with multiple customer discovery calls that she can't always attend. But, she uses Supernormal to review each of those calls, and finds it helpful to get the insights from the notes and then is able to read the direct user quotes from the transcripts. For meetings within her team, she is using Supernormal as a way to make a record for the entire team to access. This streamlines team-wide communications so everyone always knows what's going on and nothing happens behind closed doors.
What about you, how do you use Supernormal?
At Supernormal we're pretty serious about meeting notes. I spent more than a decade of my career as a product manager and most of my workday has been in meetings. I always wanted a tool to help make the pain of follow-ups and sending notes less toilsome. As our company has been growing, you can also imagine the number of meetings I have now as Head of AI is increasing.
We dogfood our own product at Supernormal and typically use it to capture and share all our meetings. One of the features we really love is tracking the action items assigned to each of us as tasks. It even feels fun to check out the new tasks that have automatically appeared for us to do after a day of meetings. These are helpful reminders of the things we said we'd do in our meetings, and I'd imagine we'd forget at least some of them otherwise.
The other key part of how we use Supernormal is that it frees people on the AI team from feeling like they have to attend every meeting that gets scheduled. Everyone has access to every meeting, so this means they won't lose context when a meeting is something they skip attending. They can focus instead on completing their engineering work instead. This has greatly reduced meeting bloat and opened up work time for our AI team.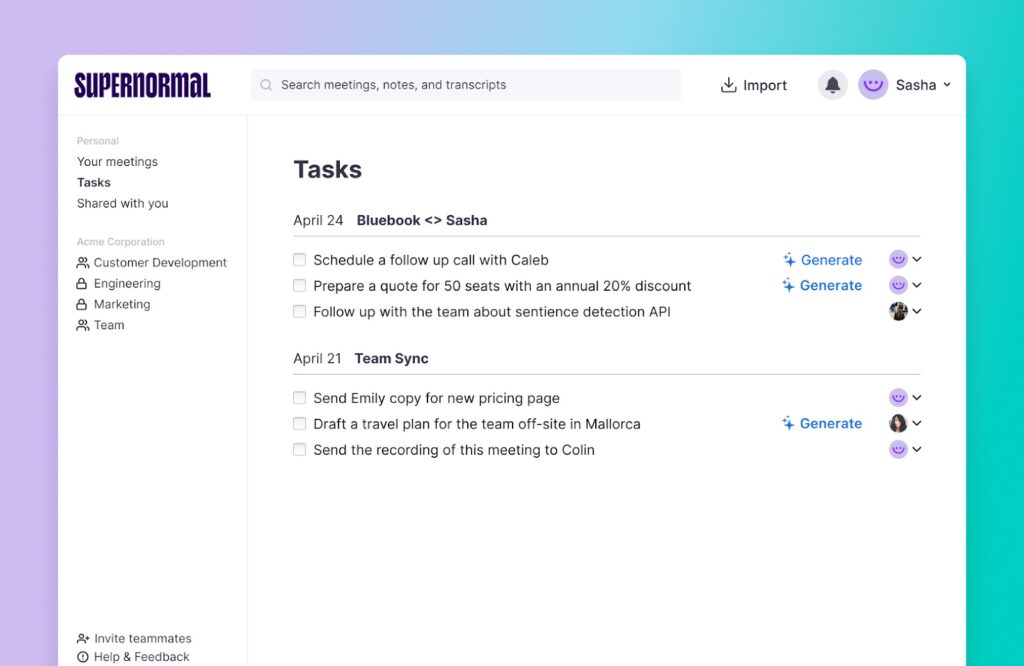 How do you recommend someone get started?
Getting started is easy! If you're on Google Meet, just download the Supernormal Chrome extension and follow the signup prompts. If you're on Teams or Zoom, you can connect your calendar and choose to have Supernormal capture just some or all of your meetings.
And finally… What's next for Supernormal?
We are really just getting started at Supernormal and have a grand vision for the future of work made possible with AI as an assisting tool. At Supernormal, it's our mission to create tools and technologies that streamline workflows, boost collaboration, and make the super – normal. Meeting notes are a critical part of everyone's work and they hold a lot, but not all of the context on key projects within organizations.
There is also information that today is buried inside email, chat threads, documents, and just people's heads. We believe there is so much more possibility in how AI can help people move projects forward especially when armed with an even more extensive organizational memory. We want Supernormal to be one of the positive stories about the new capabilities of AI, where it really does aid and not replace knowledge workers, freeing them to focus on highly leveraged work.
Thank you so much for your time, Jim! Where can people learn more about Supernormal?
Thanks for having me! Check out supernormal.com or find us on Twitter at @supernormalapp.