FEATURED TOOL
Welcome to this edition of our interview stories, where we talk to founders on a mission to help us think better and work smarter. Kim Dan is the founder of BOOX, a suite of products designed to simplify e-reading and facilitate digital workflows through user-friendly e-readers.
In this interview, we talked about integrating your note-taking workflow with your tablet, the importance of using eye-friendly devices, how to boost productivity by using split-screen displays, how tech companies can collaborate together to meet the needs of specific user groups, and much more. Enjoy the read!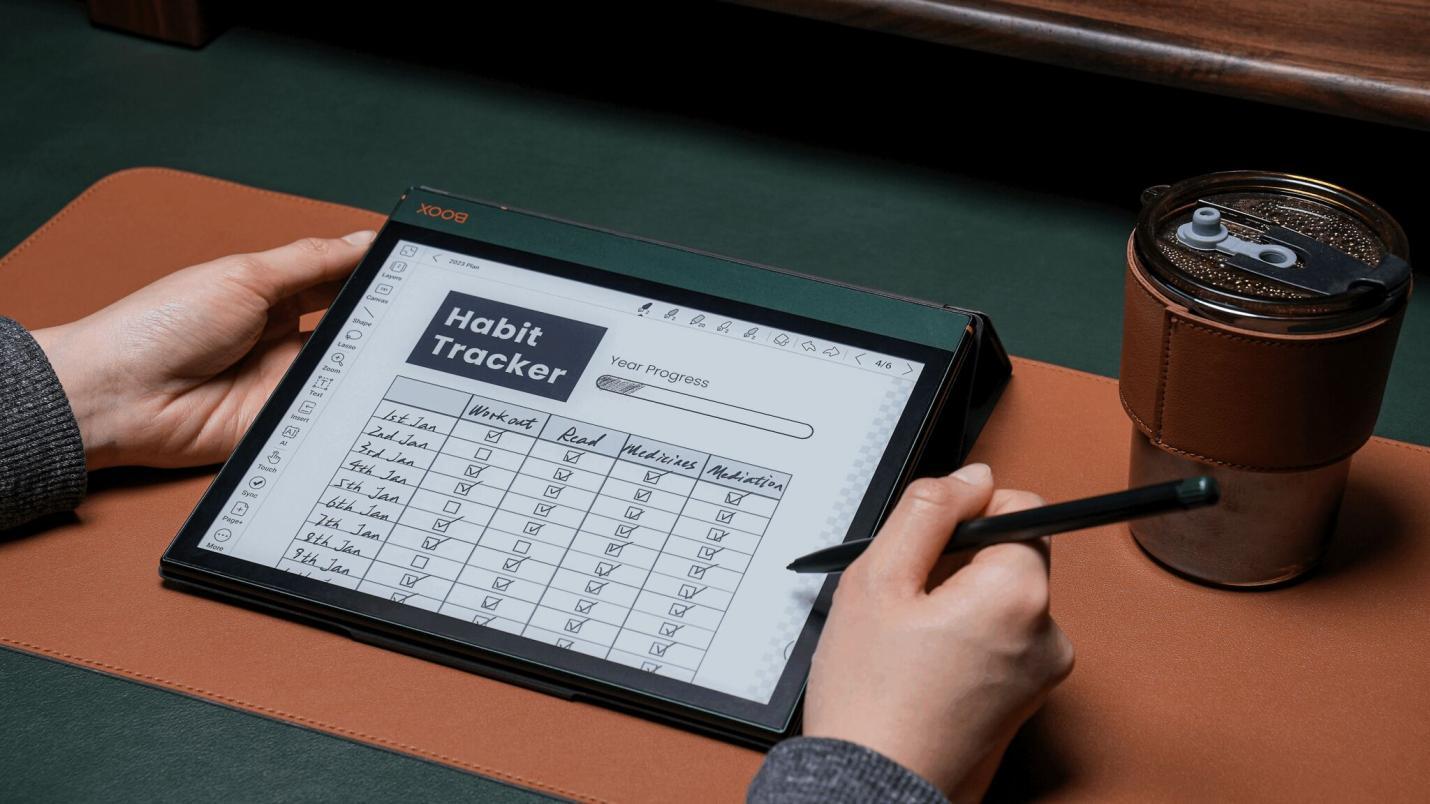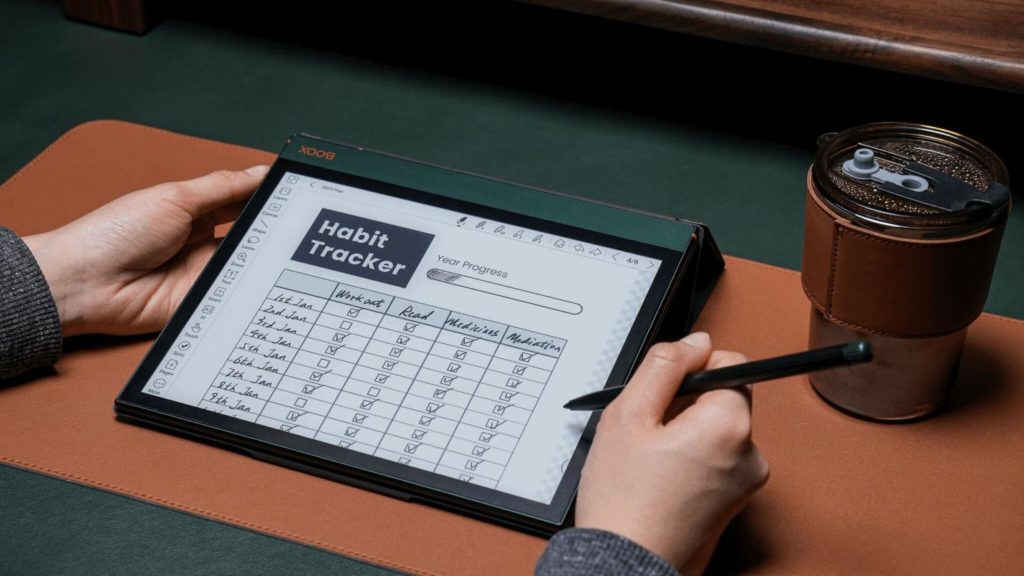 Hi Kim, thanks for agreeing to this interview! E-readers are notoriously hard to get right. What inspired you to create BOOX?
Our story began in 2008, at a time when smartphones and tablets had hardly emerged, and people had to gain knowledge with few resources and limited digital tools. It's in that context that BOOX was founded by a group of ambitious young geeks, driven by a deep desire to simplify and digitize the reading process.
We started with a question: "How can we help people study and work productively without experiencing eye strain?" Our goal was to invent reading tools that could alleviate these challenges. After much hard work, we achieved our first major milestone: the creation of our first e-reader. This accomplishment remains one of our proudest moments to this day.
Building helpful hardware is known to be a difficult challenge, so you should definitely be proud! What are the advantages of using BOOX for consuming content?
E-readers have become popular due to their eye-friendly screens and paper-like feel, making them ideal for reading and note-taking. With BOOX, you can enjoy the benefits of an electronic paper display to read or write while using your favorite apps without straining your eyes.
This means you can implement similar workflows as you would with other tablets — like highlights and annotations — but with the added advantage of a more comfortable viewing experience. Additionally, most BOOX E Ink tablets come with dual tone front lights, making them easier to use in low light conditions without causing eye fatigue, which is a common issue with backlit OLED/LCD displays.
In addition to native highlights and annotations, many people rely on note-taking apps to capture and process information. How does BOOX integrate with their existing note-taking workflows?
BOOX strives to provide our users with a variety of note-taking capabilities. With the built-in NeoReader, you can scribble directly on ebooks without any extra effort, and highlight, underline, or annotate the sentences that interest you.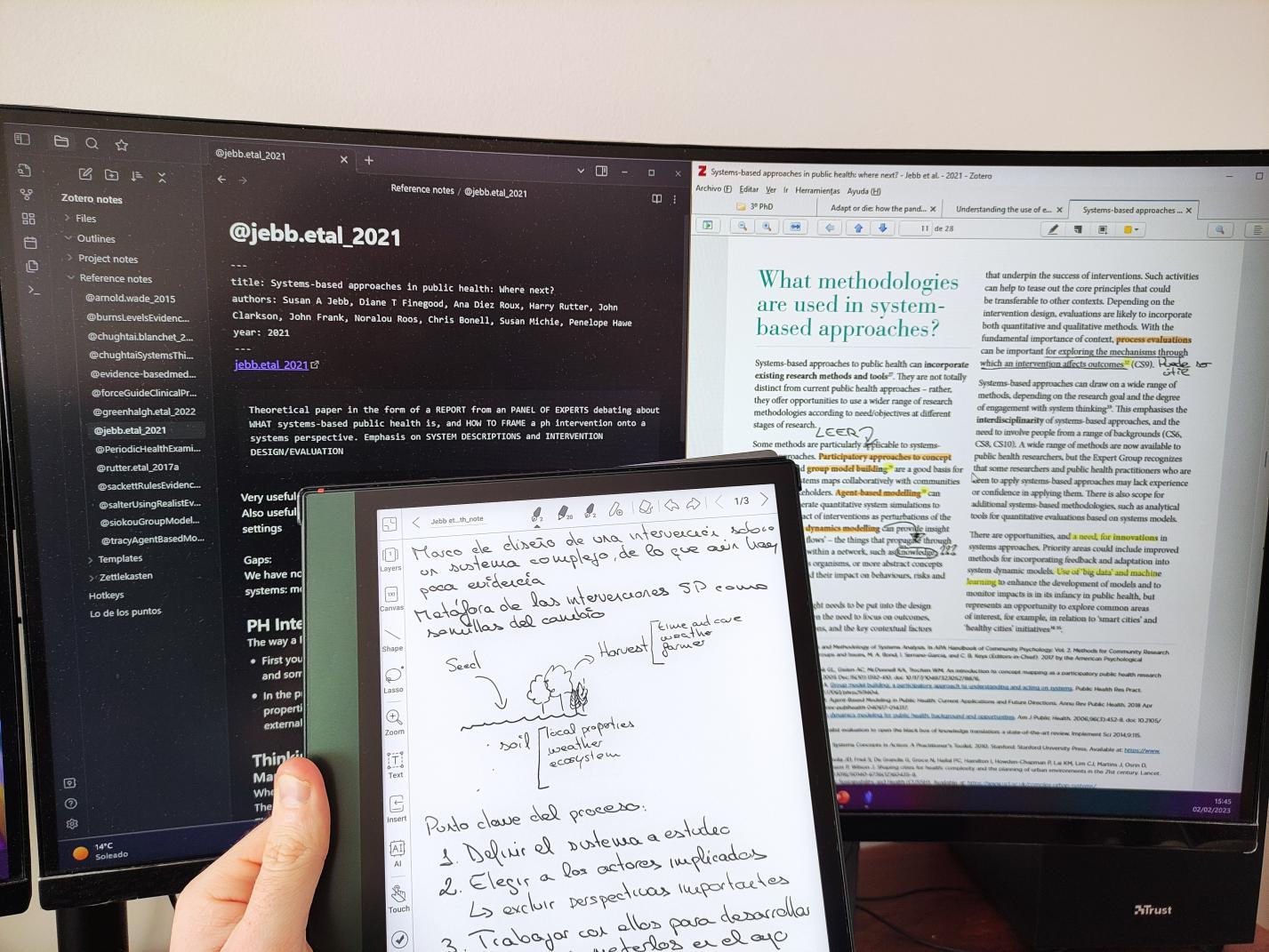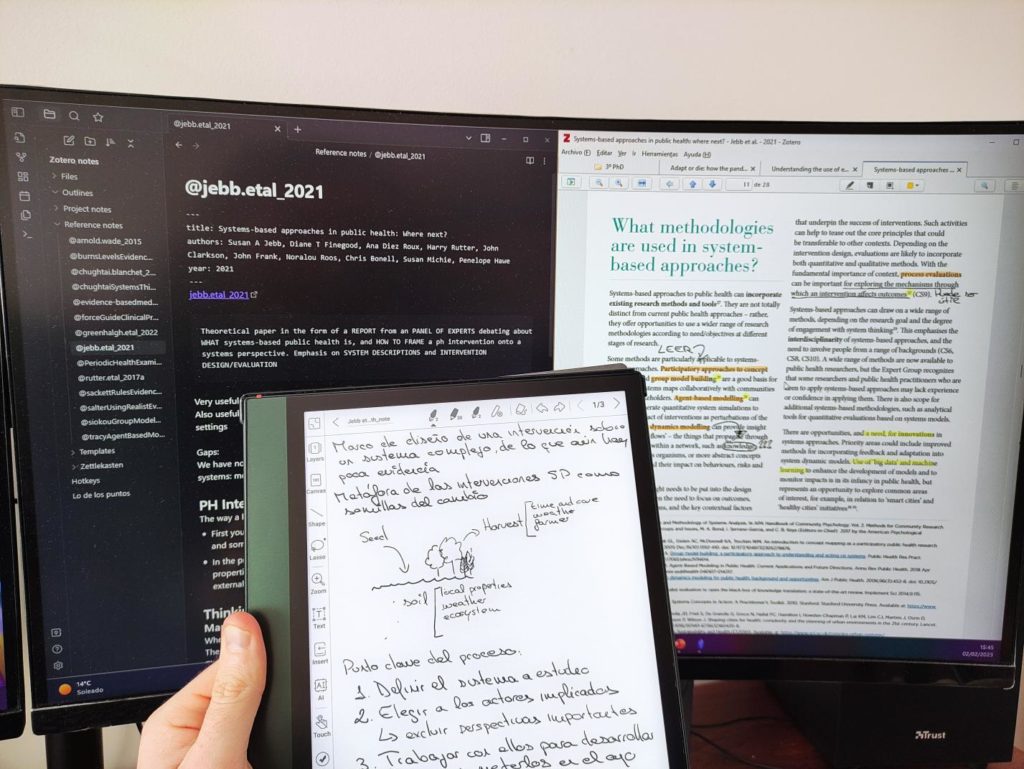 Our Notes app is an independent notepad with versatile tools to let you freely jot down your ideas. If you're accustomed to popular note-taking platforms like Evernote and OneNote, we've implemented handwriting optimization to ensure a lag-free experience. We also have people using other apps like Obsidian.
Another innovation we have made is the split-screen function, allowing you to read and take notes simultaneously with two separate windows side by side, providing a seamless and efficient note-taking experience.
Just to dig a little bit deeper… Many e-readers only work well with specific proprietary formats. Can you tell us what kind of documents people can read with BOOX?
BOOX devices has a native support of 24 document formats, which include nearly all popular ebooks (PDF, DJVU, CBR, CBZ, EPUB, MOBI, TXT, DOC, DOCX, PPT, PPTX…), images (PNG, JPG, BMP, TIFF), and audios (WAV, MP3).
Of course, you are always welcome to download any third-party apps to gain compatibility of more documents. What's more, we have several preset navigation modes to optimize large-format PDF files so that users can conveniently view them in small-screen devices.
That sounds great. What kind of people use BOOX devices?
BOOX devices are the perfect companions for productivity enthusiasts, as we've heard from users worldwide. From university students and professors to musicians and researchers, our devices have helped many different people achieve their goals.
One such story that particularly impressed me was that of Javier Del Águila, a Spanish epidemiologist working with the World Health Organization. He shared his workflow with the BOOX Note Air2 Plus and his achievement in studying the Omicron variant of COVID-19.
We're proud to have played a role in his research on the pandemic and improved his work process. It's stories like these that motivate us to continue creating innovative and effective devices.
This is an incredible story. Another exciting one is your collaboration with Connected Papers. Can you tell us more?
The collaboration between BOOX and Connected Papers is a great example of how technology companies can work together to enhance the user experience and meet the needs of specific user groups. We have 10.3″ A5 and 13.3″ A4 sized models which are excellent for reading papers in PDF and other formats. With BOOX's optimized reading and note-taking capabilities and Connected Papers' advanced visual tool, we aim to simplify and streamline the workflow for academic users. We are proud of this partnership and look forward to exploring further opportunities to support the community.
What about you, how do you use BOOX?
In my daily routine, I rely on three BOOX devices: the Leaf2, Note Air2 Plus, and Tab X. For my daily commute, I carry the Leaf2 with me to browse the news feed as it fits perfectly in my handbag. Its page-turn buttons are exceptionally useful and save me the effort of tapping or swiping on the screen.
During the day, I attend daily briefings with the product engineers in the morning and the marketing team in the afternoon, where I use my Note Air2 Plus to take notes. I love the writing feel of this device. On my office desk, I use the Tab X to read and reply to business emails and organize my work. It has a 13.3″ A4 size, similar to other tablets or laptops.
At the end of the day, I spend my time with the Leaf2, reading my favorite books before bedtime. It's a treasured moment when I can relax and enjoy some solitude.
You use three different BOOX devices. If people had to choose only one to get started, how can they decide which BOOX device is right for them?
BOOX offers a comprehensive product line to cater to all types of users. For those new to eReading, I recommend the Leaf2, a compact and lightweight e-reader that comes with built-in page-turn buttons and the option of black or white colors. If you are a sophisticated E Ink tablet user, the Note Air2 Plus is an excellent choice. It offers a close-to-paper writing experience and a 10.3″ A5 size, making it easy to carry around.
For professionals, we have introduced the brand-new Tab Series, which is a premium selection and a game changer in the industry. It features the BOOX Super Refresh Technology, achieving ultra-smooth refresh rates. We have currently released two models, the 10.3″ Tab Ultra and the 13.3″ Tab X, with more to come in the future. Please stay tuned for updates!
Once they have chosen a BOOX device, how do you recommend someone get started?
When you receive your BOOX device, the first step is to get familiar with its user interface and explore its functionalities. It is packed with many possibilities to improve your workflow. To help you get started, we have an introductory video available on our YouTube channel that explains how to set up your new BOOX. We encourage you to check it out and take advantage of all the features and tools that BOOX has offered.
And finally… What's next for BOOX?
Our top priorities now are to keep innovating and promote BOOX as an eye-friendly device to boost your productivity. To achieve this, we plan to release new devices tailored to different purposes and scenarios this year, while refining the user experience with a couple of firmware updates. We are also excited about the advancements in E Ink screen technology and are exploring how we can incorporate them into our new products.
Thank you so much for your time, Kim! Where can people learn more about BOOX?
Thank you for the interview. The pleasure is all mine. If you would like to know more about our brand and products, please feel free to visit our official BOOX Shop. You can also follow us on Facebook, Twitter, Instagram, YouTube, and Reddit to catch up with all our updates and join our community.