FEATURED TOOL
Welcome to this edition of our Tools for Thought series, where we interview founders on a mission to help us make the most of our mind. Vladimir Oane is the founder of Deepstash, a curation platform to become more inspired and productive through bite-sized ideas.
Deepstash is built on the belief that ideas are the building blocks of the world and the Lego bricks for your mind. It allows you to nurture your mind by "stashing" ideas, either from your own reading sources, or from the Deepstash community of curators.
In this interview, we talked about the nature of ideas, how curation is an act of creation, the many benefits of curating ideas, an antidote to the problem of endless scrolling, and the power of referencing ideas in your creative work. Enjoy the read!
Hi Vladimir, thank you so much for agreeing to this interview. Let's start with a bit of a philosophical question: why do you think ideas are fundamental?
Carl Yung once said: "We don't have ideas. Ideas have us." At Deepstash we believe ideas are fundamental. They helped us transcend our animal nature, shape our behaviour and come together as a group. All personal and collective progress can be traced back to an idea. Ideas are the building blocks of the modern world. They're the seeds of everything.
Right now ideas are trapped inside books or other long-form content which makes them hard to grab and use in our daily lives. Reading can be fun in and of itself, but the magic happens when we can relate to what we're reading. Unfortunately, social media usually tries to distract us with divisive news and silly entertainment, stuff which we can't ultimately connect to on a deeper level.
In the words of Eleanor Roosevelt: "Small Minds Discuss People. Average Minds Discuss Events. Great Minds Discuss Ideas". At Deepstash we are setting ideas free. We believe that ideas are the seeds of everything and we want to see them burst and bloom. We are taking the lead in sharing and discussing ideas. We are reinventing social media, but better, around and for ideas.
And that's what inspired you to create Deepstash.
What me and my colleagues discovered is that a lot of our work is knowledge work. Things change so rapidly that it becomes imperative to stay on top of things. Constantly learning and re-learning is becoming a keystone skill in the 21st century. Personally, I've always been the type of guy who reads with a pen and who organises his insights in complex structures, using all sorts of note-taking tools (some of which you are reviewing here at Ness Labs). I've always seen my personal knowledge library as one of my main assets.
Beneficial as it may be, we realised that such a system is cumbersome to create and most wouldn't bother. It's too complex. So we started Deepstash with this desire to give all people in the world idea-mixing superpowers. Ease of use on the go and social presence were our bets that would get people to connect through ideas. 2 million users later we seem to be on to something.
That sounds great, how does it work exactly?
You start your Deepstash journey by setting up some topics of interests and maybe following some interesting curators. Tailored content recommendations from the ever-growing library of knowledge are then delivered to you on a daily basis. You will find inspiring quotes, meaningful books, explanations of abstract concepts or thought-provoking opinions. And you can stick to your preferred topics or you can explore a myriad others.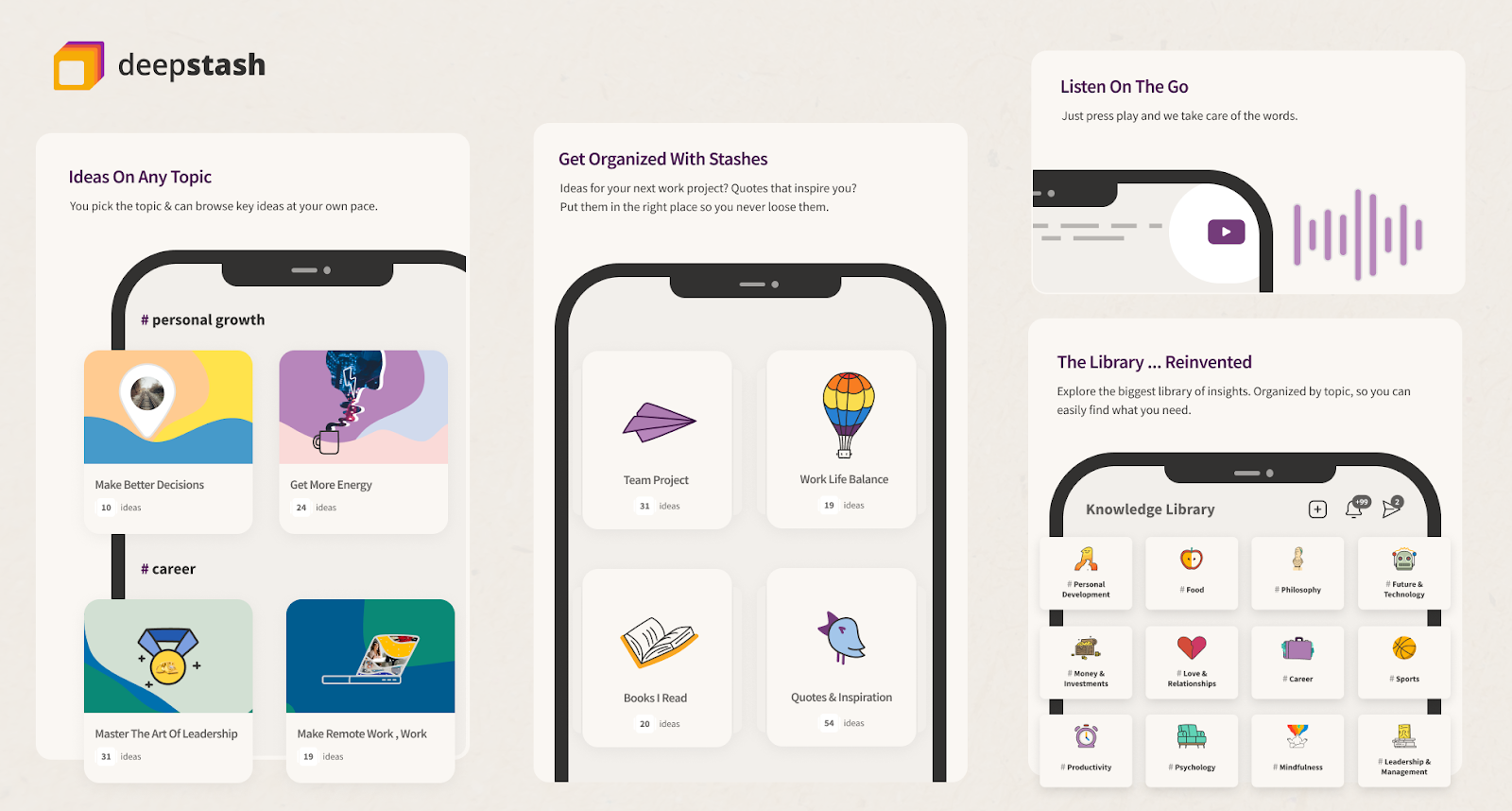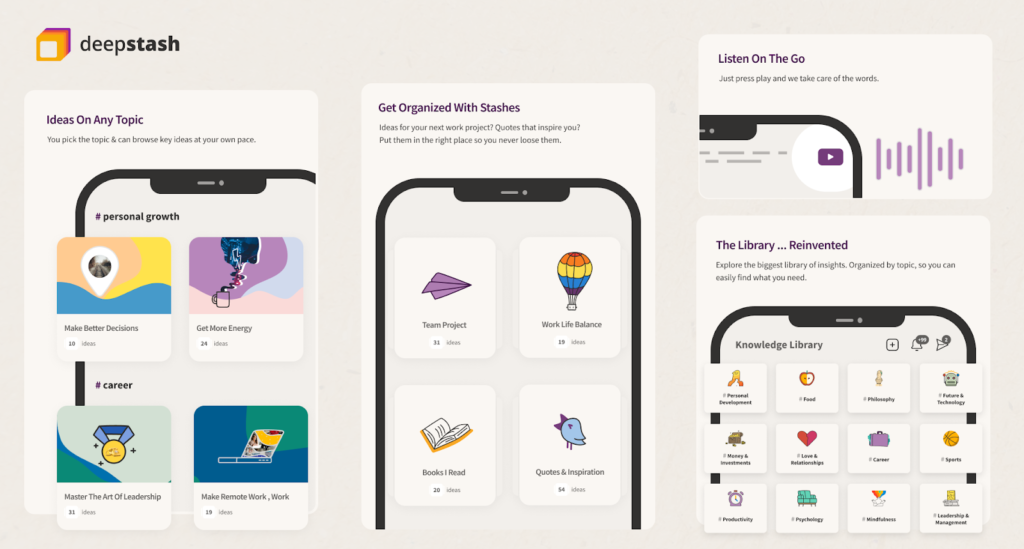 Content on Deepstash is short and actionable so there is a high chance you will stumble on an idea that will mean a lot to your career or personal life. You can save it with a tap, something we call stashing. You can also group more ideas into stashes. In time you will build quite a library of ideas you can rely on and use it whenever you have to write a work presentation, a paper in college, give a speech or take your first steps in investing in crypto. You can also share ideas with friends and colleagues and chat about them. It is quite easy, as it all happens on your mobile.
The term "idea" may sound vague to some people — what exactly do you mean by an idea?
Ideas are atomic pieces of knowledge. This means they are short so they are easy to grab. And they are more actionable as they usually refer to one thing and one thing only. An idea can be an inspiring quote, a practical method like the 7 min workout, an explanation for a concept like the compound effect, a story like the parable of the horse, or facts about sleep.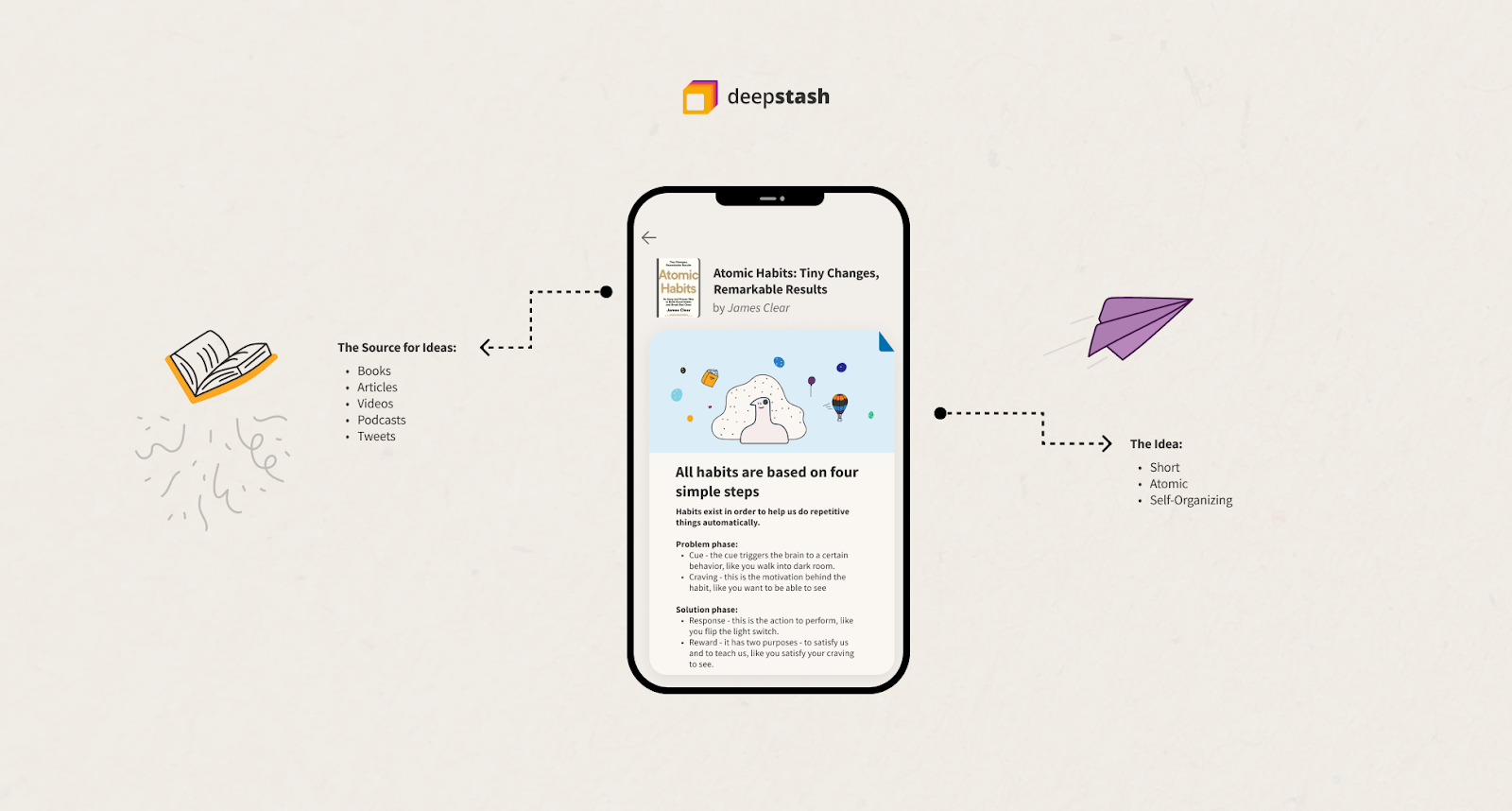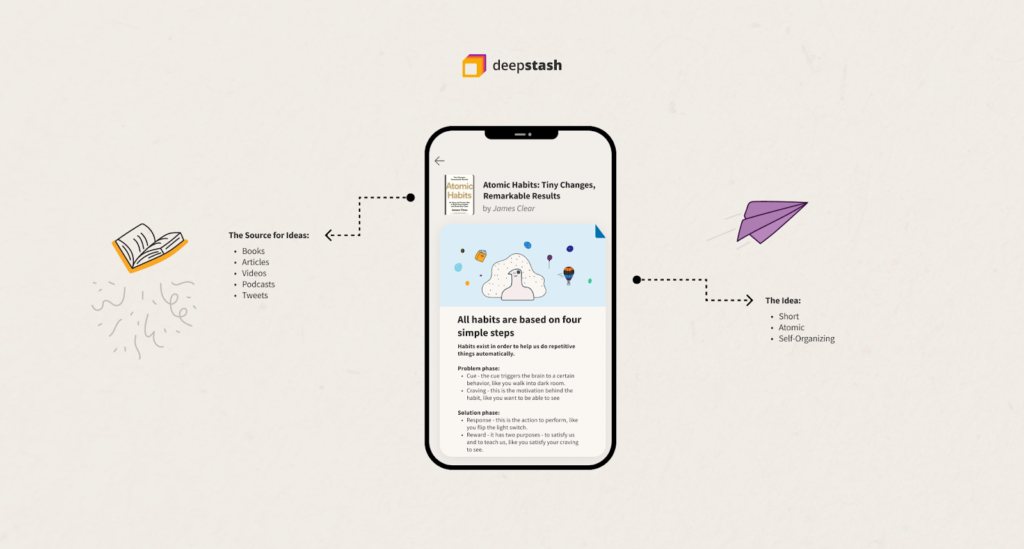 Ideas are created by the users in Deepstash, of whom you can be a part of. You can share, discuss and follow collections of ideas on certain topics. You have access to a global library which you can explore by top creators, topics, recommended content and connect all of them into your stashed ideas.
People intuitively know that it's helpful to be regularly exposed to new ideas, but sometimes we get stuck inside our own little bubble. How does Deepstash address this challenge?
One one hand, Deepstash is all about exploration. Our format and structure makes discovering new things very easy.
But I would say the dynamics of a product like Deepstash are different from a traditional social network where people mostly share news. On Deepstash people share ideas from books, articles and podcasts. So the cool thing is that even if you get lost down a rabbit hole and you realise two hours later that you're still in the app, it's not like on social media where you feel you wasted time, instead you actually feel smarter. You also get new content suggestions every day based on your readings and favourite topics, and you get to follow your friends' readings and that of top curators (people that might read or listen to more content than you, whose selection of ideas you can instantly access). It's like a shortcut into someone's brain.
Talking about curators, can you tell us more about the benefits of curating ideas with Deepstash?
Ideas are curated, not summarised. An idea arises when the author's words meet the prior knowledge, experience and interests of the curator. Thus curation is an act of creation. For example, many people have stashed ideas from Atomic Habits but each take is unique. It's like reading the same book, but getting 1.000 different insights in an instant.
Anyone can create ideas on Deepstash and curating ideas is awesome. First, it makes you understand the content you are consuming. And by putting into words what you found inspiring, makes you understand the concepts and even yourself better. It also helps you remember what you read. It helps you keep your insights organised and, in time, develop your knowledge library into an asset. Finally, it helps you spread the findings to other people who share your interests.
What are some of the most popular ideas on Deepstash?
We have so many. Here are some to get you started:
An ocean of ideas to explore! With such diversity, what kind of people use Deepstash?
Most of our users are busy knowledge workers. Curious minds. College educated young creatives working in industries like tech, marketing or HR.
We have lots of anecdotes from our users on the amazing use cases they have for Deepstash. One professor used Deepstash in the classroom to get his students to debate ideas. A product guy used Deepstash for his 1-1's with his manager, using ideas as topics for a structured and meaningful conversation related to his work and career development. A customer support person used some ideas he got from a book to pitch some new policies for setting up company meetings. Or a young Indian activist shared tons of resources related to the ecological cause he was fighting for.
Anecdotes aside, a common feedback we get from our community is how Deepstash is an antidote to the endless scroll. As one user put it: "Many people use social media as a way to stay in touch, learn about new ideas and interesting plans, or produce thoughts they're thinking, but can't put into words. This app allows for users to read easily digestible articles that can truly improve your life. Not only does it offer some great advice and insights, but it makes me feel better about who I am because I'm not wasting time reading into other people's lives on the Gram or Tweeter." In Deepstash, your scroll is always followed by a new insight, a bit of knowledge to get you started on your day.
What about you… How do you personally use Deepstash?
I am probably not unique in wearing different hats. I run a startup, I am quite obsessed with product building, innovation, and knowledge management. I am trying my best to create an amazing company culture, all while trying to keep my cool with Zen meditation and reading science fiction. What can I say? I am as curious as any of you reading this interview.
My main use case is collecting key insights from all the books I am reading, podcasts I am listening to or videos I am watching. I am a very active curator and you can check my profile to see all the stuff I am into.
The constraints of the format means I have to engage with the content on a deeper level so that I can compress findings into ideas, which helps tremendously with internalising the information. Deepstash will then make it available to me with a tap of a button so I can rediscover it later. This way I never worry about forgetting it… Ever.
Deepstash also helps me find ideas from others based on the topics and curators I am following. I often find cool insights to put in one of my many stashes. All in all, I have stashed a few thousand ideas on a variety of topics. What do I use them for?
I share them with my colleagues. Some stuff may come in handy for dev projects, others may provide some interesting perspectives in a marketing project. We discuss a lot of them in Deepstash.
I reference a lot of ideas in my creative work. In coming up with the answers for this interview I looked over a few hundred ideas and picked some themes, words and quotes that made the whole process much easier. Starting from scratch is always a pain and with Deepstash I always find something to get me started.
The ideas allow me to have deeper real-life conversations with friends and family. At the latest friends meetup we discussed some of the ideas from Ted Chiang's book Exhalation. We talked a lot about whether general AI needs to be raised, not trained.
So many creative and productive use cases. Finally… What's next for Deepstash?
We are working on making the creation experience easier and enabling curators to express themselves more easily on Deepstash. We are also thinking about the experience on various devices, such as tablets, and integration with all sorts of note-taking apps. We are releasing new stuff all the time and you can stay up to date by following us on Twitter.
Thank you so much for your time, Vladimir! Where can people learn more about Deepstash and give it a try?
They can check out our free app on the Apple App Store and Google Play. Or they can browse our huge library of ideas on the web. I encourage the Ness Labs tribe to do so since there are hundreds of ideas from the Ness Labs blog posts and newsletters in there.
And if you are interested in some premium features like an organised library or listening to the ideas you can get a Pro subscription at a discount, as we have an introductory offer for all of you.