FEATURED TOOL
Welcome to this edition of our interview series, where we meet founders on a mission to help us think better and work smarter. Thomas Paul Mann is the co-founder of Raycast, a blazingly fast and extendable launcher that lets you complete tasks, calculate, share common links, and much more.
In this interview, we talked about how to make productivity truly personal, how to balance powerful features with ease-of-use, why everyone should customize their productivity tools, the power of app integrations, and much more. Enjoy the read!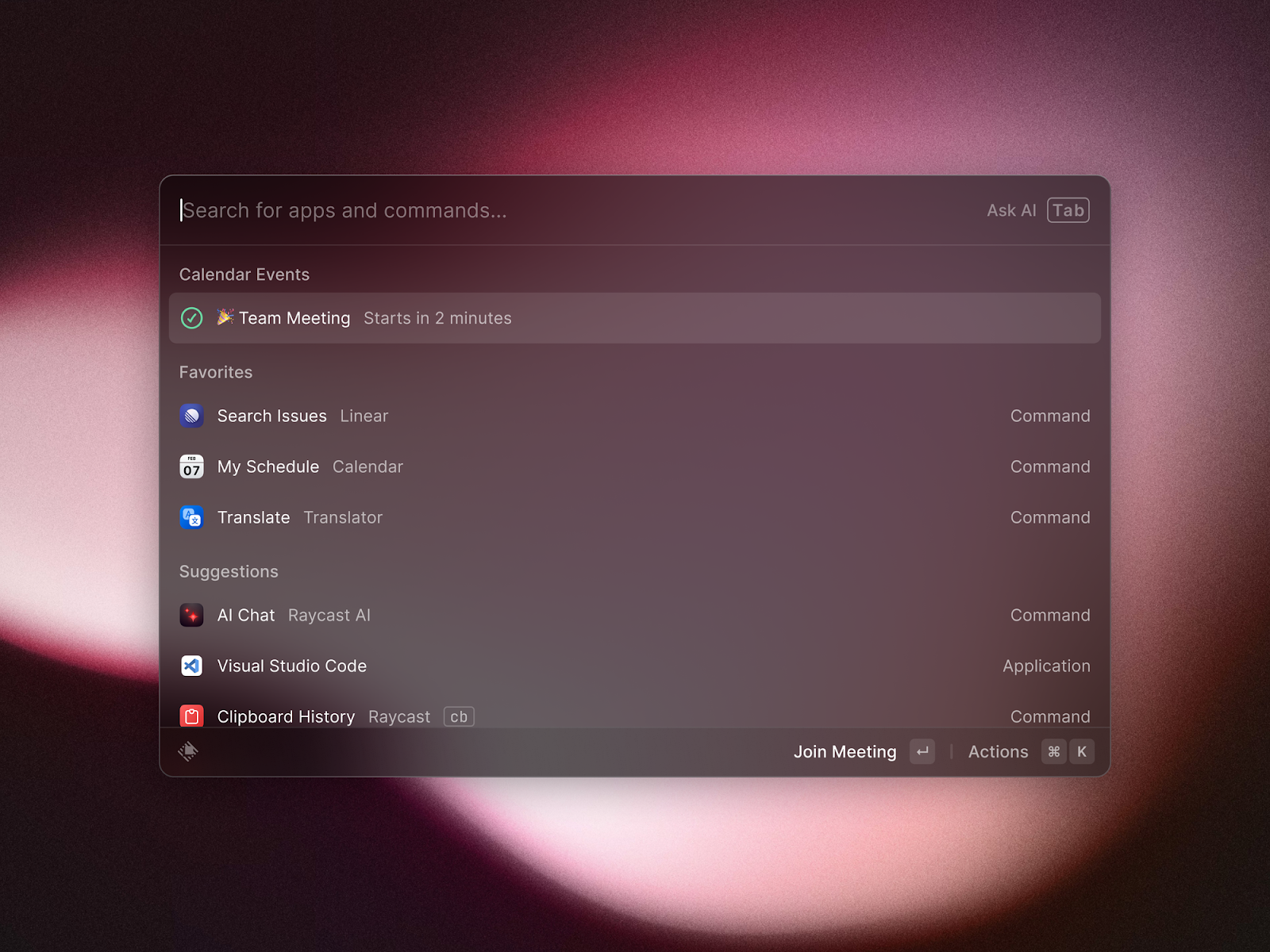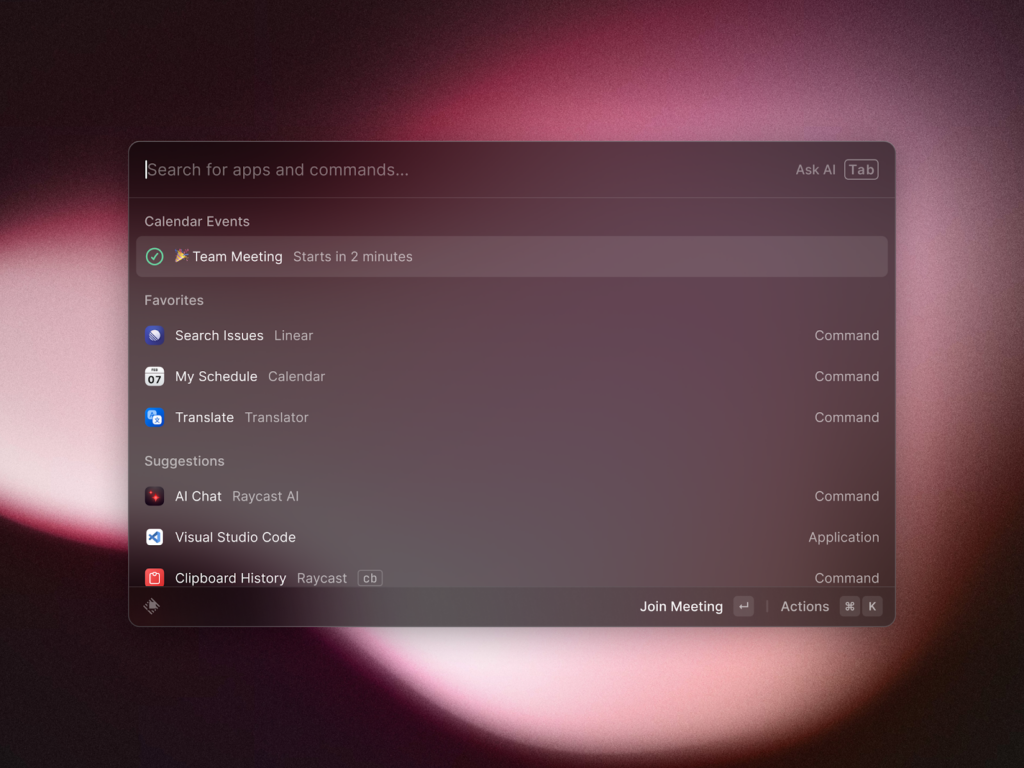 Hi Thomas, thanks so much for agreeing to this interview. Let's start from the very beginning. What inspired you to build Raycast?
I've been a Software Engineer for more than a decade. During this time I've seen first hand how the role of an Engineer changed. Over the years, I had to use more tools to get my job done.
This felt like a conflict to me: The more time I spent in tools outside of my IDE, the less features I was able to build, and the less I enjoyed my job. Though, those other tasks were important to collaborate with my team. So ideally, I could spend as little time as possible on mundane tasks to maximize my productivity.
While I was working at Facebook (now known as Meta), I met Petr. We were on the same team, shared our passion for productivity tools, and were both frustrated with how clunky existing tools felt. Too many clicks, too little speed. But perhaps the biggest motivator was realizing that we weren't alone; there were loads more like us!
That was our eureka moment. We wanted to create a new way of using our Macs — a way that would be speedier, smoother, and would bring the joy back into our work. And that's how Raycast was born — out of frustration, love for efficiency, and shared dreams with Petr.
What makes Raycast unique as a launcher?
What really sets us apart is our commitment to strike the perfect balance between immediacy and customizability. Out of the box, Raycast is intuitive to use. But the real magic begins when users start personalizing it.
With over 1,000 extensions available in our store, the possibilities are endless. There are extensions for GitHub, Linear, Notion, and other SaaS tools. And for those who want a truly custom experience, there's the option to build their own extensions with our easy-to-use API.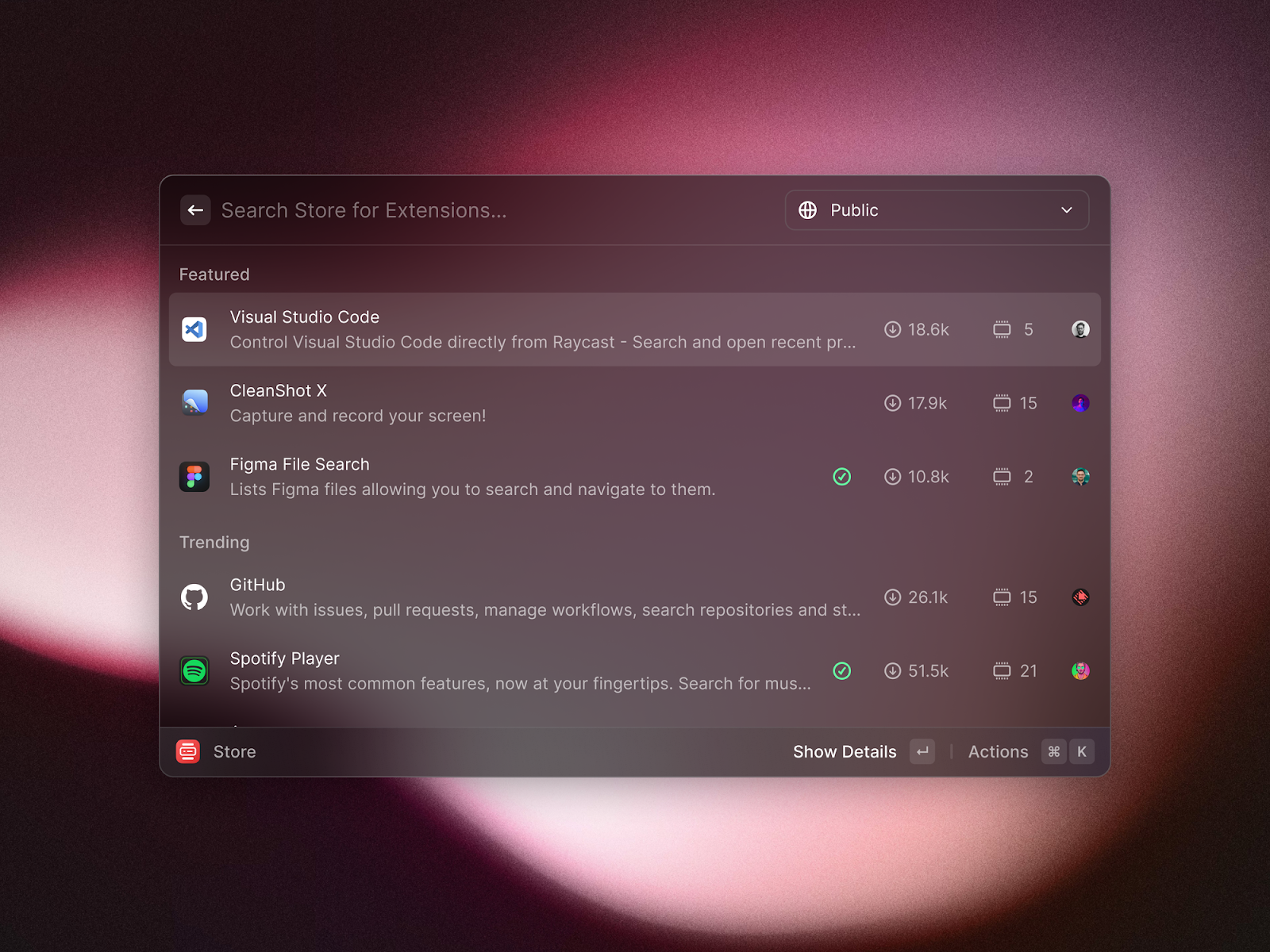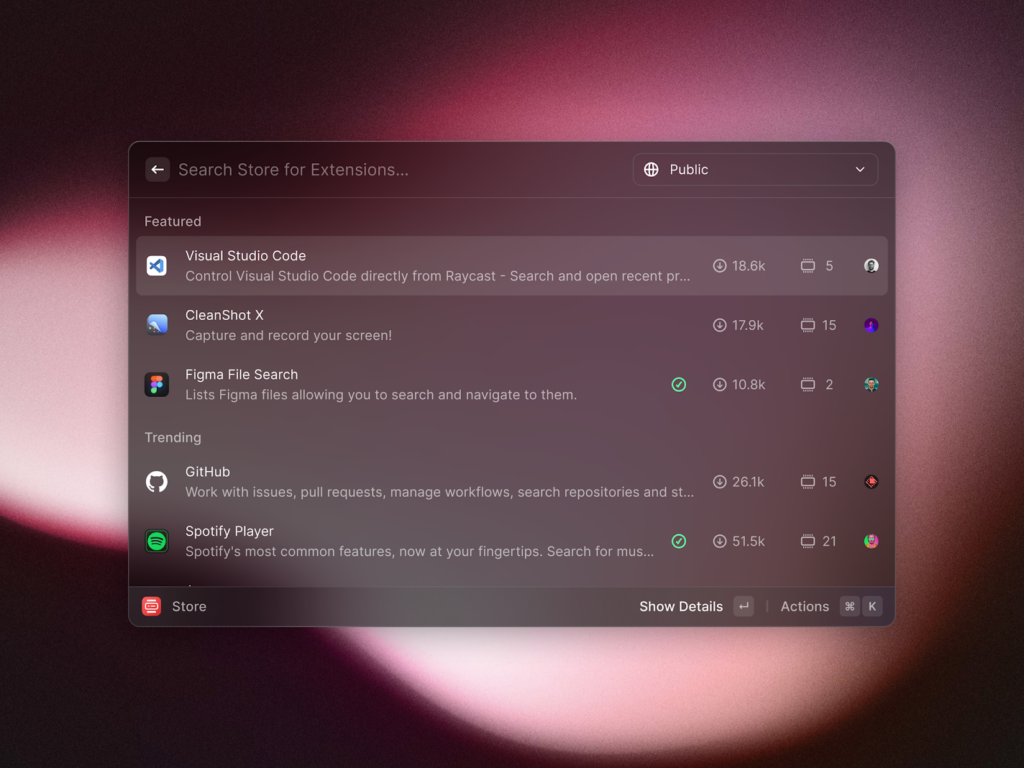 But it's not just the functionality we've focused on, it's also the user experience. We're crafting Raycast to be the tool we've always wanted – simple to interact with, lightning-fast to navigate, and an absolute joy to use.
Specifically, how does it work?
Surprise, it's very simple: You press your global hotkey, e.g. `⌘ + Space`, to summon Raycast and then search for what you want to do. It's designed to be a drop-in replacement for Apple's Spotlight, so you can launch your apps, search for files, or do calculations (ours are more advanced, e.g. `123k USD + 456 GBP in EUR`).
On top of the basics, Raycast comes with a lot of built-in utilities that would be otherwise separate applications. You can type "Schedule" to get an overview of your upcoming meetings and you can join video calls right from there. Our Clipboard History feature acts like a time machine, allowing you to scroll back through everything you've copied. Our Window Management extension allows you to position and resize your windows with keyboard shortcuts, making it a blast to work on a bigger monitor. The Screenshot Search helps to find images by text. The list goes on and on…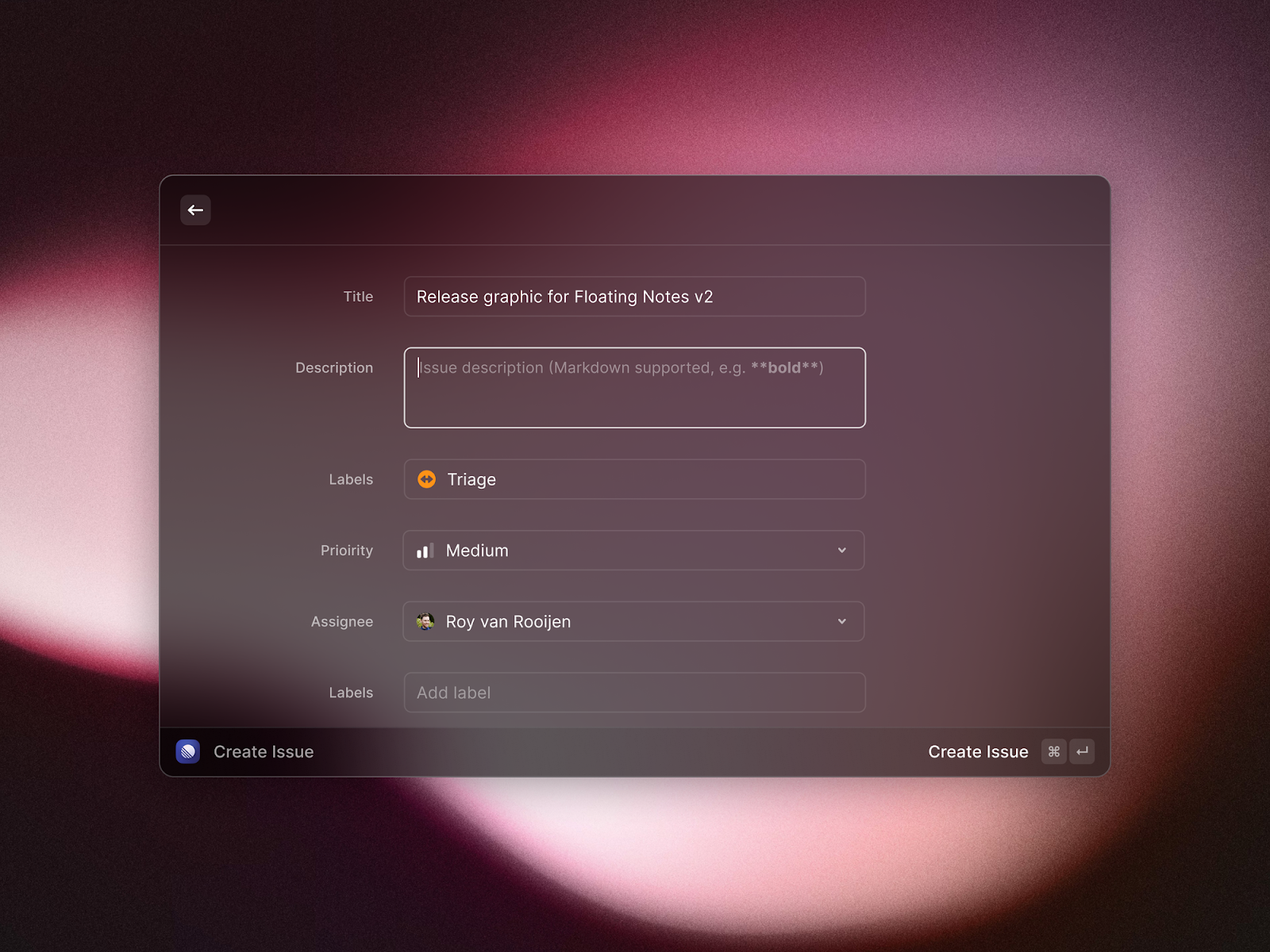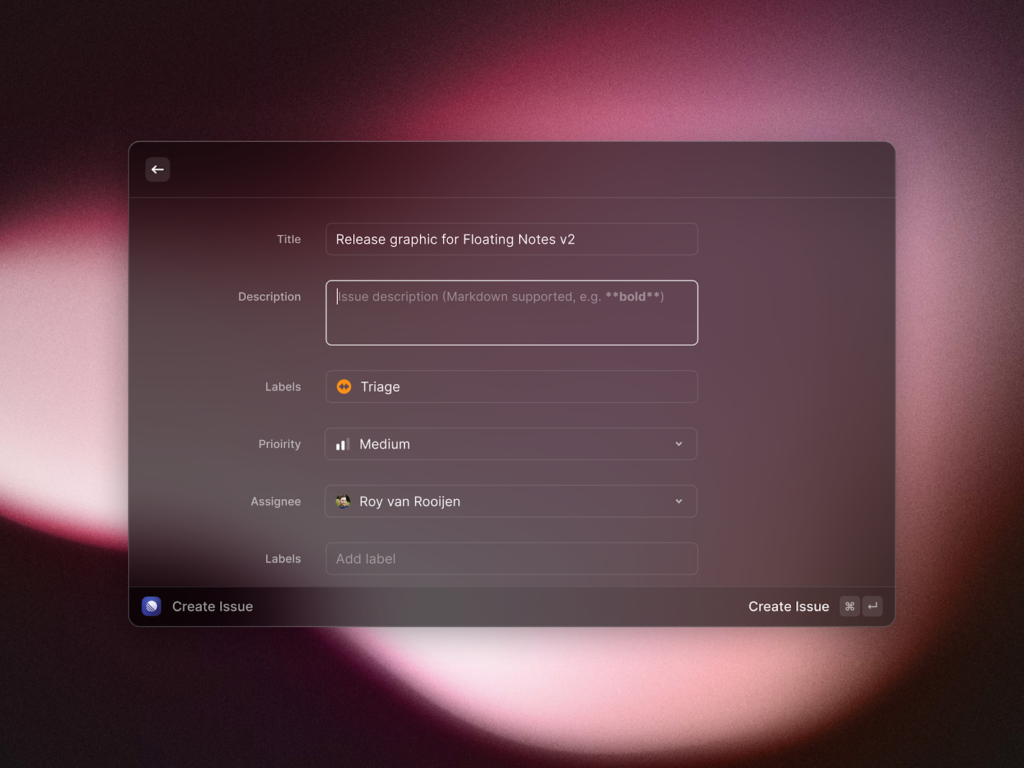 I mentioned earlier that the real magic begins when users start personalizing the tool. You can add Quicklinks to open your frequently visited websites or files from anywhere. Or you can set up Snippets for faster typing. And you can even share those within your team to boost knowledge sharing. Many of our users assign Hotkeys and Aliases to specific commands. This way, they can launch those commands quicker. F.e. I open Notion with `⌥ + N` and don't need to command-tab to it. I have the same for other things. It's all about shaving off seconds from your workflow.
And if Raycast can't handle what you want to do natively…
…you open our Store. The Store has over 1,000 extensions ranging from SaaS apps like Linear to utilities like switching your Bluetooth devices. All of the extensions are open source and are getting constantly evolved by our community.
Here are a few extensions that I use daily:
Notion to search my pages and copy a formatted link to share or simply open the page. I open the search with `⌥ + ⇧ + N`.
Slack to change my status. We are a remote company and it's important to broadcast if I'm not available or want to focus on something.
Linear to create issues and manage my assigned issues. It's especially handy to file a bug report quickly.
GIF to find a good reaction. You need to have some fun after all!
I'm constantly impressed by what our community builds. Some of those extensions are really rich applications by now.
These extensions sound amazing. You also recently launched a pro version of Raycast. Can you tell us more?
We had ideas for more advanced features that unlock a new level of productivity that would require a paid plan. On the other hand we also wanted to make sure that the existing features stayed free. So we added an optional priced tier to the product. With a Pro subscription, users can choose a custom theme, use AI-powered features, have an unlimited Clipboard History, synchronize their data and settings between multiple Macs and more.
Personally I'm really excited about AI and what it enables for productivity. It already became a main part of how I work everyday and I believe it will only get better over time. Within Raycast, you have three ways to experience AI:
1. Quick AI: Simply type a question in Raycast and hit tab to get an AI-generated answer. Soon it will also show sources for the answer.
2. AI Chat: Our Chat is really the assistant that follows you around. It stays open and enables you to have ChatGPT anywhere on your Mac.
3. AI Commands: Those allow you to automate things in plain english, f.e. select some text and execute the Fix Spelling and Grammar command to improve your writing.
This all sounds amazing for personal productivity. Can Raycast also help improve team productivity?
Yes, we have an offering for teams that is used by companies like Atlassian, GitHub, or Shopify. Raycast for Teams allows sharing of Extensions, Quicklinks, and Snippets via a private Store. It's ideal to keep workforces in sync and provides an easy way to share information and align processes. Some examples include release tooling for engineering teams, shared calendars to see when somebody is off, or having an extension to generate gift codes for support teams.
The easiest way to start is sharing a handful of links to your current roadmap and other frequently visited internal resources. If you are working in an engineering team, you probably have some local script for some automations. Convert them to extensions and share it within your organization to boost others.
What about you, how do you use Raycast?
Funny you asked. We've recently recorded about my setup. This probably shows best how I use Raycast.
This is great. You're clearly a power user, but how do you recommend someone get started?
I recommend the following:
Download Raycast from raycast.com
Replace Spotlight with it and you will already feel the difference in speed
Head to the Store in Raycast and connect your top 3 tools
Check out our YouTube channel for content
The best way to use Raycast is to experience it yourself and customize it to your needs. That's where the true power of a great productivity tool comes from: It's personal! By replacing Spotlight you keep an existing muscle memory and you can add more tools to your toolbelt over time.
That's all super clear. And finally… What's next for Raycast?
We want Raycast to be a better way of using computers — simpler, faster, more delightful. AI offers a great opportunity to make things powerful while maintaining its ease-of-use.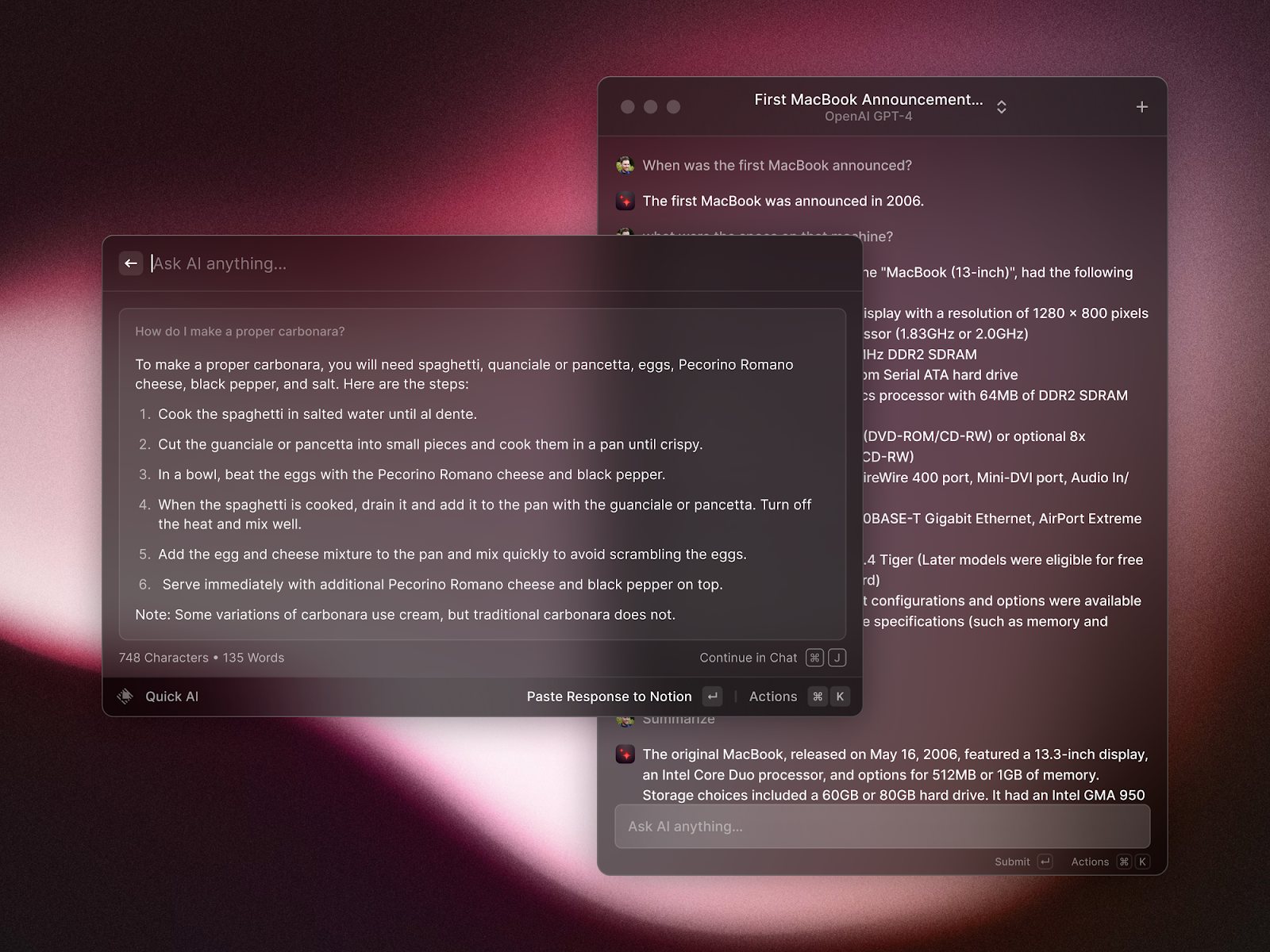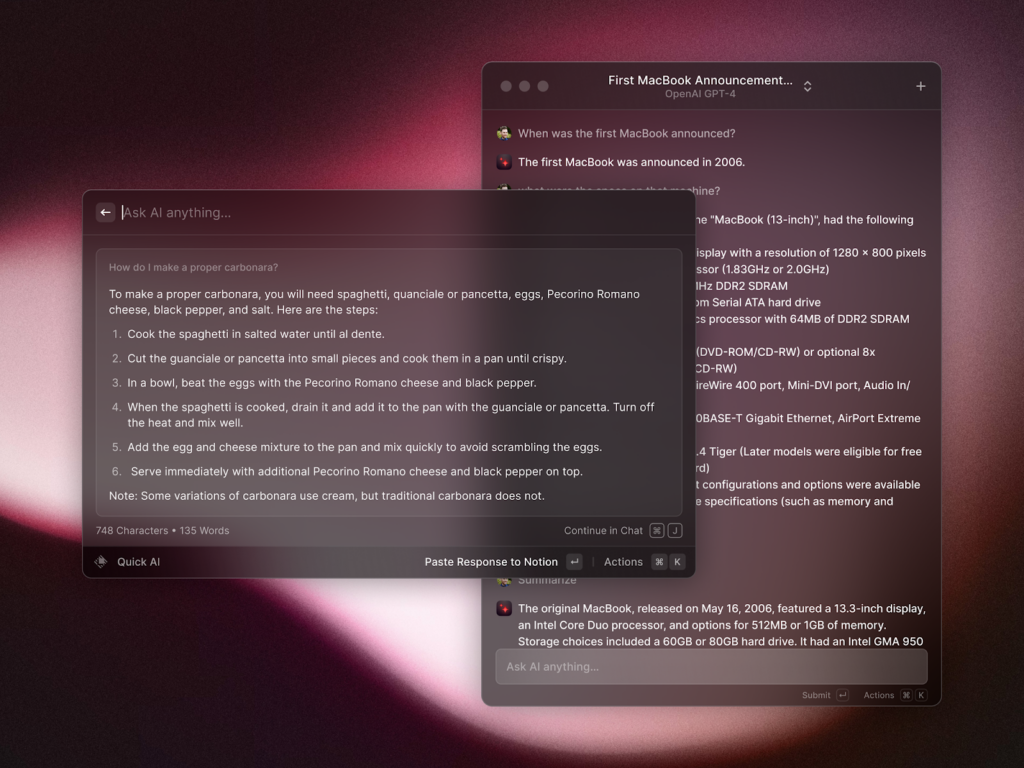 It's a new technology that is fast-moving and we're just getting started to really understand how we can use it. We feel that there are many opportunities for productivity tools to really unlock the next level of efficiency.
Thank you so much for your time, Thomas! Where can people learn more about Raycast?
Thanks for having me. The easiest is to check our Twitter to stay up-to-date.