FEATURED TOOL
Welcome to this edition of our Tools for Thought series, where we interview founders on a mission to help you think better and work smarter. Alex MacCaw is the founder of Reflect, a networked note-taking app designed so you never miss a note, idea or connection. Reflect makes it a joy to collect information and connect ideas.
In this interview, we talked about the most important principles for a sustainable note-taking app, the limitations of collaboration for note-taking, how to build a CRM with backlinks notes, and much more. Enjoy the read!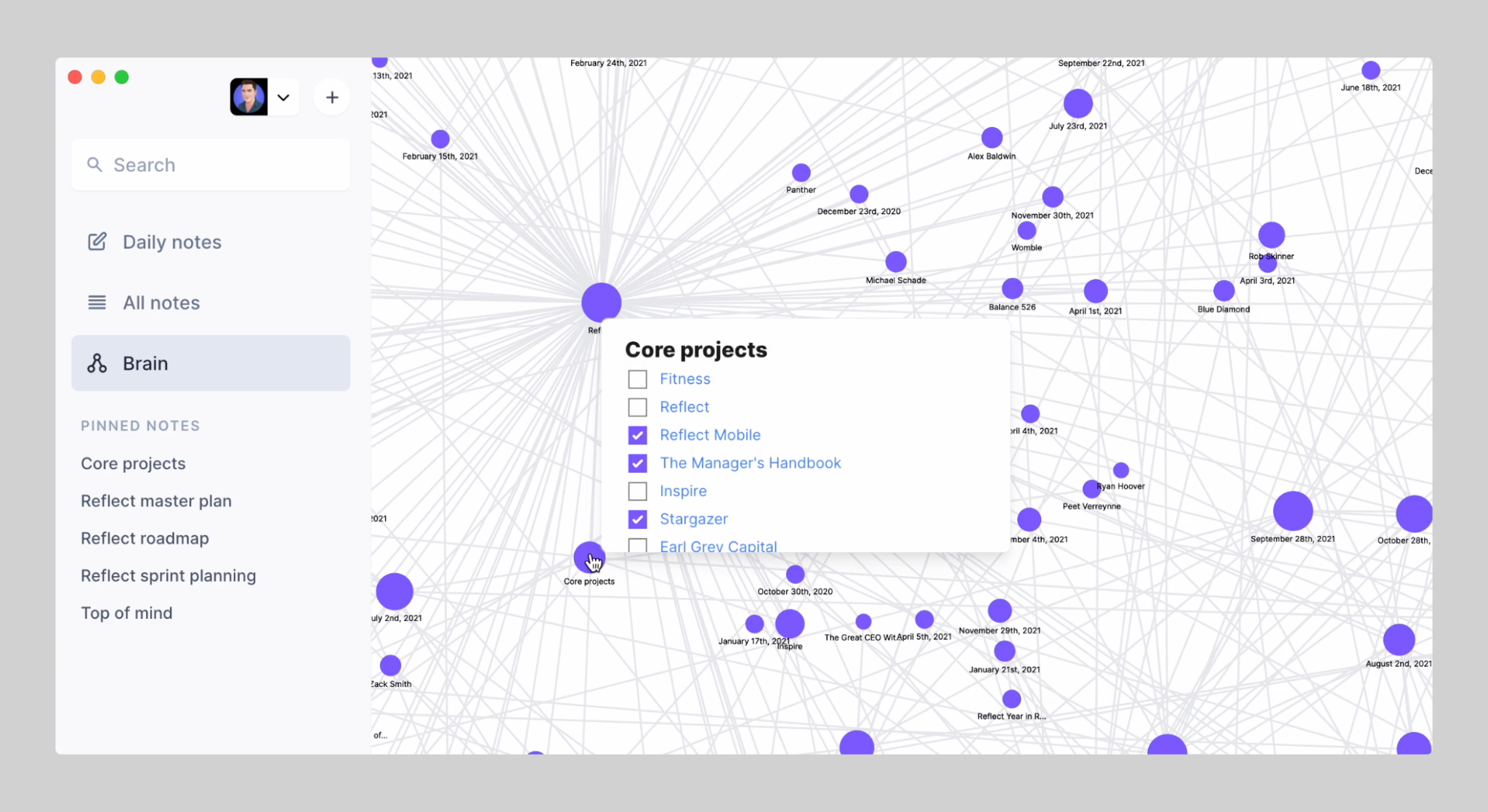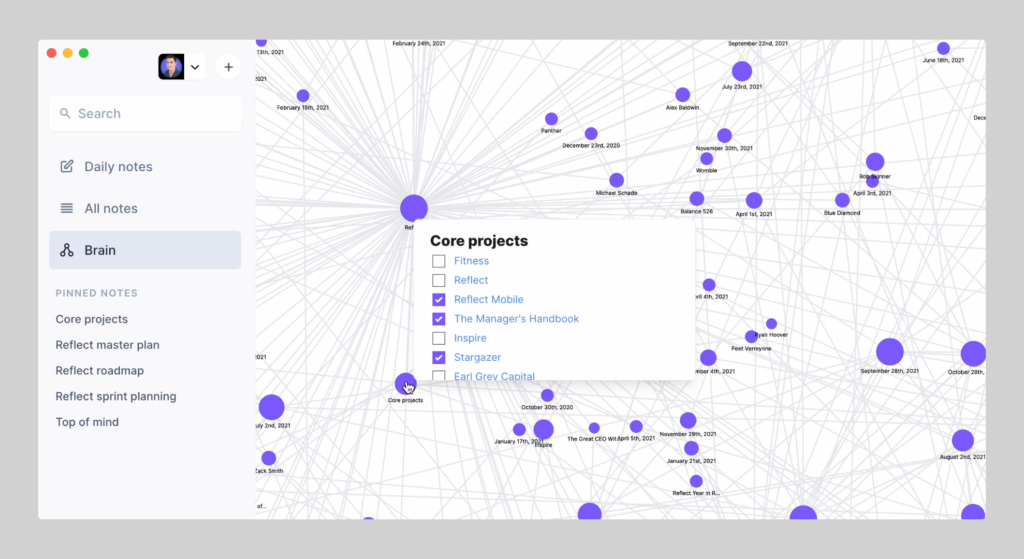 Hi Alex! Let's state the obvious: there are already lots of note-taking apps out there. But Reflect seems to be different in that it's built around strong core values.
That's for sure — there's a lot of different apps out there which is indicative of the size of the problem and the nuances in all the different ways people think.
When it comes to note-taking everyone has an opinion and different requirements. If you're not careful you try to appeal to everyone, and then you end up making a kind of Frankenstein app that serves no-one.
That's why, when I started the company, I wrote down a set of product principles to be our north star. When people come and ask me "Is Reflect the tool for me?" I point them to those principles and ask if they resonate.
Those principles are: speed, security, reliability, and simplicity. All we're trying to build is a simple tool that just works and gets out the way. It's got to be frictionless and fast, it's got to work offline and quickly sync, and it's got to be secure – your notes are probably the most personal data you own.
And how do those values translate to how Reflect works?
For speed and simplicity, notes are instantly synced across your devices. Speed is prioritized as new things are added in, so that things don't become overly clunky and slow over time. And we apply the "less is more" principle — we'd rather hone existing features than add more.
For security, notes are fully end-to-end encrypted — only you have access to them. We've also passed a security audit and follow best practices.
When it comes to reliability, you can take your notes across all your devices, and have them sync instantly, even with offline work. You can import your notes from other existing notes tools, and easily export your notes if you decide to leave.
Last but not least, we focus on sustained, profitable growth, and have no intention of raising venture capital. This increases the chances we're always around.
That sounds great. Another challenge with many note-taking apps is that your ideas end up living in a silo, making it hard or overwhelming to share your thoughts with others.
Collaboration is great when you're working out of a Google Doc or a Notion page for a project with your team. They you're writing in the public domain — these aren't your internal thoughts.
But when you know (or even suspect) that others might be seeing what you are writing, you become much more likely to self-censor. Your thoughts and ideas become less original. For something like your personal notes, this is problematic.
Instead of focusing on how to give others access to your notes, thoughts and ideas, Reflect focuses on how to privately capture everything in a frictionless way. This might be saving snippets from your Kindle or browser, easily capturing an idea from mobile on the fly, or recording a voice recording directly into your notes.
We want to eliminate that feeling of forgetting a brilliant idea before writing it down, or what your thoughts were on a pitch that was made weeks ago.
When you are ready to share your ideas with the world, you can one-click publish to allow anyone to access that specific note.
Another use case I find exciting is using Reflect as a CRM. How does that work?
Most CRMs function like a digital rolodex. You put a contact in with some info, then shut it away until you need that specific person's contact info. At best you can put additional details of the contact into the file.
But this misses everything important that happens around that person (or place, or thing). The conversations and interactions you've had with the person, where your last conversation left off, and every other detail you learn and collect along the way is what really makes the difference. Not forgetting the details helps us build stronger relationships and connections.
Take 1-to-1 meetings. Reflect pulls in your calendar appointments, and auto creates a backlinked note around the event with the subjects. When you have a 1-1 with someone on your team, you can instantly pull up the linked note and pick up right where you left off last time.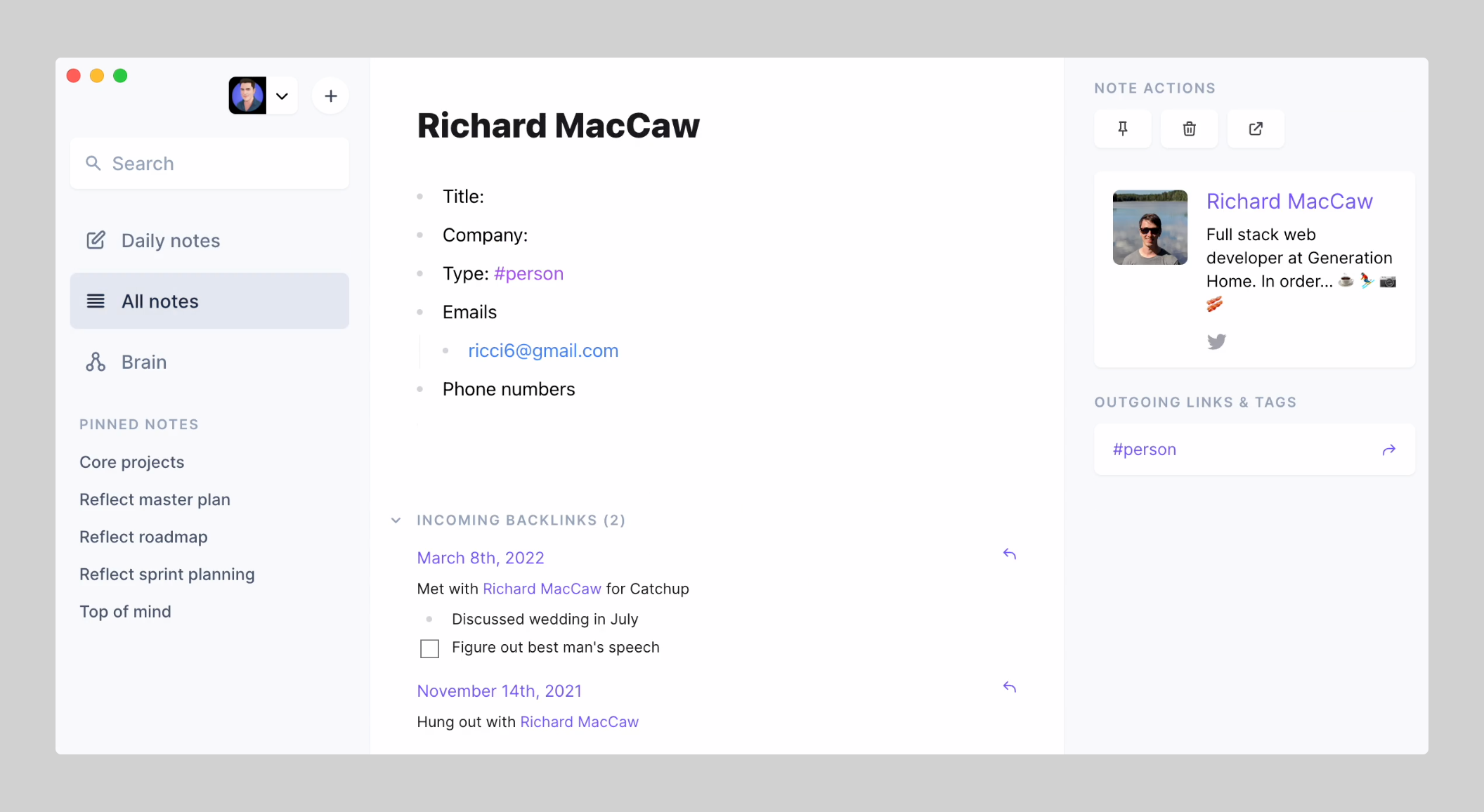 This system is great for people like myself who have a 'goldfish brain'. Instead of repeating someone's name in your head over and over to try to internalize that small piece of information, just create a backlinked note.
What about you, how do you use Reflect?
The way I use Reflect does evolve and change as I change, but generally speaking it goes like this… Everyday, Reflect automatically creates a new note dedicated to that day. I have a 'journal' template that contains things like 'top of mind', 'grateful', 'habit checklist', and what I worked on that day.
Meetings go in my daily note too — they're a one-click add with the calendar integration. In the evenings I like recording an audio journal. This then gets transcribed and uploaded into Reflect. That's it!
So simple! What's the personal drive behind building Reflect?
I have got different things out of the different companies I've started. My last one, Clearbit, got quite big and did the whole VC thing. It was a huge catalyst for personal growth and where I spent some formative years of my twenties.
With Reflect, I'm really optimizing for having fun, and for me that means programming. If I get to sit down and build out some new features, maybe chat to our customers in Discord, well, that's a good day for me.
It's also been nice building products for myself for a change. In many ways building a consumer company is a lot harder than building something for businesses, but one of the perks is that you are the customer. And you get to make it just the way you want it.
That does sound like the perfect way to scratch your own itch. How do you recommend someone get started with Reflect?
First head to our website and start a free trial. After signing up, read through our 4 page note-taking course. It will tell you how to use Reflect effectively, and will also give you some real-world examples and use cases to get you started.
Create your first daily note by outlining your to-do list for the day and linking any names or places — if it starts with a name, link it.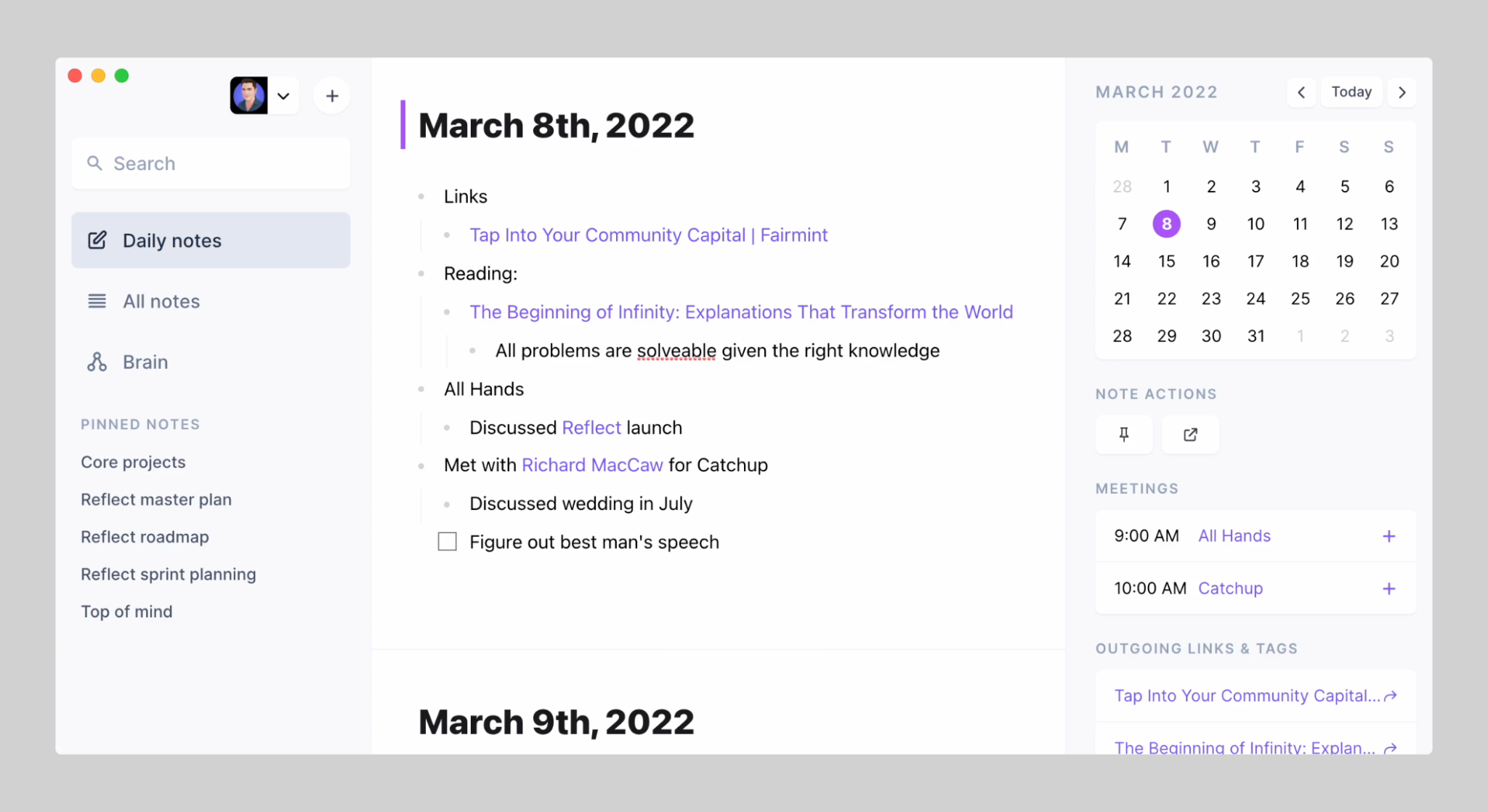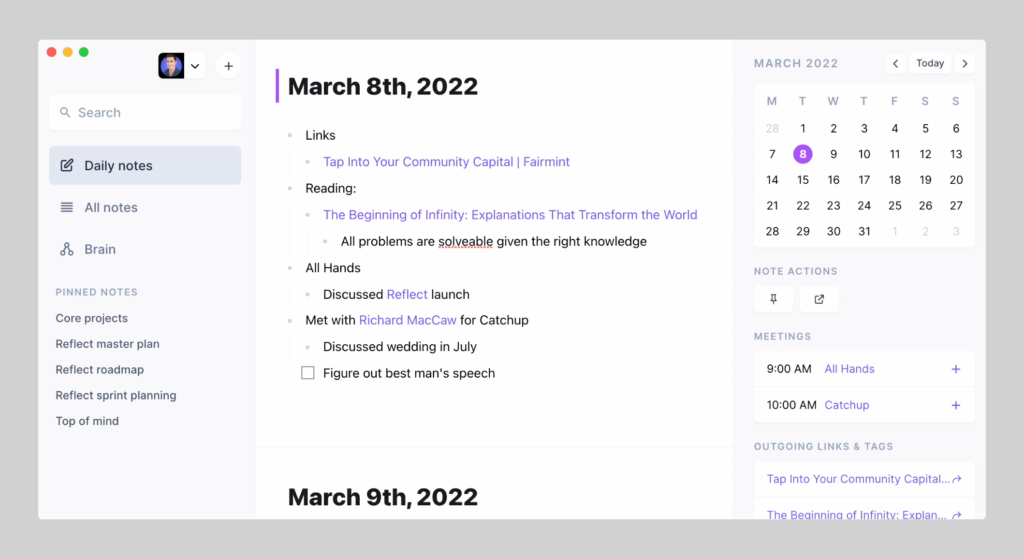 Keep building from there! Your notes will become more valuable over time as you connect things through backlinks and tags.
And finally… What's next for Reflect?
We've got lots of fun stuff cooking. The most immediate of which is my favorite thing to work on: performance improvements. We're about to launch a version of Reflect that uses less memory and starts twice as fast.
Later this year we've got some things like an iPad app, advanced search, and a few more AI related things we'll share more about soon.
Thank you so much for your time, Alex! Where can people learn more about Reflect?
Thank you! You can sign up and find more about the app on reflect.app. We also have a note-taking course on our Reflect Academy page, where people can learn how to take better notes. And of course they can follow @reflectnotes on Twitter.