Welcome to this edition of our Tools for Thought series, where we interview founders on a mission to help us think better and work smarter. Nils Janse is the founder of Delibr, a Stockholm-based startup helping product managers harness the potential of AI.
In this interview, we talked about the main traps product teams fall prey to, the key qualities of great product managers, the power of dynamic templates for product requirements documents, writing out potentially controversial decisions as explicit questions, reconciling information across product management platforms, and more. Enjoy the read!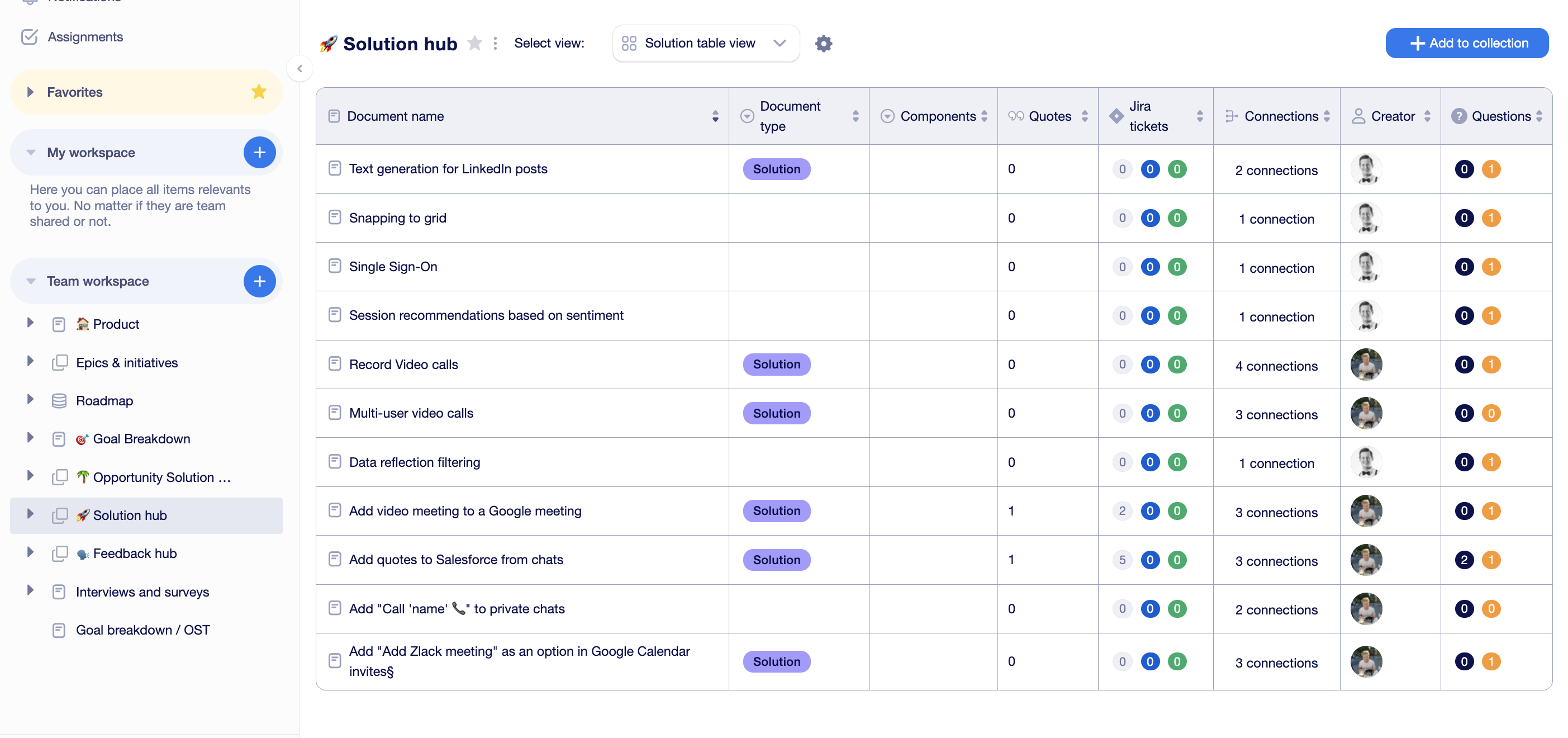 Hi Nils, thanks for agreeing to this interview! Let's start with a big question: what do you think makes a great product manager?
Great product managers succeed at thinking about the things that will really have an impact. They take a big enough step back to start from a holistic, end-to-end perspective, understanding both the business and the user perspective.
They then find the things that really matter across this scope and then drill down to get those things right, not fearing to get their hands dirty with details, whether it is UX copy or key tech aspects. And they are efficient or savvy enough to not get bogged down handling all the other details. Together this lets them come up with a sharp, insightful point of view for how to build something that can actually move the needle.
AI-powered assistants are everywhere. Why did you decide to focus on helping product managers specifically?
Our focus on helping product managers (PM) stems from our extensive experience working with them. Over 500 PM interviews have given us a deep understanding of their challenges. We know many PMs spend a lot of time writing product requirements documents (PRD) and user stories, and that junior PMs struggle with doing this well. The latest generative AI technology is great for these types of challenges.
How does Delibr tackle these challenges?
Our solution leverages this latest generative AI technology both to give PMs guidance on what and how to write, and to speed up their writing process immensely, actually writing a draft for them, then giving feedback and suggesting edits. We are combining the power of the latest AI models with our knowledge of the domain to create the right prompts and integrate them deeply into the natural workflow of PMs.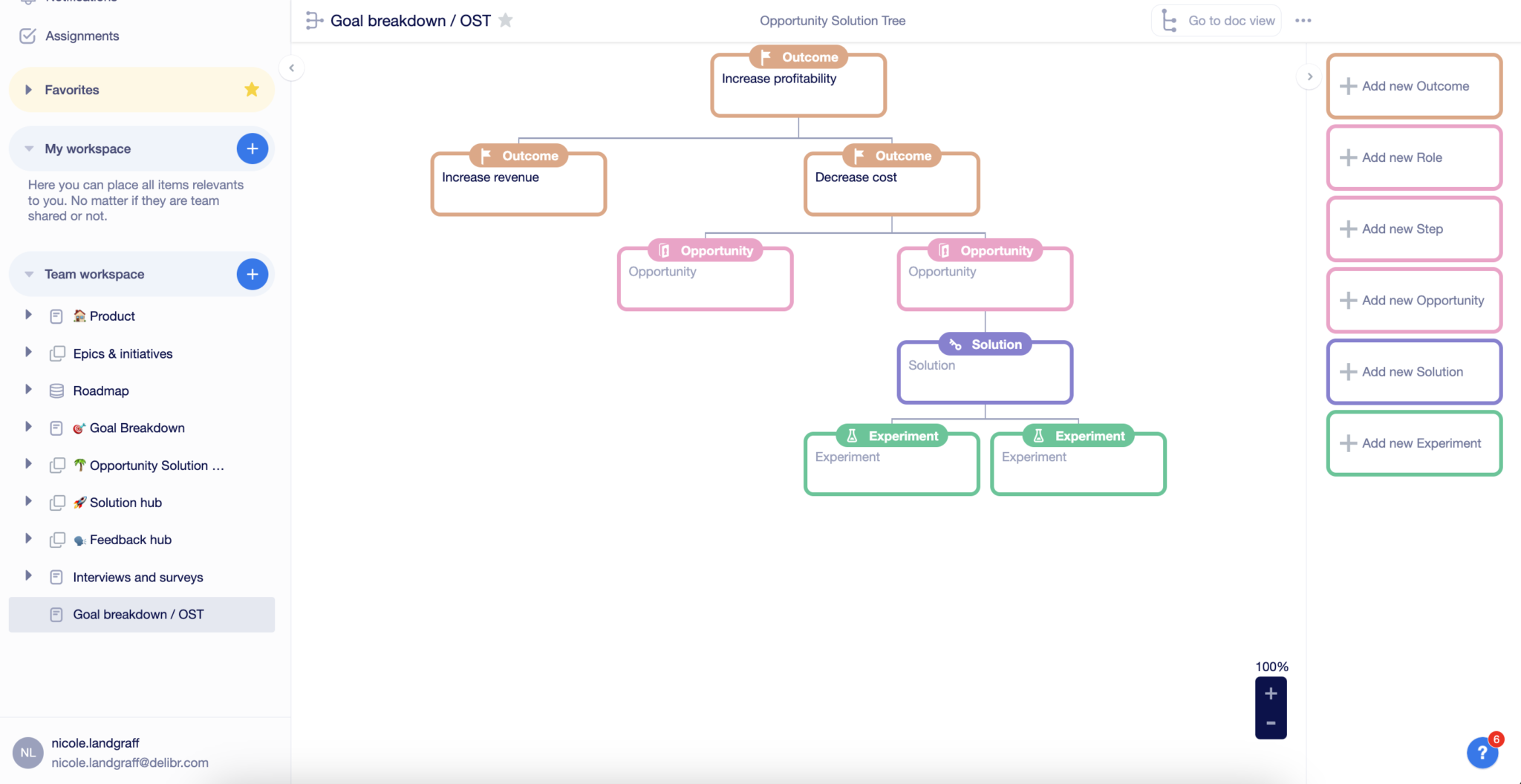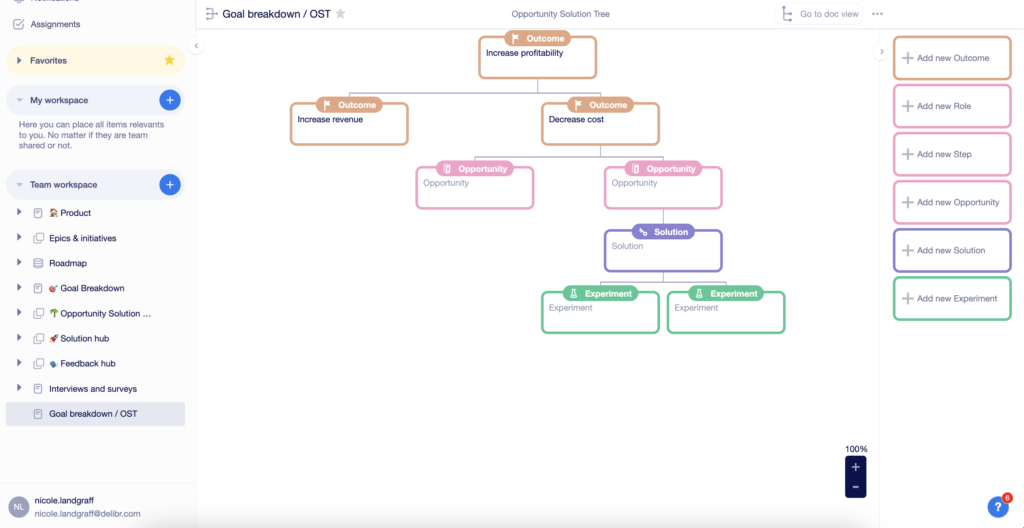 Can you tell us more about how Delibr helps product managers adhere to best practices?
Our dynamic templates let PM start clean and still have the guidance of what topics they might want to address, depending on what they are working on, and we then provide best practice support across topics.
Many product teams fall into either the trap of providing a too detailed template, which makes writing a PRD feel like an administrative task and stifling creative thinking, or of providing little-to-no template, which leaves junior PMs struggling and the lack of consistency makes it hard for stakeholders to read them.
Designing these dynamic templates was a close collaboration with our customers over several iterations, and with the latest AI they really get another boost.
A challenge for many product managers is to manage feedback and revision.
The work to detail out any new feature involves a lot of both minor and major decisions, and it is easy for PMs to trip up on facilitating all of these. That is why Delibr offers a unique way for facilitating decisions.
It is based on writing out potentially controversial decisions as explicit questions. Each such question can then have several potential answers, with pros and cons, and even ratings, followed by a decision, that can be approved or poked. This allows PMs to move quickly and make decisions, while making their thinking transparent and inviting to a structured discussion. Saves them a crazy amount of headache.
Beyond that we allow for normal comments and mentions, and also allow PMs to instantly turn any document into a presentation. And of course, if a PM is concerned about what feedback they might receive, they can preempt that feedback by asking the AI to provide feedback from different perspectives, e.g. support, marketing, or even CEO.
Another use case I find exciting is using Delibr to streamline the writing process. How does that work?
So the most obvious way we support the writing process, on top of the dynamic templates, is to just as the AI to write the entire PRD. And by working on that use case quite a bit, it is now actually surprisingly good.
But the first thing will always just be a draft, and in going from a draft, Delibr has a huge advantage in being an "outliner" — which is a special type of writing tool, originally used by authors. It structures the document into a tree of nested bullet list and allows the writer to quickly collapse, expand, zoom, break things apart, move them around, and merge back again. This in itself makes the writing process faster and more delightful.
But we have also found it is such a good fit with generative AI. We have added commands so that the user can ask the AI, anywhere in the tree, to e.g. draft a new section, or brainstorm some ideas, or research that topic, or add pros and cons. Or, the writer can select any branch of the tree and give the AI some input for how to revise it, continue writing, and more. All-in-all, this becomes a very dynamic and engaging experience of almost building, iterating and pulling together the different parts of the document together with the AI.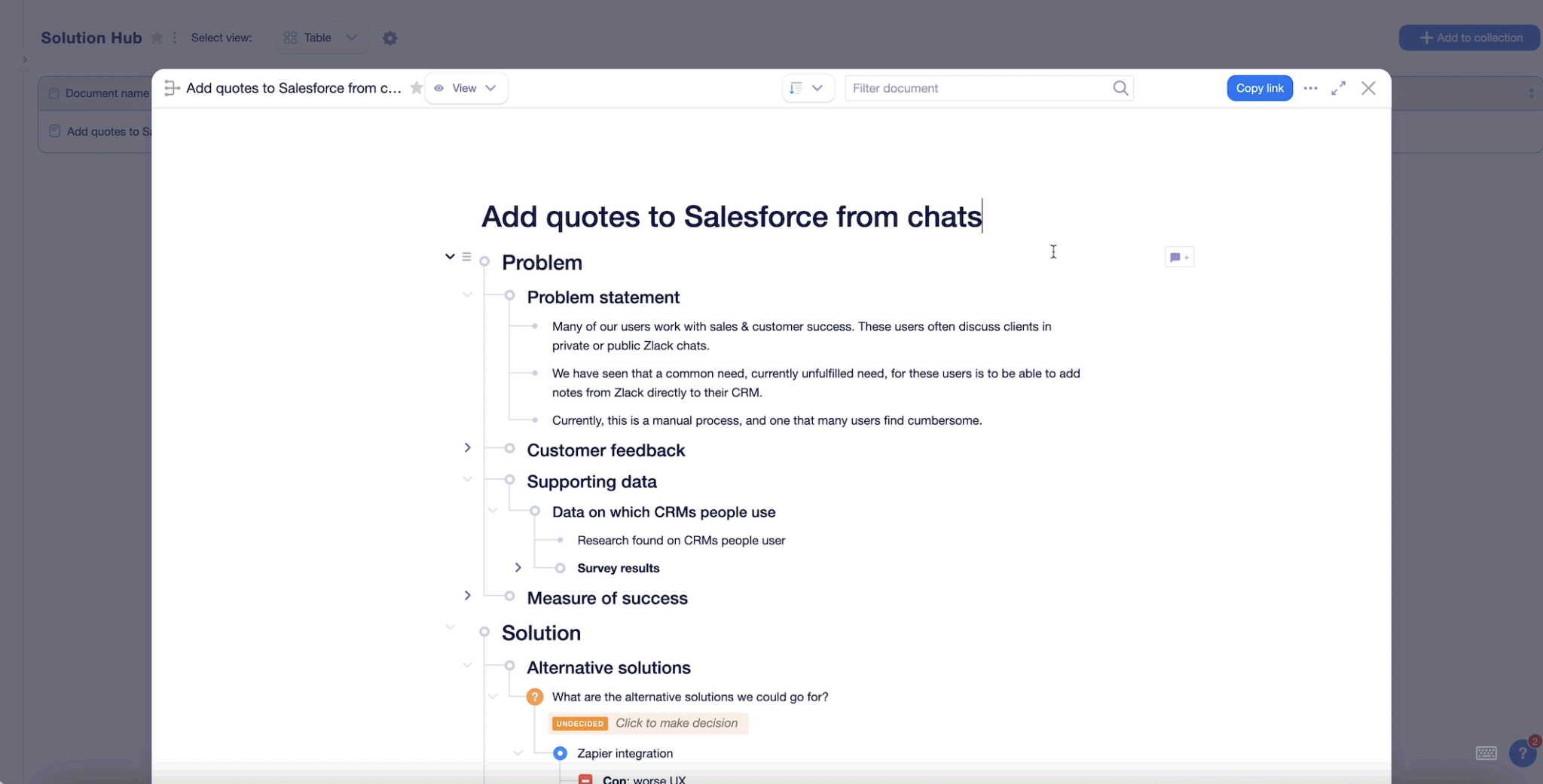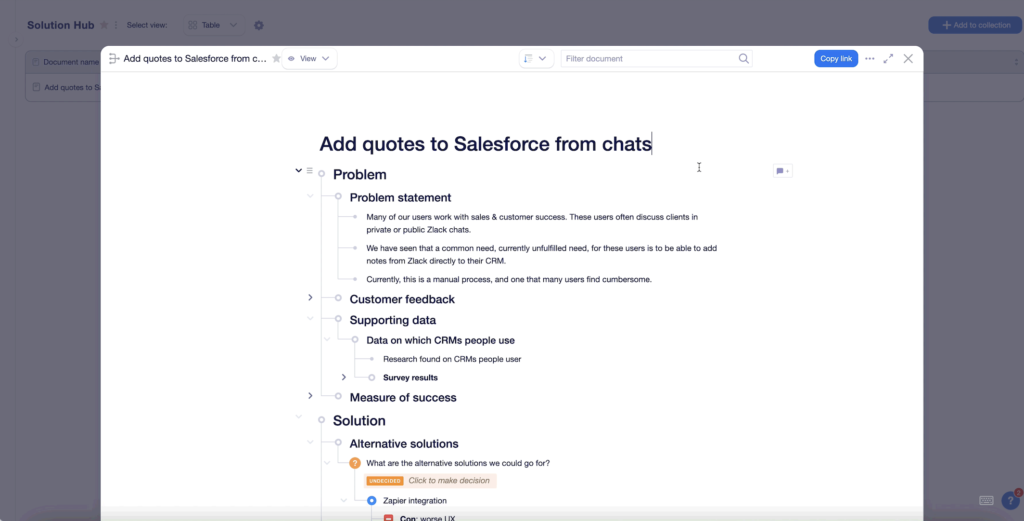 And how does Delibr integrate with the overall product management lifecycle?
Delibr streamlines the entire product management process, not just refinement of PRDs and user stories, but all the way from strategy to development. Its features and AI templates support PMs at every stage, including strategy with visual goal breakdown — for instance OKRs as well as templates business model canvas, competitor analysis, and more — and Product Hierarchy helps PMs process feedback.
It also supports discovery with Opportunity Solution Trees to enable PMs to structure their discovery work, validation with experiment boards, prioritization with solution rating, RICE scoring, and timeline/now-next-later roadmaps, development with AI templates for user stories, acceptance criteria, and release notes, and rollout with AI templates for help center articles, marketing briefs, press releases, and more.
With so many product management tools, people may worry about having to reconcile information across platforms.
Delibr is designed to be the single-source-of-truth for PMs, and has integrations with e.g. Zapier and Jira. A main use case for the Zapier integration is to pull in feedback from other systems. The real-time two-way sync with Jira, ensures product documents and Jira tickets are always up-to-date and reflect the same information.
With less juggling many different platforms, Delibr streamlines the product management process, freeing up time and enabling PMs to focus on creating impact.
What about you, how do you use Delibr?
At Delibr, we have an internal slogan: "We couldn't have built Delibr without Delibr." Circular references for the win! On a more serious note, we structure insights from interviews on Opportunity Solution Trees, that break down into solutions, that also live on boards, and that link with Jira.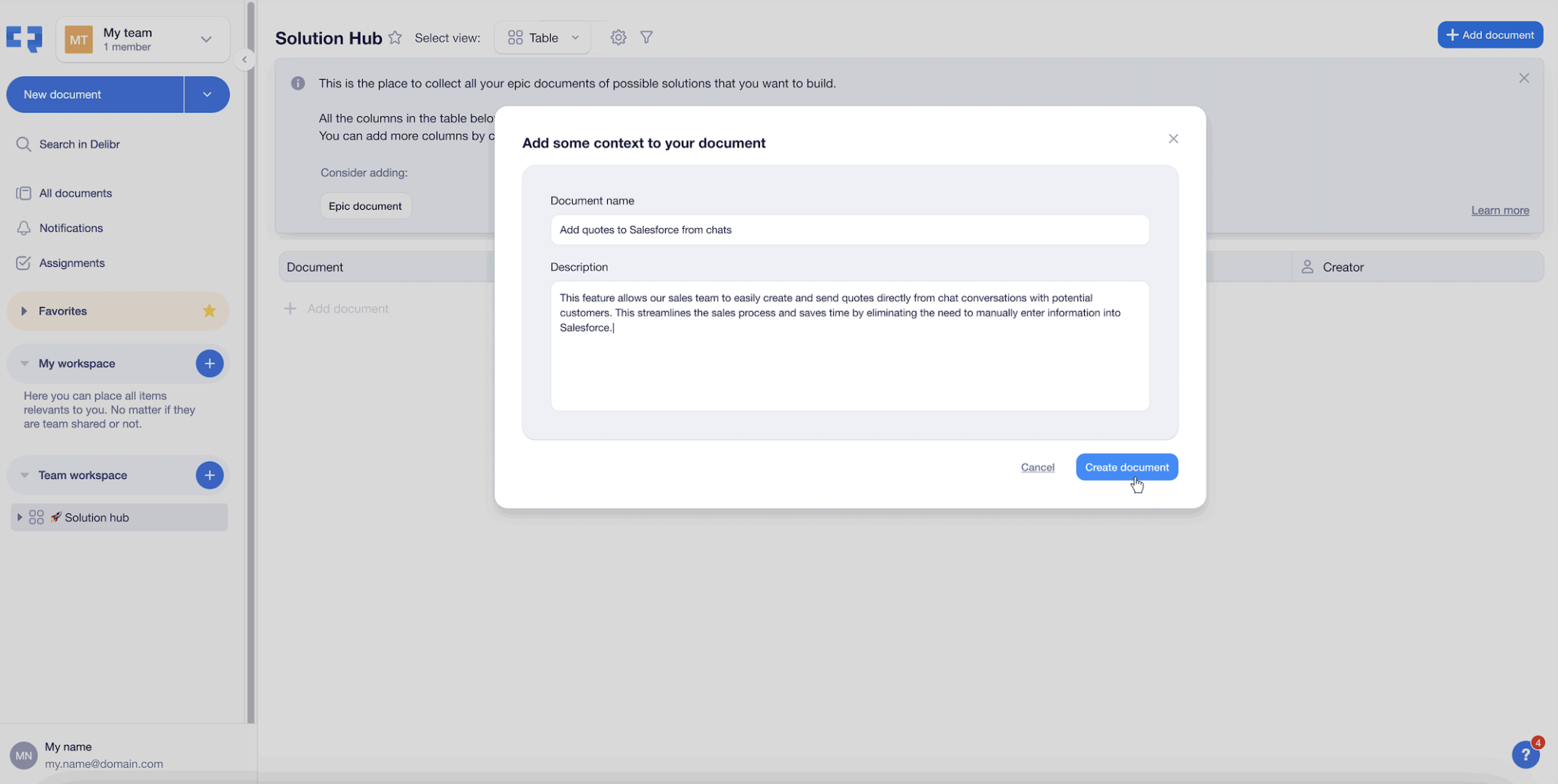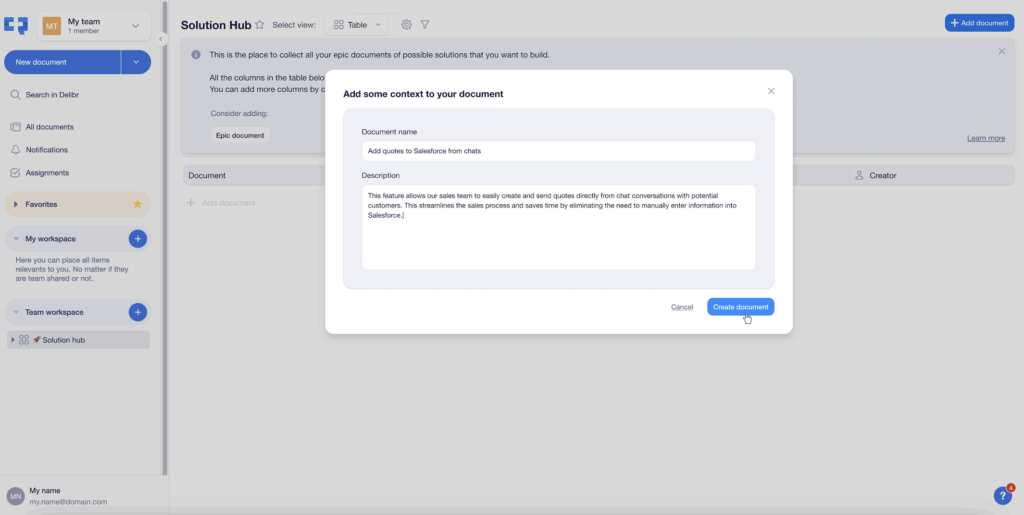 Beyond that, most of the team uses it for basically everything. Once people start using Delibr and get the hang of it, the combination of the structured documents with an AI boost that lives embedded in customizable process flows is kind of unbeatable.
How do you recommend someone get started?
Getting started with Delibr is simple. First, sign up and describe your next feature to the AI, to get the quick win of a draft PRD to revise, discuss, and then send to Jira. Early on, use Delibr for refining epics. To learn more, attend the Outcome-Driven Product Leader program at the Delibr Academy. Over time, use Delibr to streamline your entire product management process and move away from the feature factory.
You're based in Stockholm. How did building your company outside of Silicon Valley influence your work?
Being based in Stockholm has been great for us. The city has a thriving startup scene and is home to a high density of successful tech companies. This strong ecosystem has been beneficial for us in terms of access to funding and talent.
And we have always had a mix of Swedes and people from different backgrounds, making for a nice "Sweinternational" culture. However, as we haven't had the experience of building our company in Silicon Valley, we cannot make a direct comparison.
And finally… What's next for Delibr?
Right now, we feel like we have struck gold with helping product managers, and so we will continue for some time with digging where we stand, working to create this new level of clarity and flow for PMs, enabling them to ship more value. It is really exciting to be at this intersection of where we can use our deep functional expertise to inject AI into the main tool in their workflow.
However, product managers are at the very frontier in terms of how they work, compared to other knowledge workers. Over a longer time horizon, we believe that the rest will want to emulate and pick up how product managers work, and then the solutions and approaches we develop will be sought after by a much wider market.
Thank you so much for your time, Nils! Where can people learn more about Delibr?
Thank you! You can read more about Delibr on our website and follow our journey on LinkedIn.