FEATURED TOOL
Welcome to this edition of our Tools for Thought series, where we interview founders on a mission to help us think better and work smarter. Maks Kuchur is the founder of xTiles, an all-in-one workspace for notes, tasks and projects which allows you to organize and manage your knowledge as you see fit.
In this interview, we talked about the challenge of spending excessive time designing a productive workspace instead of focusing on actual work, how to get back in control of your productivity, why tasks should not be an isolated part of your workflow, the relationship between productivity and creativity, the power of using templates, and much more. Enjoy the read!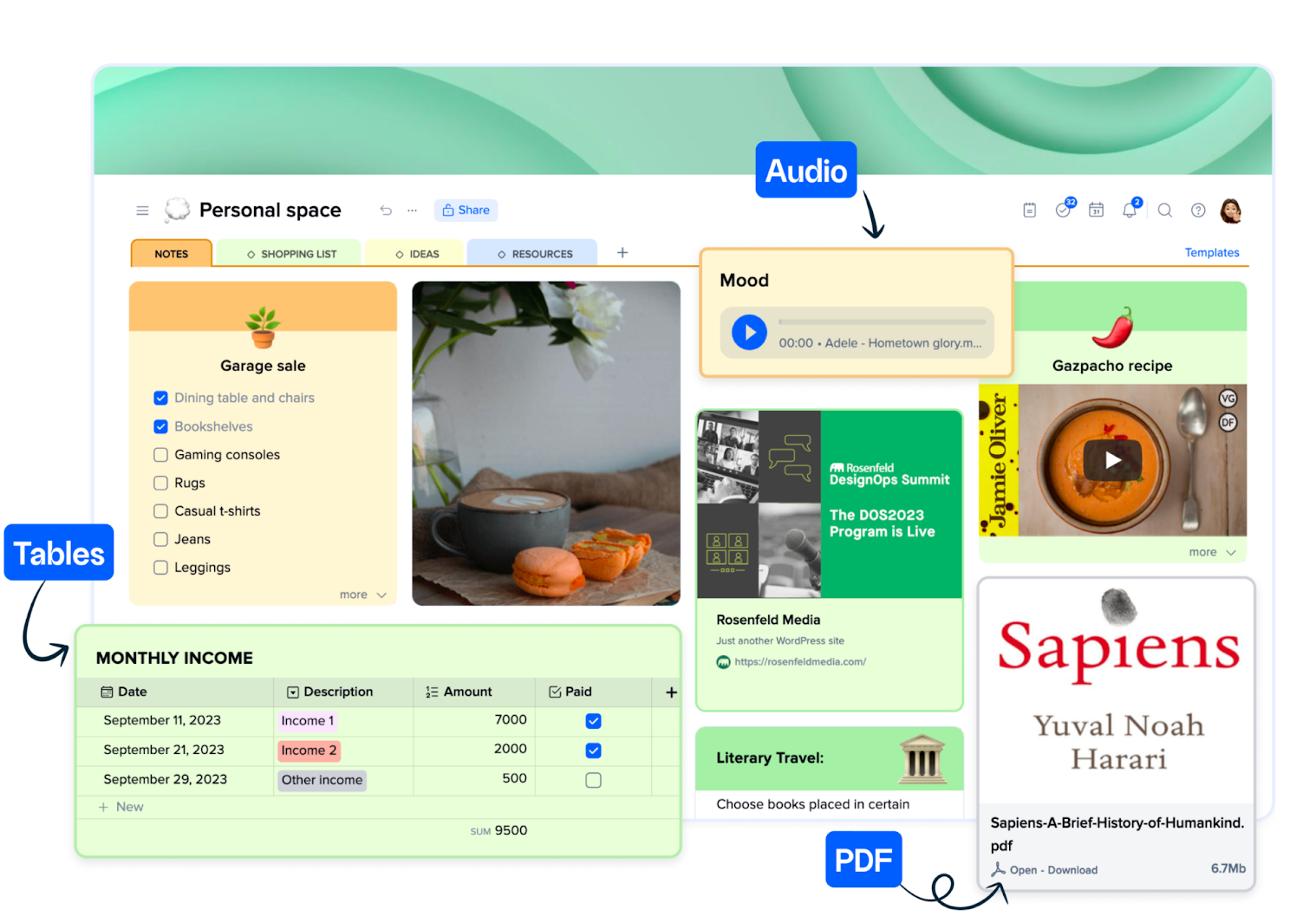 Hi Maks, so much has happened since our last interview! How would you describe the big shift from the latest version to xTiles 2.0?
Since our last conversation, xTiles has experienced remarkable growth and development. First and foremost, being named Product of the Week on Product Hunt in September 2022 was an incredible recognition of our commitment to providing a valuable solution for users.
Our user base has expanded substantially, reaching 10,000 active users.
This growth underscores the versatility of xTiles, as we've captured the interest and engagement of creative professionals and students. The fact that we've resonated with such a diverse audience is a testament to the broad applicability of our tool.
One of the most exciting aspects of our journey is the significant progress in product development. In response to user feedback and the evolving needs of our community, xTiles has evolved into a comprehensive all-in-one solution. It now covers a wide range of essential use cases, from planning and task management to knowledge base creation and collaboration. This transformation reflects our unwavering commitment to delivering a tool that genuinely meets the evolving needs of our users.
In addition to these advancements, we've introduced a gallery featuring pre-made templates. This addition enhances users' experience by offering ready-made life, work, and education planners. It streamlines their onboarding process and empowers them to harness the full potential of xTiles immediately.
Our journey from these milestones to the current version aligns seamlessly with our overarching vision. We aspire to provide individuals and teams with a tool that boosts productivity and fosters creativity while maintaining a user-friendly approach. We're eagerly anticipating the future and the innovative developments that await us.
Creating an all-in-one planner is such an ambitious endeavor. How does this new version of xTiles work?
Creating an all-in-one planner like xTiles has been an ambitious journey, and the new version brings a lot to the table.
First and foremost, we've worked diligently to ensure that xTiles seamlessly functions across various platforms. Whether on a desktop, mobile or even on iPad, you can expect a smooth and consistent experience. This adaptability is crucial as it allows users to access and utilize xTiles wherever and whenever needed.
One of the cool things about our new version is that we've integrated Google Calendar into our task management system. We've developed a robust and user-friendly task management system that takes advantage of this integration, making it easy for users to schedule and handle tasks like a boss.
Additionally, we've introduced the collections. This functionality is akin to Notion's database or AirTable's tables, and it's a game-changer for those who require a knowledge base use case. It enables users to structure and organize their information to suit their needs, offering a high degree of flexibility.
In our commitment to providing a comprehensive solution, we've put significant work into capturing information. Our mobile app and web clipper have been fine-tuned to make gathering and storing information seamless. It's essential for users who want to quickly save and organize ideas and data.
Moreover, we've added a backlinks feature that enables linked workspaces and smooth navigation. This feature empowers users to create interconnected systems, facilitating the swift movement between related content and enhancing productivity.
Finally, we've introduced widgets that allow users to create beautiful dashboards. These widgets enhance the visual aspect of xTiles, offering users the ability to customize and visualize their data in a way that's meaningful to them.
To summarize, this new version of xTiles shows how committed we are to making the planning and organization process super efficient and user-friendly. We've really listened to what our users want and have made significant improvements to give you a complete, flexible, and feature-packed tool.
With these new features, you can create all sorts of planners for different areas of your life and work. They also help you implement frameworks like the Second Brain and more, making xTiles a super helpful tool for keeping yourself personally and professionally organized.
Collections sound like an amazing new feature. Can you tell us more?
Collections are an exciting addition to xTiles, offering users four beautiful views: card, calendar, kanban, and table views. These views provide versatile ways to organize and interact with your data.
What makes Collections truly powerful is the ability to add properties to collection entities. You can utilize popular data types such as memo, date, select, bool, and relations, allowing for detailed customization and organization of your content.
One game-changing aspect of Collections is the capability to add blocks and tiles from existing documents to a collection. This feature lets you structure your content exactly when needed, providing clarity and making it easy to manage your information effectively.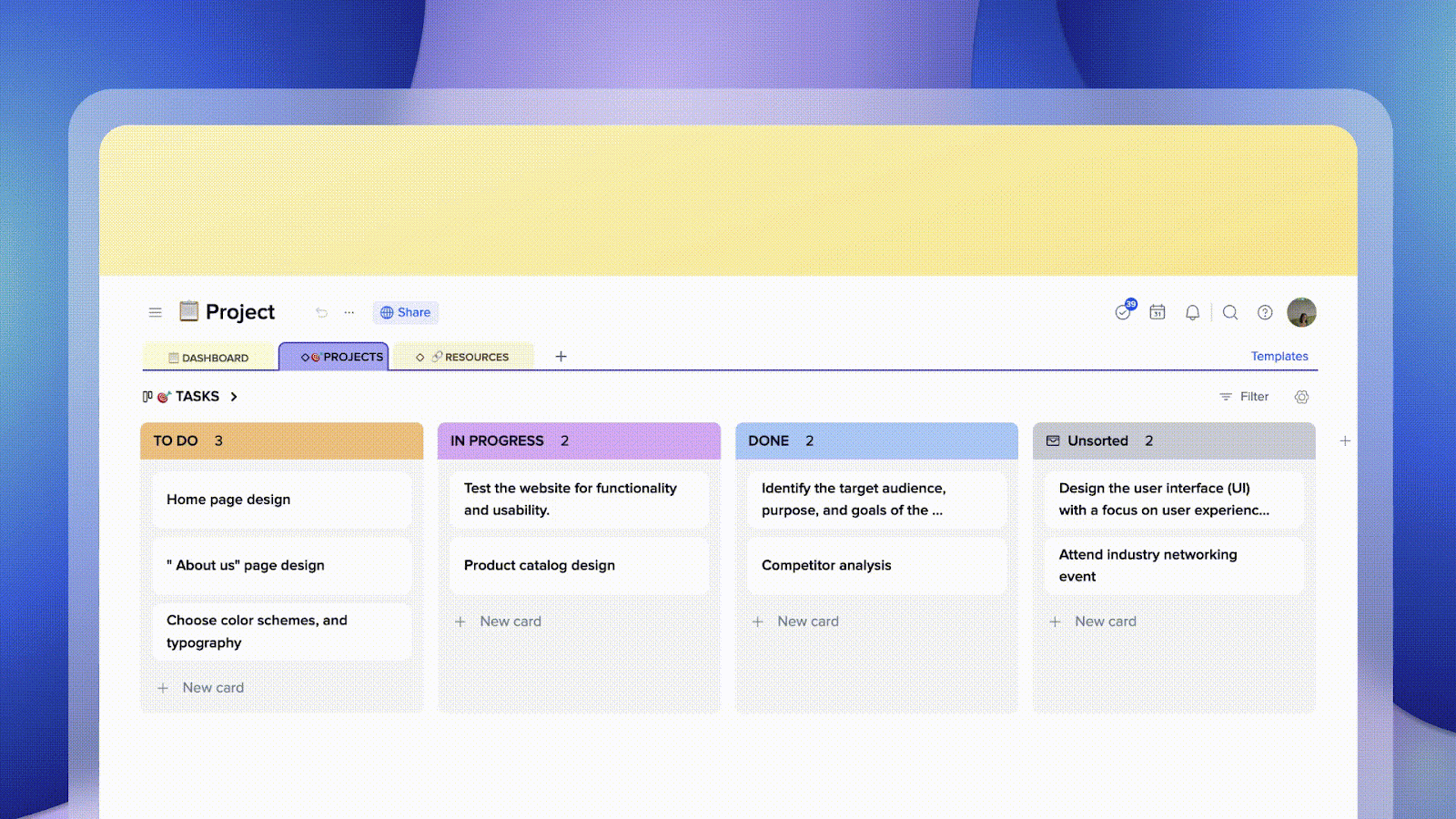 Collections serve various team use cases, from project management to social media planning, building business strategies, and conducting research. Their flexibility and adaptability empower users to tackle diverse challenges and streamline collaborative efforts.
Something people often complain about is how much time they spend designing their productivity workspace versus actually doing the work. How does xTiles address this challenge?
I understand the challenge of spending excessive time designing a productive workspace instead of focusing on actual work. That's precisely one of the issues xTiles aims to address.
xTiles is designed to provide users with a unique level of flexibility and customization that caters to their specific needs.
We understand that productivity requirements can vary from person to person and even from one moment to the next. That's why xTiles allows users to choose the level of complexity in their digital planner. You have the power to select the combination of functionalities that are necessary for you at any given time.
Whether it's simple note-taking, efficient task management, building a knowledge base, or any combination, xTiles can adapt to your requirements. It's all about giving you the flexibility to tailor your workspace to your current situation, state of mind, and specific goals.
In essence, xTiles puts you in control. You can start with the basics and gradually introduce more advanced features as you feel ready.
This approach ensures you can build your productivity step by step without any unnecessary complexity. Ultimately, the choice is yours, and xTiles supports you at every stage of your productivity journey.
You made an interesting design choice regarding tasks in xTiles. What does that mean for task management?
Indeed, defining tasks as individual blocks in xTiles is a design choice that brings significant advantages to task management. By creating tasks as blocks, we're enabling users to seamlessly integrate tasks into their content, enhancing clarity and providing a detailed explanation of how to accomplish each task.
Tasks in xTiles are not isolated but integral parts of your work content. This approach allows you to place tasks exactly where they make the most sense. You can embed tasks alongside relevant information, instructions, and contextual details. It means that each task can be accompanied by a clear and comprehensive explanation of how it should be executed.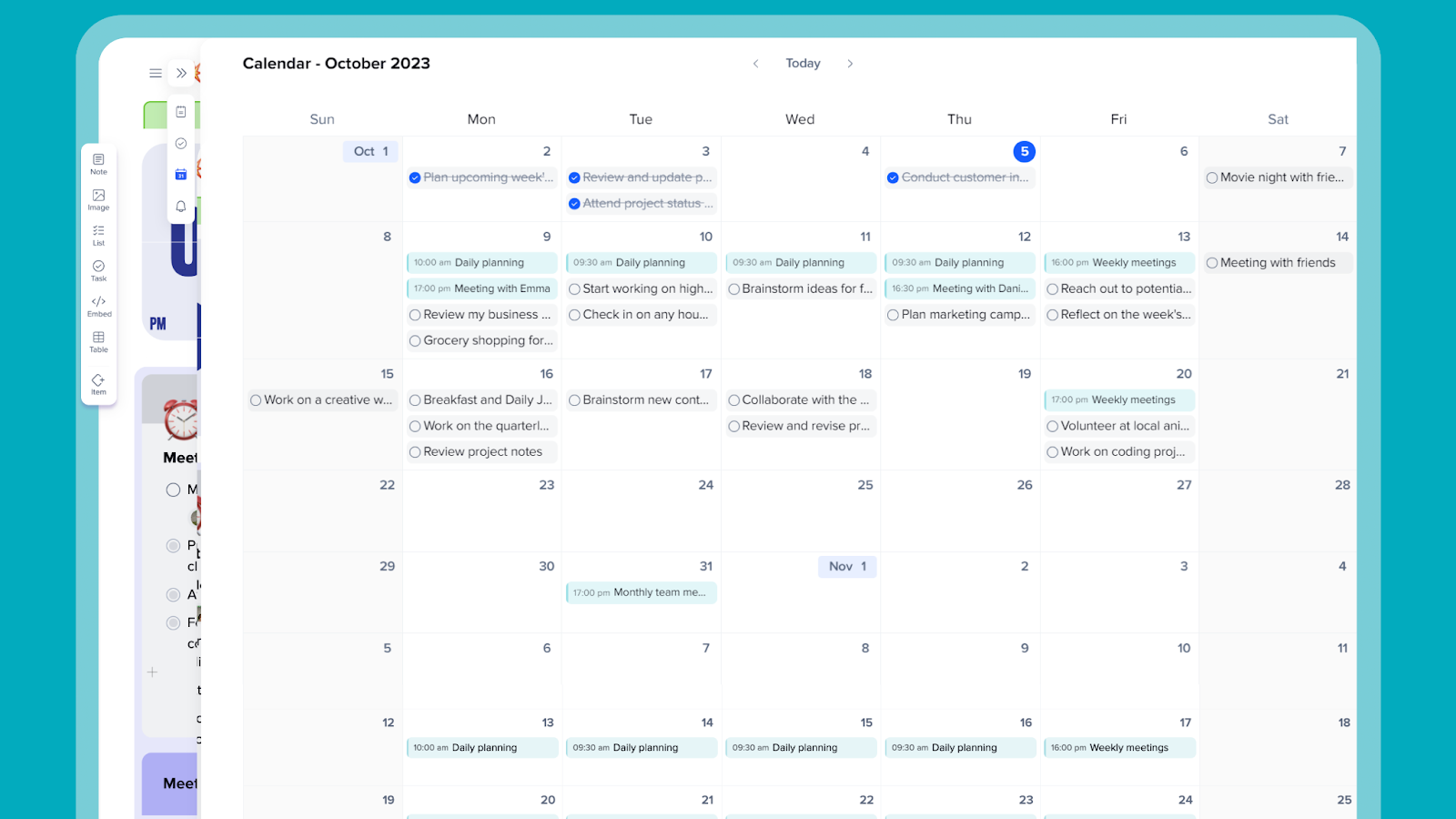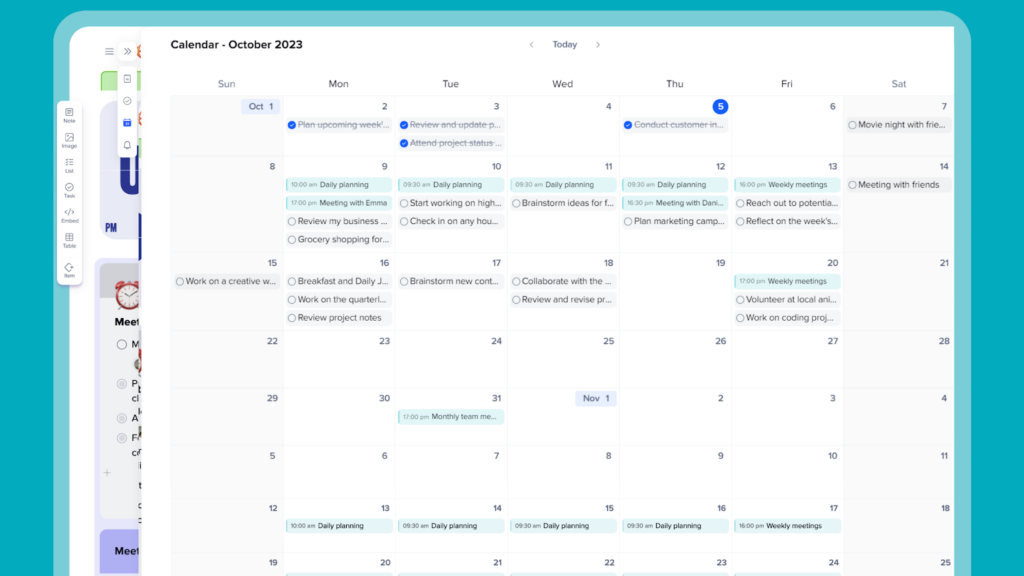 We know that effective task management calls for a centralized solution, and that's precisely what xTiles delivers. With the Task Panel, we've created a convenient hub where all your tasks from various pages come together. But that's not all – we've also seamlessly integrated your Google Calendar events into this central location. This streamlined approach means you can easily plan your day by having events and tasks at your fingertips, side by side in the Task Panel.
Can you tell us more about creating digital products and templates in xTiles?
​​At xTiles, we're redefining productivity and creating a platform that empowers you to unleash your creativity and knowledge. Our template creator feature opens up possibilities for individuals from diverse backgrounds. Here's what you need to know about this exciting opportunity:
We've established a beautiful template gallery within xTiles, a marketplace where creators like you can showcase and sell your templates or digital products. This gallery isn't just a showcase; it's a vibrant marketplace where your expertise and creativity meet the needs of a global audience. It's a place where you can transform your insights into valuable, monetizable resources.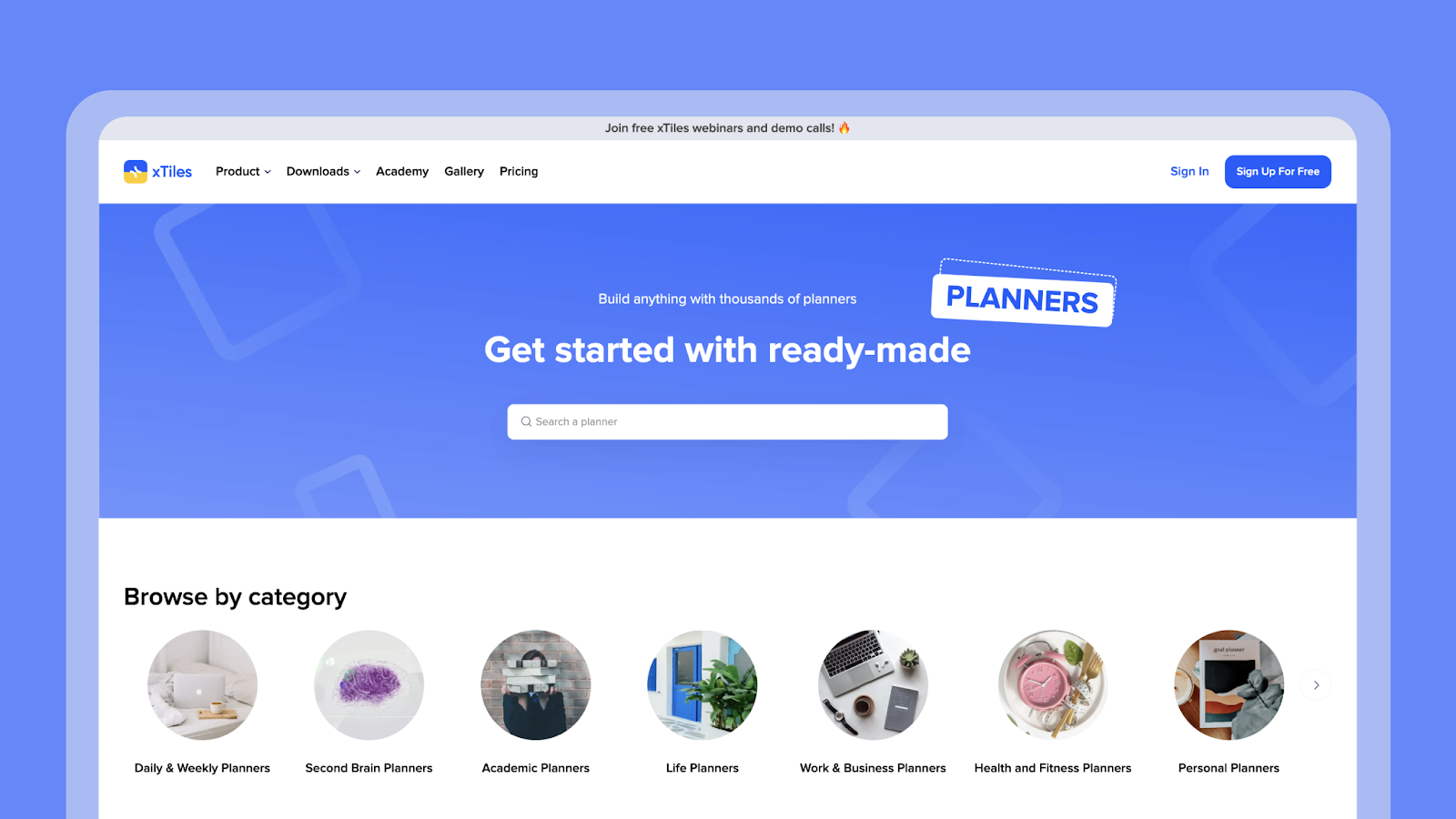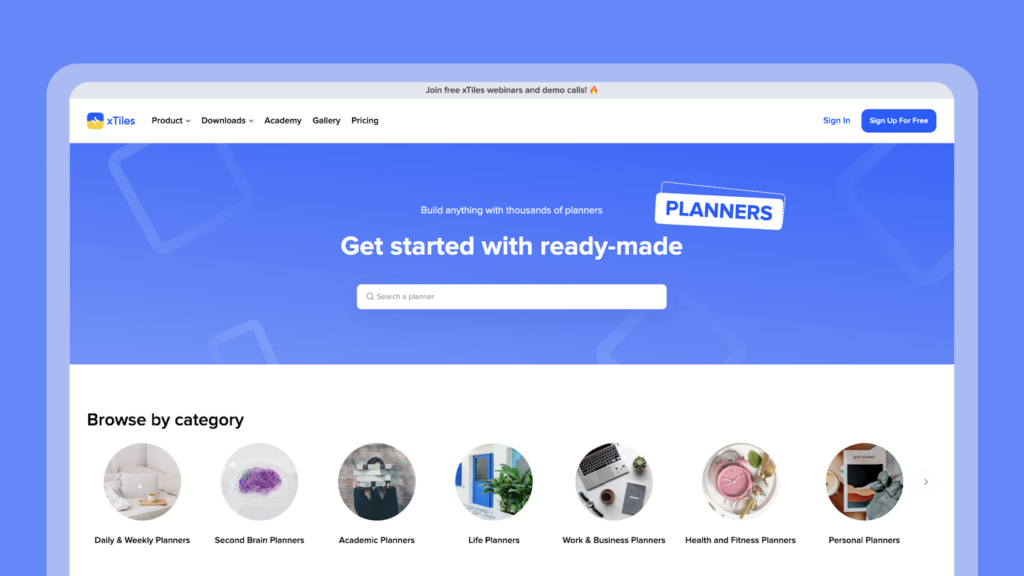 Your templates in xTiles can encompass a wide range of productivity frameworks. These aren't just run-of-the-mill templates but powerful tools that people can apply in different professional spheres. Whether you're an expert in business, education, coaching, or any other field, xTiles allows you to create templates that resonate with your domain.
Your digital products can be a repository of trusted and valuable information. As a creator, you can share your knowledge and insights with your audience in a structured and user-friendly format. xTiles transforms your digital products into valuable assets that cater to the needs of those seeking your expertise.
Here's the kicker: xTiles is designed to be user-friendly and accessible to individuals with varying levels of technical expertise. You don't need a tech background to create templates or digital products in xTiles. We've simplified the process, ensuring the platform is easy to navigate and use, even for non-tech-savvy creators.
So, if you've ever thought about creating and sharing your expertise with the world, xTiles is the ideal platform to bring your vision to life. It's a place where creativity knows no bounds and knowledge finds its audience.
This seems like a great tool for both gardeners and architects regarding note-taking styles. What kind of people use xTiles, and has that changed since you launched?
Indeed, xTiles caters to a diverse audience, focusing on freelancers and self-employees who value a flexible and visual workspace for their ideas and projects. This target user group has remained consistent since our launch.
One interesting observation is that xTiles has also resonated with individuals who have ADHD. The platform's visual and flexible nature aligns well with their needs, providing an effective solution for managing and organizing their thoughts and tasks.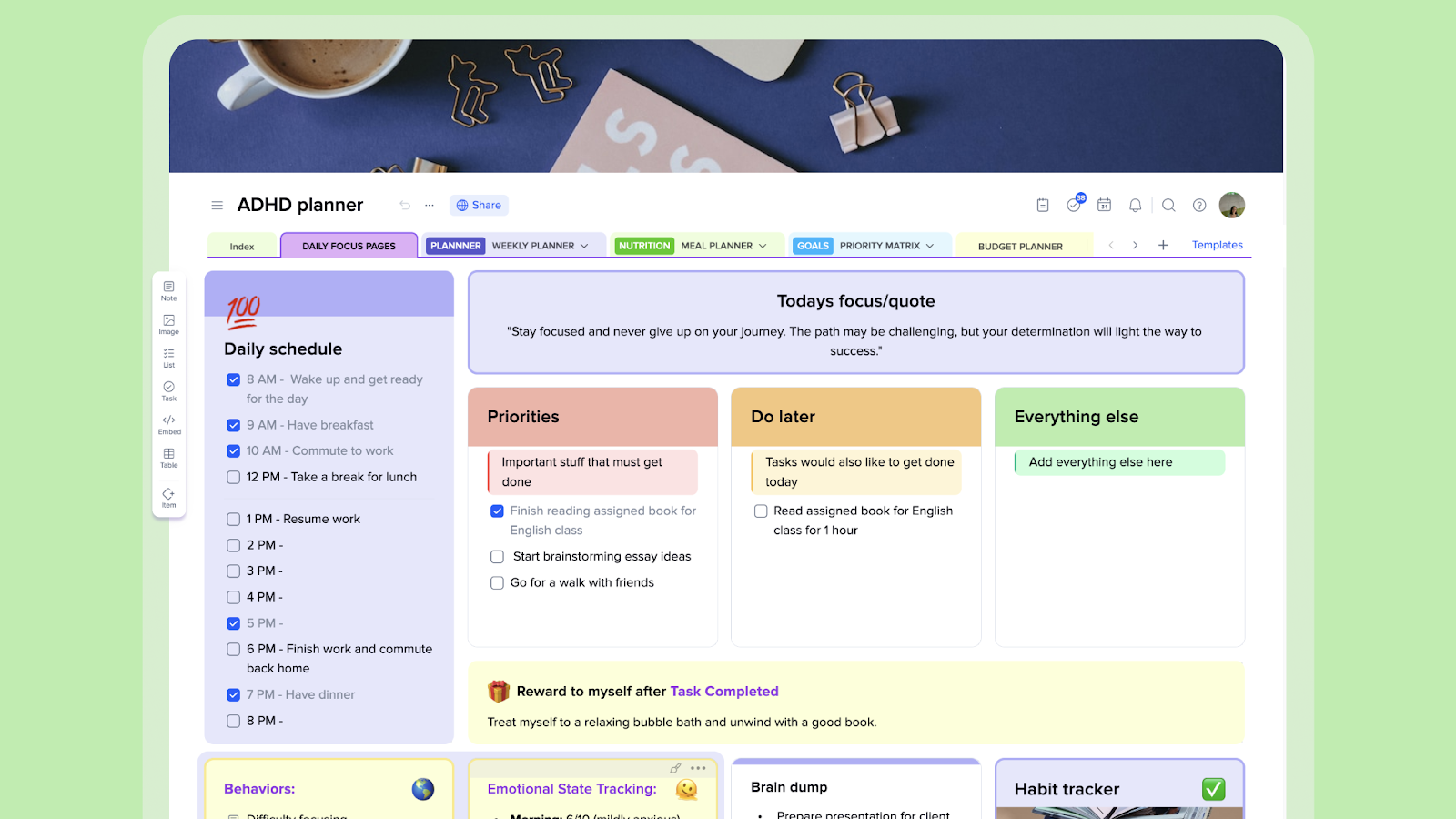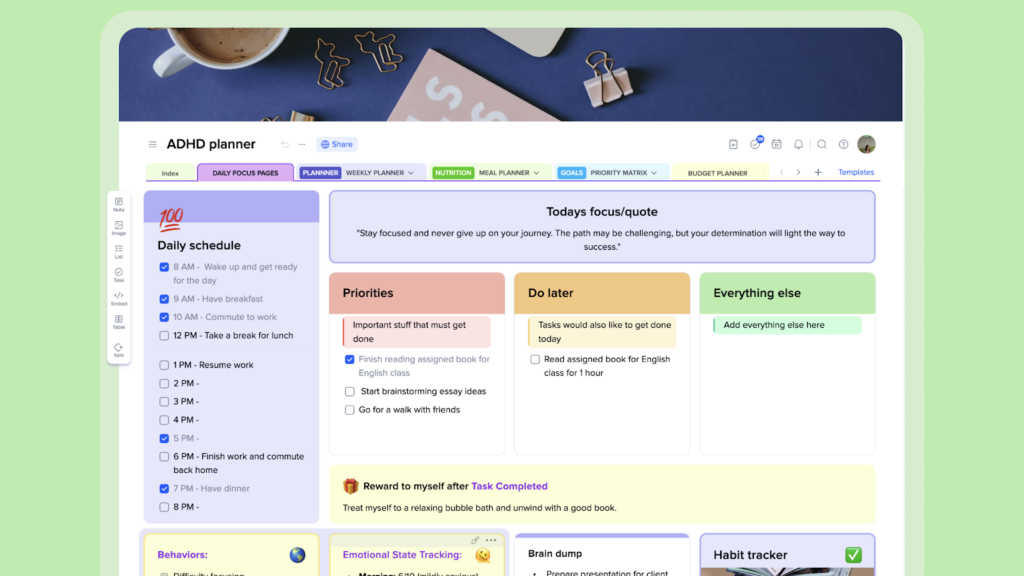 While our primary user base has always been creative professionals like writers, designers, marketers, coaches, and consultants, we've found that xTiles' adaptability and unique features have made it an appealing tool for various users, from gardeners to architects and beyond. The broad appeal of xTiles showcases its versatility in addressing the diverse requirements of users seeking a more intuitive and flexible note-taking and productivity solution.
What about you? How do you use xTiles these days?
I use xTiles as an integral part of my daily life. My day typically begins with my weekly page, accompanied by my morning coffee. It's a routine that sets the tone for my day.
In this initial session, I check my calendar, review my tasks, gather emails, and transfer quick notes to my knowledge base. This process helps me consolidate and organize the information I need to tackle the day's challenges effectively.
One of the remarkable aspects of my xTiles experience is how it seamlessly connects my personal workspace with our team projects. This integration ensures I can navigate smoothly between individual and collaborative tasks, making it easy to manage personal and team-related work within the same environment.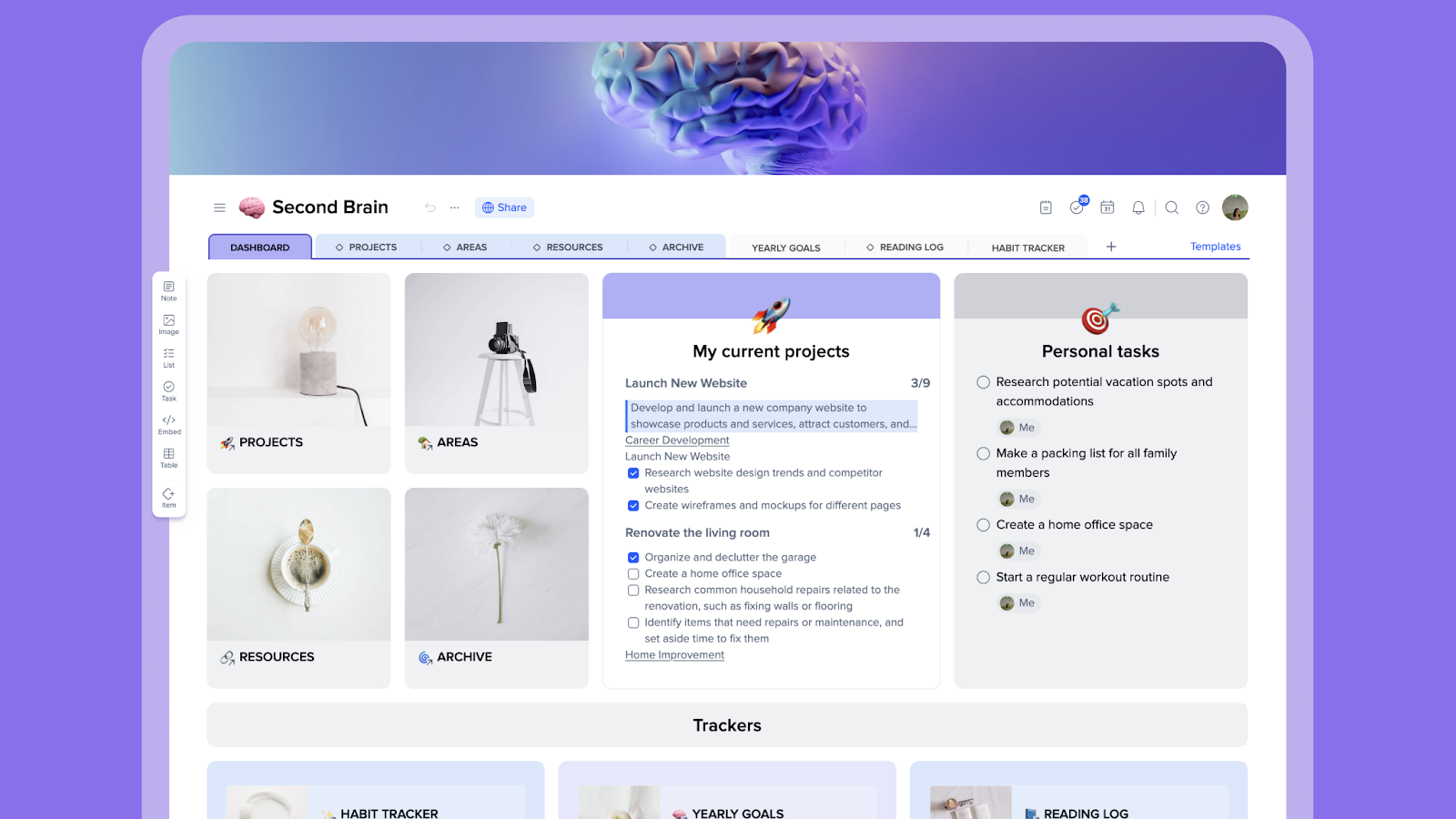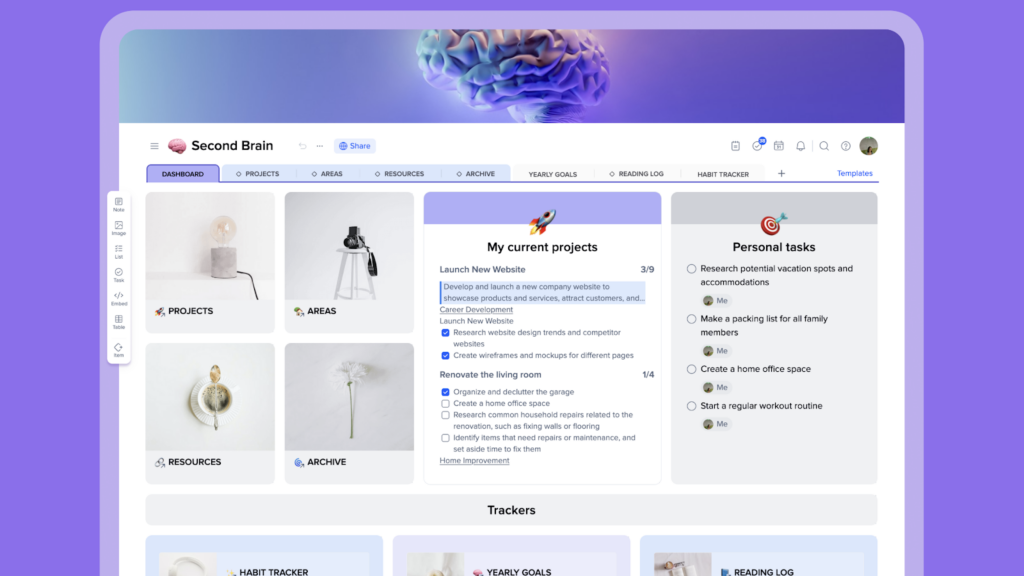 In my daily workflow, I rely on a framework that combines several methodologies, including GTD (Getting Things Done), Second Brain, and more. This framework enhances my productivity and provides structure to my work, enabling me to achieve optimal results. xTiles plays a pivotal role in this framework, facilitating the seamless execution of this approach."
How do you recommend someone get started?
Getting started with xTiles is a breeze, and on your very first day, you can experience some "aha" moments that showcase the tool's power and flexibility.
If you need help determining where to begin or want to jump-start your xTiles journey, we recommend starting with some of our templates. These templates cover many use cases and can be a fantastic starting point. They provide structure and guidance for different tasks and projects, making it easy to dive right in.
For your initial experience, consider focusing on lifestyle-related use cases like travel or education planning. These scenarios offer a great introduction to the tool's capabilities. You'll quickly see how xTiles allows you to organize and visualize your plans and ideas, providing clarity and structure to your personal life.
Remember to check out our templates gallery. It's a valuable resource with pre-made solutions for various tasks and projects. Whether planning a trip or an event or organizing your knowledge base, the templates gallery is a treasure trove of resources that can save you time and inspire productivity.
In summary, getting started with xTiles is all about exploration and discovery. It's a tool that's designed to adapt to your needs, and the "aha" moments come quickly as you realize how it can simplify your life and work from day one."
And finally… What's next for xTiles?
At xTiles, we're all about continuous improvement and innovation, with plenty in store to boost your user experience.
We're focusing strongly on enhancing the mobile app to ensure a seamless phone and tablet experience. It means improving usability, performance, and interface responsiveness to cater to constantly moving users. We aim to make productivity and creativity accessible anywhere, anytime.
We're on the verge of introducing AI integration, which will be a game-changer for boosting productivity. This integration will automate repetitive tasks, offer valuable insights, and assist users in their daily workflow. It's a step toward making xTiles a productivity tool and an intelligent assistant that streamlines your work.
Collaboration is at the heart of xTiles, and we're taking it a step further. We're developing features to make team workspaces even more efficient, ensuring real-time collaboration and communication become second nature. Whether working in a small team or a larger organization, xTiles will cater to your collaborative needs.
In addition to our core features, we're expanding our integration offerings. Soon, you'll be able to seamlessly connect with other platforms, including Readwise, Slack, Zapier, and various other popular tools. This expansion is geared towards making your workflow even more convenient and interconnected.
xTiles has a clear mission: to become the top tool for personal productivity, especially for those who desire to create their own tailored productivity app. We see our audience as individuals seeking something more visual and flexible than existing apps.
We aim to transform the organization process into an enjoyable and creative experience. While users' screens with traditional productivity apps might appear similar, xTiles users stand out with unique, personalized workspaces. This individuality is at the core of our philosophy, and we're dedicated to providing a platform that allows users to express themselves and work in a way that suits their needs and preferences.
xTiles strongly appeals to the younger generation, particularly Generation Z, who embrace color, creativity, and the freedom to avoid restrictions. It's a tool that resonates with those looking to infuse more vibrancy and flexibility into their daily routines.
We're also confident that shortly, xTiles will be just as invaluable for teams as it is for individual users. Our commitment to providing adaptable and collaborative workspaces ensures that we're poised to meet the evolving personal and team-based productivity needs. Our journey is about empowering individuals and teams to thrive in their creative and productive endeavors.
Thank you so much for your time, Maks! Where can people learn more about xTiles?
Thanks for having me. Please feel free to explore our website. You can use the promo code Ness_Labs for a discount of 25% on the Annual and Believer plans. The easiest to follow our progress is to check our socials to stay up-to-date on Twitter, Youtube, TikTok, Pinterest, and Instagram.
You can also join our Slack community to find solutions, share ideas, and discuss best practices. Finally, browse hundreds of free and customizable templates for every part of your work and life.