Without realising it, lots of the work we do relies on asking good questions: getting a helpful piece of information from a colleague, looking up the right thing, or probing a potential customer during a negotiation. The popularity of Quora is a testament to how much we as humans enjoy asking questions. Yet, we're never taught in school how to do it properly.

Asking good questions is an incredibly powerful tool to do your best work. Research involving speed daters shows that asking lots of questions unlocks learning and improves interpersonal bonding. And while asking good questions comes naturally to some people, it can be learned by anyone.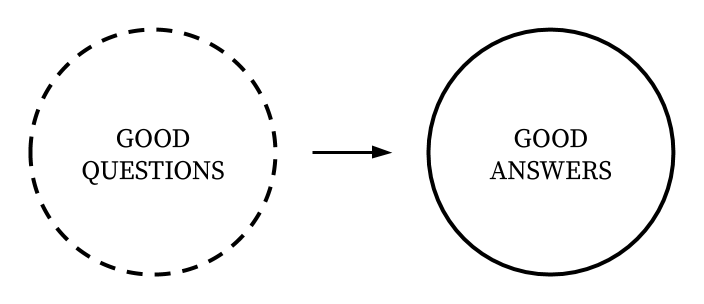 There is obviously no perfect recipe and a lot of your approach should depend on the complex dynamic interaction you have with the person sitting—physically or virtually—in front of you. However, there are a few general tips that can be applied to most conversations. Here are five guidelines to keep or to start asking good questions.

Know your purpose. It's easy to get distracted during a conversation. Try to make sure that every question you ask helps you gather either facts or your interlocutor's opinion. Avoid empty questions to fill the time. Genuinely try to know more about them, and frame your questions accordingly.
Start by listening. In the classic How to Win Friends and Influence People, Dale Carnegie advised to "be a good listener" and to "ask questions the other person will enjoy answering." More than eighty years later, his advice still holds true. You can't ask good questions if you don't listen to what the person has to say.
Interrupt wisely. It's not about never interrupting the person you're chatting with. It's about ending fewer sentences with a period, and more with a question mark. Don't worry about asking the wrong question. Not asking enough is more detrimental to building a relationship than asking one poorly phrased question. That being said…
Use the right wording. Avoid leading questions and use a neutral tone instead. Refrain hinting at your opinion or the answer you'd like to get. If you want honest opinions or accurate information, don't prime your interlocutor with loaded questions. Keep them open ended so they have the option of giving you an answer you didn't expect. (closed questions are often used in manipulative surveys to get the results needed to support a specific agenda)
Build a hierarchy. Follow general questions with specific ones, focus your questions so they ask one thing at a time, and use something in the answer you got to frame your next question. This will help the conversation flow more naturally.
The most important guideline to remember is simply to ask more questions. Of course, the tone, the framing, and the sequence of your questions will have a huge impact on the value you and your interlocutor will get from the conversation, but asking more questions is the best way to practice and ultimately get these right. By asking good questions, your conversations will be more productive, but also more enjoyable. You will be able to generate better ideas and, ultimately, to cultivate your curiosity.