Hustle culture uses speed as a measure of performance. How fast can you ship a new feature? How many prospective clients can you call in an hour? How much of your day can you devote to work? If you're not fast, are you even being productive? This harmful mindset results in burnout, poor decision-making, and bad communication.
It may seem counterintuitive, but slowing down can be a faster way to achieve your goals. Fighting our urge to live and work faster can lead to clearer thinking, deeper connections, and better mental health.
Slowing down to go further
The illusory imperative to keep up with everyone else is hurting us. Faster is not always better — far from it. By slowing down, you can build three key pillars to rely on in your life and work.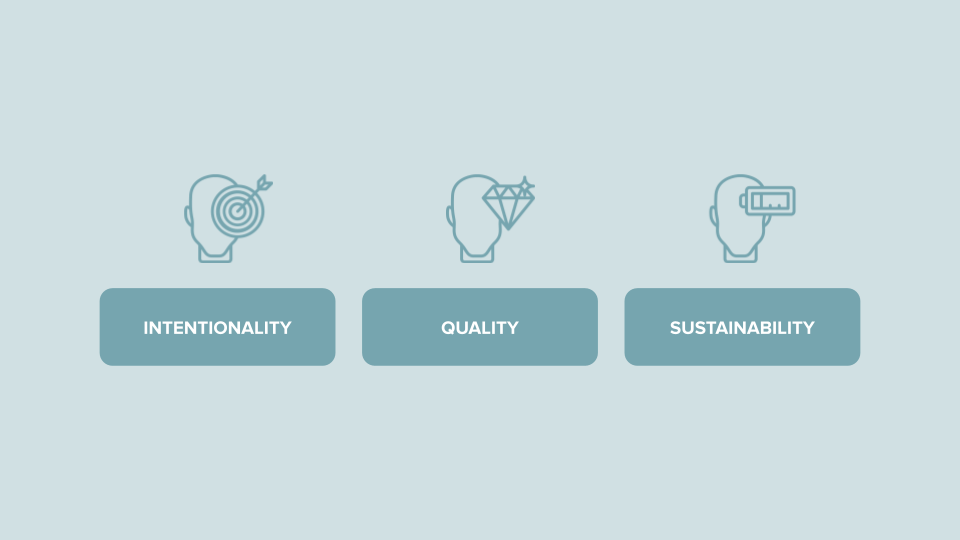 Intentionality. When we focus on speed, we may blindly follow a path that may not be the most efficient one to reach our goals — whether it's a path dictated by others, or one that seems the most obvious. Slowing down allows us to be more intentional when making decisions and executing our plans.
Quality. Being fast allows us to do more. But "doing more" does not equal "doing what's best". Doing things slower means we can increase the quality of the output, and even sometimes of the experience itself. Would you design a more polished feature if you had two days, or if you had two weeks? Would you enjoy a landscape better if you are driving over the speed limit, or if you are taking a leisurely walk? Would you learn more about a friend if you had a quick chat, or a long conversation? Of course, we may not always have the luxury of slowness, but we should make a conscious effort to question artificial time constraints.
Sustainability. Consistent effort over time is more sustainable than pushing your limits to work as fast as possible. To do our best work, we need mental downtime, space for self-reflection, and a realistic schedule we can actually keep up with.
Overall, slowing down will help you make better decisions, connect deeper with people, have more meaningful experiences, all while improving your mental well-being by avoiding burnout. You may go slower, but you will go further.
Injecting slowness in all areas of your life
There are many areas of our lives where we could benefit from slowing down, some more obvious than others.
Whatever area of your life you are targeting, making space for self-reflection is crucial. Helpful methods to slow down include journaling, meditation, and taking breaks. Speed may sometimes be a goal in and of itself, but it should be an intentional goal rather than an automatic need to "keep up" with others.
An easy trick to slow down is to ask: "Why the rush?" and to take a step back. Is speed really adding to the quality of the output? Again, in some rare cases, it may be the case. For instance, if you work as a journalist for an outlet, it makes sense to work as fast as possible for breaking news announcements. However, you will find that many goals would be better achieved by being more intentional.