Fake news has become a hot topic. But the deliberate disinformation of the general public via traditional outlets or social media goes beyond the news: there is also an alarming rise in "fake science." The brain and the mind feel extremely familiar. We do spend lots of our time inside our heads. That's why it's easy to disseminate false—but great sounding—information about the brain. This is what a neuromyth is: an erroneous belief about how the brain works that is held by a large number of people. Let's explore a few of them.
5 popular beliefs about the brain that are actually neuromyths
Neuroscience is pretty young—neuroimaging technologies have only been developed over the last twenty years. As a result, it's an ever-evolving field and it's pretty hard to separate fact from fiction. Here are a few of the most common neuromyths, how they came about, and why they're wrong.

There are many, many other neuromyths—and I may write a follow-up article. But what's crazy is that it's not only the general public that believes them.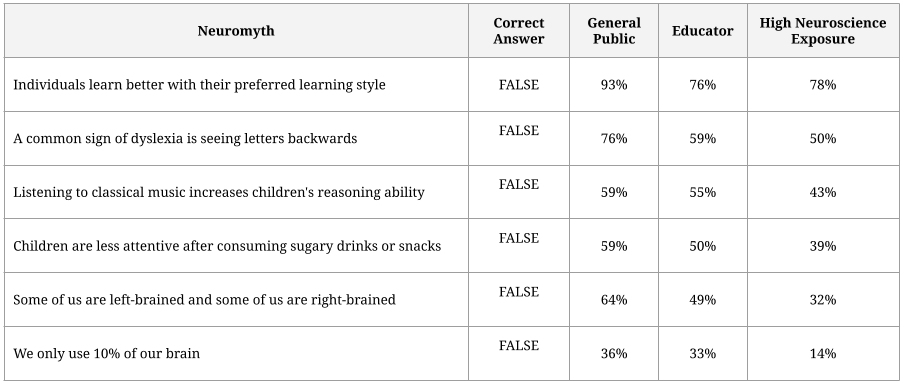 The table above was adapted from a scientific paper about neuromyths. The first column lists common neuromyths. The researchers then asked people to state whether these were true or false. People were put into three groups: the general public, educators (such as teachers), and people with high neuroscience exposure—think scientists and doctors. You can see the percentage of them for each group that believed these neuromyths to be true. For example, 59% of the general public, 55% of educators, and 43% of individuals with high neuroscience exposure believe in The Mozart Effect, a theory which suggests that listening to classical music can boost our intelligence. Which is false.

Even more depressingly, 14% of people with high neuroscience exposure believe that we only use 10% of our brain. Overall, the research found that on average 46% of the most educated people when it comes to the brain believed in these neuromyths.

The worst thing? Research shows that more education may not be able to fix this. Taking an educational psychology course does improve general knowledge of neuroscience but does not reduce belief in neuromyths. Neuromyths really do seem to be sticky. They feed into our desire to believe that everyone can be good at something, that we have untapped potential, that we are unique.

While it has been shown that it's incredibly hard to change people's mind when it comes to neuromyths, I hope this article will be a small contribution that may educate individuals who are willing to abandon some strongly-held beliefs about the way their brain works.