As someone who suffers from time anxiety—the constant fear that it's too late to learn something new, to start a new project, to change direction—I often push myself to be as productive as humanly possible. Our society has been built on productivity principles. However, since the turn of the century, many entrepreneurs, researchers, and managers alike tend to agree that a pure focus on productivity can—ironically—prove counterproductive. As Albert Camus once said, "a society based on production is only productive, not creative." Fortunately, there is an alternative approach: mindful productivity.

Scientists found that "most of the research literature on productivity flows from traditional economic analyses of market activity" and that "unpaid productive activities are usually excluded from such analyses." There's also very little research at the intersection of mental health and productivity. Which is surprising, considering the World Health Organization estimates depression and anxiety cost an estimated $1 trillion per year in lost productivity to the global economy.
Whether you're working for yourself, have a full-time job, or need to juggle a few side projects, let's have a look at how mindful productivity can help you be more productive and more creative.
A definition of mindful productivity
There's lots of research showing the health benefits of mindfulness, including better sleep, less chronic pain, and even fewer chances of depression relapse. This is partly why programmes such as mindfulness-based stress reduction (MBSR) therapy and mindfulness-based cognitive therapy (MBCT) are becoming so popular. But mindfulness also has other scientifically-proven benefits, such as better attention levels and better control of the effects of stress on the body and the mind.

Mindfulness and productivity may sound antithetic. Many people still see mindfulness as something you practice outside of work, as an activity with a dedicated time and place. While meditating or doing yoga can be amazing vectors for mindfulness, they're not the only ways to stay in touch with our thoughts, feelings, and the world around us. Being mindful means interrupting the autopilot mode we often use on a day-to-day basis, taking the time to appreciate the little things, and observing your mental events.
Paying attention to the present moment—to the world around you, to your thoughts and feelings—requires to observe what's going on inside and outside ourselves, but it doesn't necessarily mean stopping everything we're doing. Mindfulness is about clearly seeing the present moment; not literally pressing the pause button.
Mindful productivity can be defined as being consciously present in what you're doing, while you're doing it, in conjunction with managing your mental and emotional states. Mindful productivity is about calmly acknowledging and accepting your feelings and thoughts while engaged in work or creative activities. It's a way to give us new perspectives on work, life, the creation process; helping us enjoy the work and better understand ourselves. Besides helping with focus, mindful productivity also helps us notice signs of anxiety or stress at work earlier and better deal with them.
Principles of mindful productivity
Things can get hectic, so how do you become more mindful in the context of a busy work day? How can you apply mindfulness principles at work? The good news is you don't need to meditate every day to experience the benefits of mindful productivity. There are a few ways you can inject mindfulness strategies into your work day so you can perform at your best while managing your mental health. Here are ten of mindful productivity principles, alongside links to learn more.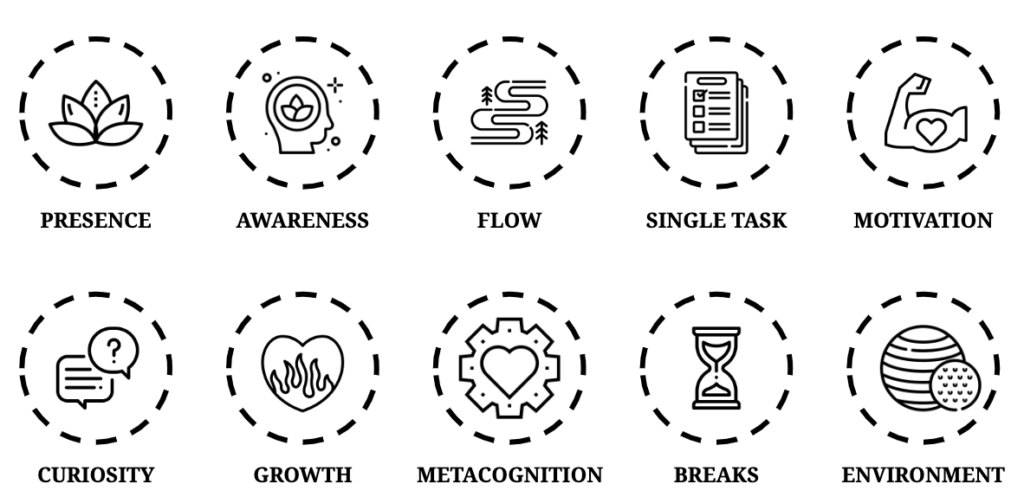 This may seem like a lot to take in, but the principles at the core of mindful productivity are fairly simple: be present, bring your full attention to your work, and be aware of your thoughts, emotions, as well as your work environment. You will be more productive, more creative, and overall will enjoy work better.

If you want a practical way to achieve your goals based on mindful productivity principles, have a look at mindframing, my own personal method for personal growth and mindful productivity. Based on growth mindset, metacognition, and self-authorship, it's a framework that allows you to achieve more while taking care of your mental well-being. And if you'd like to learn more about the biological principles behind this framework, have a look at neuroproductivity and the neuroscience of mindful productivity.